A patchwork of gray geometric patterns adds visual dimension to this pair of Myka boxes by Interlude ($585). More ...
HAT Chat at High Point Market: Intros - Ann Gish and Catherine Silver

  More Videos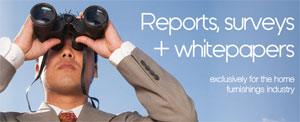 In Home Accent Today's Research Store you will find in-depth, specialized and exclusive home furnishings research. Click Here to see the latest reports.
Click for details!
View All Stories