Modernity meets comfort in Pianca's lightweight and practical Dora armchair and ottoman, without sacrificing an ounce of style. More ...
Badgley Mischka Home Collection showroom tour, High Point Market

  More Videos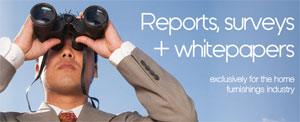 In Home Accent Today's Research Store you will find in-depth, specialized and exclusive home furnishings research. Click Here to see the latest reports.
Click for details!
View All Stories