View All Stories
What's hot at market: Neutral territory

The landscape at market looks decidedly neutral this season but lacks nothing in terms of sophistication and style. Thanks to a gorgeous mélange of texture, shimmer and refined finishes, the world of interiors embodies modern luxe style.
View All Slideshows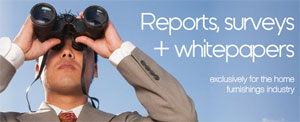 In Home Accent Today's Research Store you will find in-depth, specialized and exclusive home furnishings research. Click Here to see the latest reports.
Click for details!
Acrylic rays radiate from a metal frame on Interlude's Solange mirror, realizing a fresh, modernist rendering of a traditional sunburst design. More ...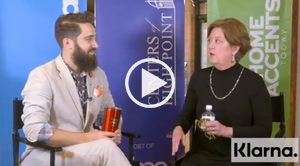 Join HAT's editors for PBM News Desk, an on-site content creation hub in the lobby of the Centers at High Point during the 2017 Fall High Point Market. (Sponsored by Klarna.)
See the videos!
The Weekly 5

Thomas Lester

November 20, 2017

Furnishings take the stage, taking on Amazon, Williams Sonoma buys Outward, return of the '80s?, Legos and logos

1.) A different kind of in-store event Hosting events in store are great ways to attract customers and just about anything works. Host your local animal shelter for an adoption fair. Have an interior designer offer tips. Let a community acting troupe perform on your showroom floor. You read that correctly. In this report from the County Press (Lapeer, Mich.), a report says that Stone's Throw Theater will perform A Taffeta Christmas inside Beyer's Furniture Dec. 8, 9, 15 and 16. 2.) How to compete with Amazon Interesting read by CNNMoney.com that looks at ways retailers can ...

The Weekly 5

Thomas Lester

October 26, 2017

Black Friday, Austin City Limits, Storytelling 101, HQ2, Ikea's naming conventions

1.) Black Friday is coming You might say Black Friday is only for big stores (and you'll find many who agree with that line of thinking), but as Retail Doctor Bob Phibbs points out in this column, there are things smaller, independent retailers can do to prepare. Phibbs offers four merchandising tips, plus three more basic standards to uphold, to better prepare your business for when bargain shoppers come looking for deals. 2.) Designed to rock Katie Kime has been busy lately. The Austin, Texas-based designer and showroom owner has created the Platinum Lounge space at the Austin City ...
View all blogs
More
The company's newest contemporary home theater group features a raspberry leather cover. USA PREMIUM LEATHER
C-1440, C-1432