Using a basketweave pattern in cream and taupe, this new natural-fiber pillow design from Loloi also features thick black stitches as accents. More ...
Barclay Butera, Badgley Mischka and Retail Stars

  More Videos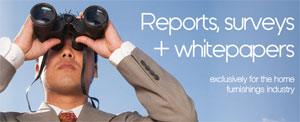 In Home Accent Today's Research Store you will find in-depth, specialized and exclusive home furnishings research. Click Here to see the latest reports.
Click for details!
View All Stories