Australian-based company Art Hide made its High Point Market debut last month, showcasing originally designed and ethically sourced leather offerings. arthide.co More ...
Badgley Mischka Home Collection showroom tour, High Point Market

  More Videos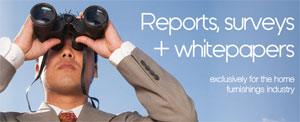 In Home Accent Today's Research Store you will find in-depth, specialized and exclusive home furnishings research. Click Here to see the latest reports.
Click for details!
View All Stories