Las Vegas accent buyers look for 'rock stars' ... and the occasional dancing frog
How much is too much for 'unique and different?'
Without fail, buyers interviewed by Home Accents Today at every market say they're on a quest for something new, unique and different. As we interviewed retailers and designers about their shopping strategies this week, it was no surprise to find the same holds true for the
Las Vegas Market
. So, in order to gauge just how important "unique and different" really is, we also asked buyers, "If it's truly new, unique and different, does price matter?"
Yes. In our market, yes, absolutely. We've been in business 11 years, and have two retail shops that carry everything from home accessories to fashion. This market, we're here primarily for home furnishings pieces, case goods; bright, fun colors, whimsical maybe. Compared to a year ago, business is a bit better. We've weathered the storm.
-- Sheridan Larsen, Megan Thorup, Suzette Eaton, Hip & Humble, Salt Lake City
It's all relative. Pieces of art, sculpture, statement pieces, the price point isn't as important. I call them "rock stars." You can pretty much name a price on one of those rock stars -- as long as there's enough supporting cast behind it. If the price point is reasonable they'll spend that, but they won't do it for everything. The things that sell in my store are the metal dogs you can put your magazines in, the little frogs doing a conga line ... the strangest, goofiest things out there. A vase is a vase is a vase, but you give me 10 frogs doing a conga line and it's out the door in a heartbeat! So, I'll buy some vases as supporting cast but I need those crazy "out there" things, too - the things that make my customers walk in and say, "How do you find this stuff?" And here, it's the hunt. I walk in a showroom and scan, and if I go "Oh, what's that?" I will do a minimum with that company just to get a few kooky little things. The best thing I bought last market was a piece of art that was a horse created out of pieces of wine corks. I sold it to a customer who loves horses, they put it in their bar in their lake house. I look for things like that. Compared to a year ago, business is about the same, maybe a little better. I'm actually moving the store in a different place because my strength is accessories and less furniture. I thought, "Why am I not doing this?" because that's what's paying the bills.
-- Joanne Tatem, Urban Chic Home Furnishings, Las Vegas
Unique and different is very important for me because I have people coming from so many different places. Price point is definitely important, but it's also how it's presented. I mean, I can have something really expensive and have it in an ordinary display but if you've got the supporting pieces to go along with it I can do a much higher markup. I am very, very careful with my markups - very careful -- because I know my people are shoppers. They're out and about looking at home goods, looking on the Internet, so for me, if I can make the margin that I need, it's more important for me not to mark it up too much but just to get enough to cover the cost of the good and a little bit more. I sell everything from olives to sofas - lamps, wall decor, children's, eclectic looks -- and lodge, because I'm in a mountain community. This market I'm looking for new lodge, which I have not found at all, and for new artwork, which I did find and think will definitely add some interest. Compared to a year ago, business is better. Definitely better.
-- Jeannette Skaff, The Outhouse Collection, Arnold, Calif.:
Does the price matter if it's really unique and different? No. Instead of buying lots of little things to fill, I need special statement pieces that make an interior look wonderful.
Customers are coming looking for things that are new, so I'm looking for things that I haven't bought before. I buy what I like to call "first cousins to good sellers," because you know those things have a pretty good chance of selling. I need to do something that my customer really hasn't seen but I can't change my concept too much. I specialize in more muted colors. We don't do chrome, white, we don't do the primaries. I stay in the more muted range, pastels, so my color palette is pretty small. And because I specialize in 'right-size' furniture, scale is important. I've been to every Las Vegas Market except the first one. I have a 15,000-sq.-ft. retail furniture store in Bellevue. We've been in business for 81 years - my grandfather started the business -- so we've gone through lots of transition. Compared to a year ago, business stinks, and I haven't talked to many retailers or vendors who have said otherwise. Another reason I'm at market is to get some good ideas - about stores that have done better, and why.
-- Polly Teeter, Del-Teet, Bellevue, Wash.
At some point, yes, price does matter. There's a limit everywhere and with every customer, so we try to keep a full range of price points in our store. We have tourists and Laguna has a reputation for being kind of expensive, but we enjoy the reputation that "they can always find something nice at Stephen Frank," no matter the price. It can go from $5 up to $5,000. We've been in business going on three years. Compared to a year ago, business is much better -- through the roof. For us, garden is more a state of mind, not necessarily a literal translation, but we do sell a lot of garden decor. It's a matter of taking the outdoors and moving it in, and taking the indoors and moving it out. So we do a lot of indoor outdoor type of decor. Every season this market gets better. We're glad they're doing gift and home. We're looking for something different, something new, we always love Beatriz Ball. The thing we're most concerned with is avoiding the knockoffs. That really frustrates us. There are some great finds in this showroom that are being knocked off. As retailers, you want to be authentic and it's tough when your neighbor down the street buys the knockoff and is selling it for a third the price. So you have to explain to your customer why the imported Italian pottery really is superior to the copied product. Directly across the street is our table and pantry store where we carry gourmet foods, wines, table linens, tableware, a lot of entertaining pieces. That's where we would like to see this market trend, to see more tabletop coming here.
-- Frank Schaffer, Stephen Jacobs, Stephen Frank Garden & Home, Laguna Beach, Calif.
With "new and different," yes, price does matter to a degree, but if it's unique and different you can justify a little bit more. I've been in business 25 years; I specialize in a little of everything but mainly residential. I was thrilled when the market opened here because I used to go to Los Angeles. I've been to every Las Vegas Market. This week, I'm looking for product for a particular job for a client, but the other thing I like to do is just get a feel for what the trends are and what's going on in the marketplace so I can stay on top of everything. Compared to a year ago, business is starting to get better.
-- Jamie Butta, Interior Dynamics, Las Vegas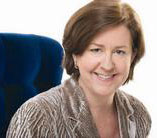 Susan Dickenson
|
Editor in Chief
sdickenson@homeaccentstoday.com
Related Content By Author
Subscribe to
Home Accents Today eWeekly
Receive the news you need to know about the trends in the industry delivered right to your inbox.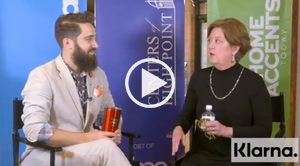 Join HAT's editors for PBM News Desk, an on-site content creation hub in the lobby of the Centers at High Point during the 2017 Fall High Point Market. (Sponsored by Klarna.)
See the videos!