Retail Profile: Cathy's Marketplace, Honolulu, Hi.
CATHY LEE IS THE PRESIDENT AND DESIGNING dynamo behind a retail operation and multimedia offering of workshops, style articles, video tips, DVDs, design center and home furnishings products, delivered via her website,
"State-of-the-art" style: Cathy Lee's new retail showroom, a green renovation of a former bank building, also functions as a teaching venue and videotaping studio for her popular decorating workshops. (Dave Rezendes Photography)
online marketplace and new state-of-the-art retail showroom/studio/learning center.
Her base of operations is Honolulu, where her design and décor workshops and regular appearances on Hawaii's ABC affiliate have earned her local recognition as a popular design personality. Lee's expertise as a facilitator and arbiter of the luxe island lifestyle, however, is all self-taught and something she says began when her interior designer stopped returning her calls, prompting Lee to take on the completion of her and her husband's new house herself. A year and a half of intensive study, beginner's mistakes and on-the-job learning produced a lush island home with movie theater, meditation room and floor-to-ceiling views of the surrounding Hawaiian mountains.
Lee purchased, remodeled and sold several more luxury homes in Diamond Head and Kahala until 2006, whe
n she launched
RSVP Style
, her signature "live" decorating workshops. "On an empty stage, I put together mini-rooms with step-by-step explanations in front of live audiences, at venues including Macy's, Lowe's, the Navy Exchange and the Hawaii Convention Center, where we've drawn 450 people," she said.
In July 2007, she took the program online with www.rsvpstyle.com, an interactive site of style articles video tips and instructional products such as "The Deluxe Style Kit" and "Style My Room Makeover DVD." The company's "Learn to Decorate With Style Starter Set" was picked up by Borders, Barnes & Noble, Sam's Club and Costco stores in Hawaii.
In May 2010, Lee launched a second site, CathysMarketplace.com, an online destination that combines quality new and gently used home items with weekly video tips. Lee compares it to a "high-end Craigslist" for home furnishings. "Honolulu's only private auction house had just closed, there was a need for a place to buy and sell luxury home items, and our online marketplace has largely filled that need," she explained.
In May of this year, Lee celebrated the grand opening of her newest venture - Cathy's Marketplace, a retail
showroom/studio/learning center that brings the RSVPstyle programming into a retail showroom for both new home furnishings and better consignment pieces. "Some of our website users didn't want people coming into their homes to view and purchase items, and asked for an alternative. Retail was a natural next step. To keep things exciting and forward, we blend brand new furniture and accent pieces with high-end consignment items, and tie it all in with decorating tips to create a destination for higher-end home items - and learning."
Later this year Lee will unveil her new signature line of bedding which, she says, will have "a designer look and feel, but at department store prices. My designs are a mix of urban, contemporary and island, they all have a luxurious, comfortable look, and like everything I do, they all come with a unique twist."
She continues in her role as the regular home style personality on the morning news show at Honolulu's ABC affiliate, augmented now with video clips produced using the new showroom's audio-visual equipment. She also continues to conduct live decorating workshops, now on the showroom's new stage complete with surround-sound. "We'll be doing smaller workshops at our showroom," she said. "It's been a natural progression - people can now come to us to learn, not just at workshops, but any day of the week."
As such, Lee said she's broadened her promotions to market not just the store, but the entire business. "Now we have an online audience, a showroom that reaches the mid- to high-end market, and we've just signed a lease on a warehouse so that A-level merchandise can go to the showroom and B- and C-level merchandise can also be ta
ken in and sold. This way we reach customers from the high-end to the budget-conscious, and maintain the quality of what we feature in the showroom."
Describe your store: Eclectic, warm, rich and round. We're in a circular space that once housed a bank, complete with vault, surrounded by floor-to-ceiling windows. We've completely remodeled it using green materials: reclaimed wood and rebar shelving, zero-VOC paint, recycled tiles and partitions. We sell luxury consignment furniture and accents alongside new pieces. Our displays are designed as vignettes. We have a warm and cool accents wall where people can see how to mix and match for visual harmony. We even have little walls showcasing accent colors and paint finishes, and we scatter tips throughout to show customers how and why arrangements work together. We also have a Style Center where customers can ask questions and look through magazines and books. This goes back to what we've been doing for the past four and a half years: Inspiring people to beautify their spaces by teaching them how to create designer looks at home.
The showroom also functions as a studio and learning center. Our indoor lighting enhances the windows' natural light, which is better for videotaping clips for our website and the morning news program. We've built in a stage, surround-sound and an audio-visual system so we can now host the live design and décor workshops right in our showroom. In our signage, in our mailings and in the showroom, we use video tags to welcome people, introduce our showroom and get the word out about events. We will be using this technology even more.
What sets you apart from the competition? Everyone who's come into the showroom loves the idea. No one in Hawaii is doing anything like it. There are other stores that mix consignment with new, but having a multipurpose showroom that's also a teaching venue, videotaping studio and Style Center is a creative, unique way to generate buzz.
How do you reach your customer? Today you have to do it all. In addition to the workshops, we do traditional advertising and direct mail, and we send our subscribers a weekly e-newsletter featuring our latest top picks, updates and video tips. We've partnered with home industry professionals in our Style Center, which allows other businesses to utilize our space for a nominal fee. This gives them an opportunity to meet with our customers who may be interested in their field of expertise, while bringing in new customers.
What is the most enjoyable part of your job? Every day we get in new pieces and the showroom has to be rearranged and new window displays have to be created. I have a great creative team, but I love getting involved in that process.
Do you see any trends emerging or remaining "hot" in home accents for your area? I think the whole green and reclaimed movement is hot and will only get hotter. Natural woods are also strong. But what we're really starting to see more of in Hawaii is the mixing of those woods with other elements. Local artists are finding new ways to create furniture and accents, for example mixing wood and metal for a more contemporary, fresh look. For example, in Hawaii, koa is an indigenous wood and local artists are combining it with chrome and steel. We have in our showroom an amazing dining table made from one slab of koa, with a contemporary metal base that creates a beautiful, functional piece with hot, fresh appeal.
Approximate size: Showroom, 4,100 square feet; warehouse, 4,800 square feet
Year store opened: May 2011
About what percentage of your sales are home accents? 25%
Trade shows/markets you shop: Las Vegas
Key home accent vendors: Phillips Collection, Groovystuff, Peninsula, Roost, Global Views, Arteriors and local artists
Address: 1110 University Ave., Honolulu, Hawaii
All photos by Dave Rezendes Photography.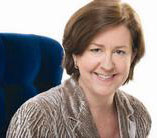 Susan Dickenson
|
Editor in Chief
sdickenson@homeaccentstoday.com
Related Content By Author
Crestview Collection's David Lee discusses the company's growth with Home Accents Today's Susan Dickenson

More Videos
Subscribe to
Home Accents Today eWeekly
Receive the news you need to know about the trends in the industry delivered right to your inbox.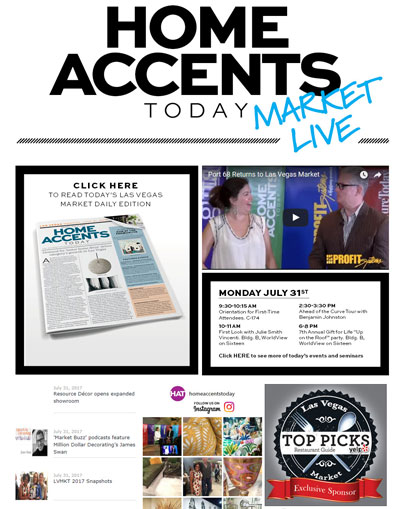 Did you miss the Las Vegas Market? Or forget to pick up one of Home Accents Today's market dailies? Click through to our Market Live page for links to our digital dailies, photos and market-related news.