New products
Market time is here again and so is the fall harvest of product introductions for the High Point Market. Home Accents Today offers a sneak peek at the latest product designs with products showcased from more than 155 vendors. The following pages include an alphabetical listing by company of what's new in the world of home decor for the season. Based on featured product, vendors are segmented by category in the vendor directory for easy reference.
All prices are suggested retail. See Editorial Sources on page 138 for more information.
Imax
AA Imports
Ankasa
Antiques by Zaar
Art in Motion
Arteriors
Artistry in Silk
Aubergine
Bacon & Wing
Austin
Babette Holland Design
Barclay Butera
Barbara Cosgrove
Bluefish
Busbin
The Bradburn Company
Casafina
CBK
Chelsea en France
Clay, Metal & Stone
Colonial Mills
Country Originals
Currey & Company
Cynthia Scott Designs
Dale TIffany
Designers & Makers
D'Kei
Emess Design Group
Figlia Mia Ceramica
F.O. Merz
Glass Nuvo
The Hammock Source
Harounian Rugs
Haziza
Hebi Arts
Holton Galleries
Homefires
Horizons International Accents
Imax
JB Hirsch
JD Chamberlain
Labs
Ladybug
Lam Lee
Market Street Floral
Mary Mayo
Mathews & Company
Minka Group
Miresco Decorative Rugs
Moretti's
MPH Designs
Mystic Valley Traders
Nfusion
Nova Lighting
Pacific Rim
Paragon Picture Gallery
Phoenix Art Group
Primex
Randomlane
Roberta Schilling
The Rug Market
Runyon Company
Schonbek
Siwthaisilk
Sterling
Tapestries Ltd.
Texture Home Decor
Tomasini Fine Linens
Toyo Trading
Trans-Ocean
Trees International
The Uttermost Company
Wildwood Lamps
William Sheppee
Willow Green
Zocalo
Zodax
A&R Designs
New at this market, A&R Designs introduces a reproduction of an 1800s upholstered cockfighting chair with open back and carved legs. The chair is available in a variety of wood finishes and upholstery fabrics ($700). eLink 653
AA Imports
A cherry-finished small sideboard cabinet with hand-carved trim ($495) debuts from AA Imports. Other additions include a tea set and vase in beige with goddess and cherub imagery for a classic appeal ($20 to $132). eLink 501
Three rugs crafted of pure Himalayan wool and colored with vegetable dyes debut this market. The Desert Visions Collection offers soothing neutral colors combined with bold design for a modern earthy style ($950). eLink 511
A series of vibrantly colored majolica plates is decorated with foliage in lime green and yellow edging. The Oslo Collection of glass vases is a versatile set of different sizes highlighted by rolled-ring detailing in the centers. The Victoria Collection is an elegant lineup of handmade, hand-cut lidded jars in three sizes. eLink 500
The Natural Collection is expanded with Desert Song, a striking geometric with Navajo influences in black, brown and cream. A Bedouin tribal rug is added to the Jordan Collection ($1,400). In wall decor, the Trilogy of the Gods and Song of the Earth tapestries are made of hand-woven alpaca in rainbow colors and abstract designs ($3,900 each). eLink 514
A dramatic, sculptural horse head rests on a marble base ($105). Keeping with the equestrian theme, a striking wall sculpture of horses running is made of bronze ($58), while a set of four porcelain decorative plates and a vase feature fox hunters in a blue toile pattern ($16 per plate). A cache pot takes a traditional subject and adds a touch of contemporary with its muted color and banded neck ($37). From the Mocha Collection, an oversized decorative charger ($55) and large vase ($31) are traditional with floral and bird patterns in classic colors. eLink 506
Ankasa
The Casablanca bedding collection uses a contrasting palette of white and chocolate, depicting a geometric zebra pattern and detailed embroidery. New pillows include The Sugar Plum Collection of intricately em-broidered pieces in lace patterns, jewels, exotic beading and crewelwork, done in shades of lavender, plum and purple. eLink 509
Antiques by Zaar
The Butter sideboard holds on to its aged look with a carefully preserved patina, but gets a fresh look with new hardware ($2,550). A five-color cabinet has been made into a modern entertainment system with lotus leaf hardware and traditional pegged doors ($2,275). An elmwood bureau with delicate carving is accompanied by a mirror ($2,350), along with a canopied daybed with carved medallions, fully restored ($5,200). A pair of ceramic stools used by the Chinese elite brings function along with aesthetic ($550), as well as an original wine vessel from the early Ching Dynasty ($925). eLink 512
Archatrive introduces the Balustrade table with columned legs inspired by Greek architecture. Shown in fog gray with a stained top, the table is available in 40 handpainted finishes ($1,650). The company also has added a two-tier model to its white wooden chandelier. eLink 578
A mahogany woodblock mounted on a black sand textured background and shadowboxed in a distressed wood frame accented with faux copper foil creates unusual wall art. Krakatoa is one in a series of five. eLink 652
Art in Motion
Art in Motion introduces a stylish and elegant contemporary collection, including Through the Garden Gate, framed in a champagne wingback with beaded detailing ($175). eLink 513
The Monastery table made from kiln-dried solid red adler wood, makes its first appearance. The oversize table is available in a dark or light walnut finish ($5,400). eLink 505
Arteriors
The Sherwood antique brass seven-light candelabra evokes a tree limb with its asymmetrical construction and foliage details ($459). Other new items include a pair of Wright Prop Airplane statues, made of vintage brass and reminiscent of early flight ($129 each); three Teardrop vases, made of heavy glass with amber, amethyst or olive color inside; and a pair of Crowe Caged Glass vases in two sizes with a slender mouth and painted iron detailing. eLink 502
Artistry in Silk
The Tropical Safari orchid is from the Casual Elegant Collection incorporating feathers, salal leaves and a metal compote container ($499). A more traditional white orchid debuts in a metal urn with medallion detailing. eLink 504
Artmax introduces accent furniture pieces including a black cabinet with raised, geometric silver patterning ($1,149). A coordinating cocktail table uses Greek key inspiration for the legs, while a beveled glass top accentuates the ultra-contemporary flair ($1,099). A dramatic end table with a swirling silvered base and black base and top complete the group. Also debuting is the Balancing Trio Sculpture, an artistic rendition of three human forms in a circular motion ($289). eLink 515
A round bamboo dining table sports a large glass top ($580). A bar table and coordinating armless stools give an island feel with bamboo, coconut shell and leather construction ($1,499, bar; stools, $210 each). Other stool options include armed versions in padded or flat-woven rattan. eLink 517
Several botanical pieces debut, including simplistic but contemporary grass in a white bowl ($140); a Great Caesar dendrobium orchid with maiden hair fern in a keystone urn ($650); orange ranunculus and Japanese blossoms in a tall vase ($600); and hydrangea and ranunculus in a glass vase with a stand ($360). eLink 516
Aubergine
The decadent Joannah Collection of bedding uses coral patterns and colors with a neutral coverlet for contrast ($2,570). The Hollis Collection is a mix of plaid seersucker and other cottons in seafoam and coral colors to create a fresh look ($2,080). For a more masculine style, the Jake Collection is a combination of classic navy blue and fern green plaid seersucker ($1,694), while Ashley takes the opposite approach with a delicate lavender and pale green miniature floral. The Olivia Collection offers a light green plaid with a botanical motif on the pillows ($1,704). eLink 507
Austin
The Wave vase uses abstractly curved glass and an aged gold patina to offer a modern presentation. Several pieces debut from the Carolyn Kinder Collection, including a series of Adessa glass jars with verdigris and aged metal hand-painted lids ($78 to $98), and Seated Antelope sculpture, a contemporary design in aged iron ($265). Other new items include the Paradise Fish sculpture with a rusted iron patina ($265) and the star-shaped, metal San Francisco clock, designed by Billy Moon ($235). eLink 519
Being introduced at this market is a cluster of onion grass set in a bronze and black diamond pattern urn. Urn ($45) and grass ($67) are priced separately or together ($80). eLink 651
Babette Holland presents a black Ostrich table lamp topped with a gold shade, and a similar flamingo red base topped with a black shade ($399). The lamp is also available in a two-toned metallic rust color with white shade. eLink 518
Bacon & Wing
The chair line is expanded with the addition of the 521 chair, available in arm or side models with a tight seat or loose cushion. Shown here in Ashley on Cheeta fabric, the chair is available in custom finishes and other fabric choices ($1,900). The company also is adding a pair of Regency chairs in two styles, as well as a Bergere chair with box-edge cushion and dark walnut finish ($3,090). eLink 508
Several accent furniture designs debut, including the minimalist Metropolitan end table with shaped metal legs and black and silver top ($225). Other new pieces include the round Orbis table made from Asian hardwood in a black finish ($195) and the elegant Romana bowfront chest, a small curvy piece in a delicate metallic finish. The Mazarine Collection includes a bookcase and a TV cabinet using intricate veneers and carving. eLink 530
Barbara Cosgrove
Barbara Cosgrove introduces the Small Gourds lamps in nickel, antique brass and antique copper with shades available in black or white with gold lining ($425). Also debuting are glazed porcelain urns in a Moroccan color palette with white cotton shades ($185). eLink 526
Barclay Butera
The new Grant wing chair is inspired by the stylishness of Cary Grant and offers classic lines and masculine upholstery ($3,316). Bette Davis inspires the feminine sister chair with curvy turned legs and an edgy animal-print fabric for a modern edge. The Hampton chaise is big and lounge-friendly ($3,692). eLink 510
Bauer International has teamed with luxury safari travel planners Newland, Tarlton & Co. to create a line of campaign furniture. The pieces include a chair, chest and end table, all made of mahogany, brass and leather, and all designed to collapse for transport. eLink 521
Two richly colored scenery tapestries debut, each featuring a European courtyard, one at twilight and one on a sunlit day. The traditional Verona tapestries marry rich hues of red, blue and gold. The pieces are made of cotton and rayon ($399 to $699). eLink 503
Bethel International presents a three-tiered black crystal chandelier with six candles ($799), as well as a beehive-inspired pendant with a chandelier base in bronze and crystal. eLink 544
Traditional botanical patterns are accentuated by a gold outer frame with hand-painted green and gold checked matting ($563). Pickled wood frames a classic golf magazine cover and a sailboat scene for masculine appeal, while an abstract white peony stands in contrast on a dramatic red background, surrounded by ivory matting and black frame. eLink 525
Bluefish
Bluefish introduces the Primativa Collection, a 25-piece group of accent furniture featuring a simple, hand-planed design made modern with fresh hardware and clean lines. Made of Honduran pine, the line is finished in dark mahogany ($699, console table). eLink 532
Bojay debuts a settee and chair, both featuring frames with elaborate mother of pearl inlaid in floral patterns on ebony. Both pieces have an upholstered black seat. eLink 520
The Bradburn Company
From the Elizabeth Marshall division comes the Peking Presentation bowl, an elegantly carved bowl of antique silver and gold ($699). The Beau Rivage lamp, standing 28 inches tall, is made of hand-painted porcelain in a pale green with bronze botanical accents ($519).
Busbin
Introductions this market include the Raffello lamp, offering a painted, turned-wood base in black topped by a white shade ($495). eLink 528
Capel presents the Dazzle Collection of antique Southwest designs from the Sonora Desert area, and the Del Cabo Collection, featuring a variety of striped patterns in fashionable colors. All rugs are 100% wool and made in India ($299 to $699). eLink 535
An elegant series of four caged birds brings the animals to life with the 3-D effect. Other three-dimensional pieces in-clude Copper Flower Baskets, handcut metal shaped in traditional floral patterns and mounted on a black background with arched frame ($369), part of the Society Garden Collection. Four Asian florals combine to evoke the feeling of a painted screen ($349, set of four), while Field of Lace serves up vintage botanical wildflowers with a silkscreen blend of color ($189, set of two). eLink 522
Casafina
The playful Love plates are made of glass and imported from Germany. The plates are available in 25 colors, in solids and polka-dots ($7 to $50). Casa Stone from the Sun Valley Collection brings evokes the feeling of a sunrise with its palette of variegated oranges, creams and soft yellows. The hand-painted stoneware is oven, dishwasher and microwave safe ($14 to $60). eLink 524
CBK
CBK presents the Trumpet vase with tulip-shaped mouth and Apothecary glass jar with finial lid ($45 and $58). Other new pieces include Filigree candleholders with pagoda-shaped bases, cone-shaped glass globes and a dark tobacco finish ($65). Three fruit boxes, an apple, pear and pineapple with lid, are served on a coordinating tray of antique gold and copper ($100, set). New from the Tracy Porter Collection is a series of decorative plates in vivid colorways and Oriental-influenced patterns ($65 each). eLink 537
Chandeliers and Cia
A contemporary chandelier in a funky square shape with clouded glass debuts. The Cristals chandelier evokes frosty days with its two-tier, icicle shaping. eLink 540
Chelsea en France
Additions to the Aesop's Fables Collection debut, including cherry wood chairs with a whimsical appeal, inspired by the legendary stories ($895 to $1,295). French White Icing dinnerware also debuts, hand-painted in blue, green, yellow and rose ($39 to $59). eLink 542
Several coral prints debut, hand-painted in Italy using real silver paints ($437 each). The Roberta side table is a carved three-legged rectangular piece with maple veneer top and black accents ($237). The Albert console has a wrought iron base with medallion insets and a marble top ($662). eLink 529
Clay, Metal & Stone
Market introductions include the Pentas bottles, a set of earthenware bottles with orange and brown tones brought together with hand-hewn tops ($198). The Deka tray is rustic, yet elegant with worn color and texture ($138), while the Selam charger is brass with a bold, worldly style ($210). The Elba vase reflects Eastern European influences in a timeless style ($98). eLink 547
Colonial Mills
Colonial Mills adds the Sunbraid Collection of rectangular braided indoor/outdoor rugs, mixing solid colors with multi-colored accent stripes. In traditional oval shapes, Oak Harbour rugs are available in six colorways and made of 100% wool ($599). eLink 523
The Lehar rug is a contemporary multi-colored geometric made of 100% wool ($1,890). Other new rugs include the vibrant floral Adelelaide (in blues, reds and yellows) and Swedish Meadows (in green and red). New bedding designs include Hyde Hall, a feminine pink and green bedding set with dragonfly and swirl designs, ($348 to $480), and Suzani Lily, a '70s-inspired floral in funky colors and crewelwork. eLink 531
Constance Shryack debuts a charming pillow showing off the image of a golden retriever, hand-painted on linen with chocolate brown flange ($125). The Seashells Collection includes three pillows with elegant shell designs on oyster linen and sea blue border. eLink 527
Country Originals
New products include a large glass and iron wall candle sconce in a scrolled design ($30). Another new candleholder design is the set of bamboo floor towers in assorted sizes, the largest standing almost 50 inches tall ($17, set of three). Three twig vases adapt traditional pottery shapes into woven wood styling, while iron leaf trays make elegant autumnal display pieces. eLink 538
Two rugs join the Woven Treasures Collection, including Karabagh in amber and ivory, and All Over Vase, in burnished rust and ivory. The 100% wool collection uses traditional Persian styling with updated color palettes and vegetable dyes for a subtle abrash ($599, 5×8). In the Lotus Garden Collection, Gerber Daisy is a transitional, hand-carved style in burgundy ($399, 5×8). And Antique Sarouk and Ganchen join the Jalore Collection, celebrating damask-like patterns with hand-twisted yarns ($699, 5×8). eLink 553
Currey & Company
A small three-drawer accent chest is covered in antiqued mirror and showcases a gilded frame and hardware. A gold leaf lamp stands on a black square pedestal is topped by a black, rectangular shade. In fixtures, a two-candle caged sconce is detailed with ornate pineapples in an antique bronze, and a three-tier chandelier is painted with antiqued ivory and bronze and decorated with pearlescent crystals. eLink 541
Cynthia Scott Designs
Debuting from Cynthia Scott Designs is a set of two shell topiaries set in a chocolate tin with cream ribbon ($250). eLink 543
Cypress Point presents a modern lamp with a twisted metal base and sleek black shade, part of the Visions Collection ($239). In the Heritage Collection, several traditional lamps debut including one with a narrow, turned base in a red finish and metal handle, and a traditional urn-shaped base, also in red, with metal accents ($269 to $279). eLink 533
Ambered and clear glass flowers decorate the Amber Blossom chandelier, a three-candle piece in antique brass, while clusters of red grapes serve as the light globes on the winding Vineyard fixture. Stained glass table lamps include Amber Pebble Stone, sporting a chocolate bronze finish and embedded red and gold stones; Dragonfly Garden, an elaborate mosaic piece in vivid colors; and Tropical Paradise, a trio of toucans perched on an antique bronze "tree." eLink 536
Swirling burl veneers and Art Deco style influence the Margaux Collection of accent furniture, including a cocktail table, chest, end table and console, all accentuated with ring hardware. More traditional styling highlights the Heirloom Collection's library table and credenza in cherry finish. eLink 539
Several pieces of wall decor debut, including a dramatic Asian-inspired red floral design shown in sharp contrast against a white background and black frame. A diamond-shaped mirror is framed in an elegant, twisting wood frame sparkling with a metallic finish, while a wood carving is displayed inside a dark wood frame with beaded details. eLink 545
Designers & Makers
An Old World screen is constructed of three panels of intricately engraved bronze, brought together by wrought iron detailing ($1,220). Other new furniture pieces include the Partners Desk, made of hardwood set on an iron and brass stand and painted in red and black with gold accents ($2,420); and a carved ebony and leather chair in ornate Indochine style ($560). Two lamps are added — one a brass and iron table lamp with three pink silk shades ($400), and the other an intricate iron floor lamp with an amber silk shade ($660). eLink 550
D'Kei
D'Kei debuts its Rhapsody Collection, tassels and fringe made of hand-blown glass, chenille and velvet. The collection is available in eight colors. eLink 546
A low-slung, antique white sideboard gets an elegant kick with a curvy base in gold finish. An end-table-size chest, in a rubbed ivory finish, is adorned with intricate carved metal on the legs and hardware. eLink 551
Emess Design Group
The Nature's Calling table lamp features a debossed botanical pattern on the rectangular base ($129). Two new lamps join the Oriental Domain Collection, including the Glaze Ceramic lamp offering an Asian pattern in black, brown and gold ($129) and the Gold Leaf Buddha model with black shade ($99). eLink 548
A batik-like print highlights the Damask porcelain lamp series, with two sizes and shapes ($290 and $310). The lamps are available in turquoise/brown, yellow/brown and black/white/brown color combinations, as are the coordinating set of vases, which are available in four sizes ($132 to $184). The Fuku Ceramic Collection is also added, including a set of two square bowls ($192 per set) and ginger jars ($92 and $144) in Asian-inspired bay green and black. eLink 555
Figlia Mia Ceramica
A medallion and a moon-and-stars scene decorate this large handled urn of Italian ceramic in classic Tuscan blues and yellows. eLink 534
F.O. Merz
Burberry plaid covers the set of three Londowntowne trunks, detailed with leather straps ($300, set of three). eLink 558
Swirling whorls of reds and golds decorate the contemporary Chateau rug, made of 100% New Zealand wool, hand-tufted and carved ($990, 6×8). The Festival rug is marked by multi-colored geometric shapes for an ultra-modern edge in modified acrylic ($498, 6×8). eLink 549
A Thai art glaze mixes chocolate and neutral tones on the substantial White Café table lamp, covered by a birch tussah tuck-under shade ($1,200). Fermezza is a bronze cast statuette representing balance and femininity. The lamp includes marble detailing and a hand-crafted linen shade ($595). eLink 560
Antiqued Venetian mirror and gold leaf adorn the New Traditions accent table, which is made of Pepperwood burl veneer with red gum cross banding. Other new pieces include a stone bench carved with a monkey pattern and offering a tufted leather seat; a scalloped tray in antique brass; a cast stone urn in Old Catalan finish; and a shapely leather ottoman/table with nailhead detailing. eLink 563
Glass Nuvo
Delicate stripes of blue and red decorate the lime green Tulip vase of handmade art glass ($229). The Bamboo Collection, including a bowl and vase, recreates the look of the plant with layers of yellow and green art glass ($284, bowl; $298, vase). For an urban feel, the Contempo Collection combines clear, black and red glass in a swirling pattern ($249, bowl; $254, vase). eLink 552
A pair of leather and brass file totes debuts, creating storage pieces with handbag appeal and handy function with built-in metal racks for legal- and letter-sized files ($249 and $299). Hand-sewn rosettes in a quilting style adorn the Winter Meadow pillows, made of silk, cotton and velvet and available in four colorways ($249). The innovative Fire Bucket/Ice Bucket uses the form of vessels from Colonial Williamsburg to put out fires, but instead of holding sand, the bucket houses and insulates a glazed porcelain ice bucket ($249). eLink 556
The front porch awaits the Double Rockdale Rocker, made completely of deconstructed antique wagon wheels ($1,195). For a distinctly more rustic look, the Arapahoe rocking chair incorporates a full wagon wheel to form the back, and uses oxen yokes and teak bark to complete the piece ($950). eLink 565
From the Lodge Collection, the Carved Elk sculpture debuts, made of hand-carved mahogany ($158). The Lowden clock is from the Cottage Collection, and is an antique replica in cream finish, hand-painted and carved ($1,138). eLink 557
Gustavian merges classic French styling with Swedish antiques to create this classic Regency style chest of drawers, available in a variety of hand-painted finishes. eLink 554
Delicate hummingbirds star in the Gould Birds reproduction prints from the Antiqued Collection ($85 each). A series of French Pan-Asian enamel prints are late 19th century reproductions of paintings of ornate Asian ceramics ($150). Classic Persian geometric designs make up another series of wall decor, limited edition pieces using the different patterns for a quilt-like effect ($150). eLink 561
Soft muted tones form the background for the hand-painted fruit and floral motifs on the Marbella Summer Fruit commode. The Double Mirror Trumeau is inspired by French antiques and offers hand-carved leaf and bow accents that border the two mirrors. For a more Italian style, the Giovanni round coffee table reflects classic Roman arches created by 17th century Italian architect Giovanni Fontana. eLink 567
The Hammock Source
Cumaru wood supports a Duracord seat and back on the DC Furniture rocking chair ($399), while the Comfort Cube is an 18-inch indoor/outdoor plush ottoman also covered in Duracord fabrics ($79). eLink 572
Harounian Rugs
The spicy and trendy styles of Miami are reflected in the South Beach rug, an ongoing floral pattern of 100% hand-tufted wool. Shown here in white and black, the rug also is available in chocolate, caramel, coral and limon green. The hand-tufted Winchester Collection reproduces classic Peshawar designs in 100% twisted wool with silk accents. eLink 559
Haziza
The Classical Collection of high-end acrylic furniture includes the Classic Column line, available in a cocktail or dining table, with a striking columned pedestal base ($4,500, dining table). The Chaise Lounge bench is part of the Contempo Collection and is an ultra-modern, sleek design. eLink 574
Hebi Arts
Hand-hammered circles decorate the brass urn-shaped vase with antique copper patina ($180). The Zen metal console from the Jojo Collection is a stark contemporary piece made of tin in metallic red, blue, green or brown finish ($1,850). eLink 566
The Dick Idol Collection is expanded with the addition of Canyon Road, a Santa Fe-inspired line using desert and Native American inspirations. The Aztec rug is hand-tufted wool in golds and browns ($468), while the Navajo rug offers beige, green and burgundy ($468). eLink 576
The Cicero mirror adds a touch of early Roman design inspiration to an American Colonial design. Shown in Old World white, the resin mirror is available in a variety of finish colors ($166). The historic Knights Templar and their motifs inspire the ornate Templar mirror for a regal feel ($298), while the Flower Basket Oval uses intricately carved 18th century French styling for its formal look ($380). eLink 579
Holton Galleries
A branch-like outline of distressed Brazilian wood in bronze-gold rub surrounds a rectangular mirror ($279). A squared oval beveled mirror features alternating inlaid mother-of-pearl ($399), while a sharply contemporary shape — a fragmented circle surrounding a square mirror — is brought to life with a bright red finish and crushed inlaid eggshell ($299). In wall decor, several modern pieces debut, including Tulip Chromatics I and II, colorful contemporary renditions within pewter frames with several layers of matting and four layers of skirting around the bottom ($199 each). Traditional designs include the autumnal Last Leaves, matted in decorative wood filet ($239) and Chateau DuBuxy, depicting a pastoral vineyard scene with green matting ($249). eLink 570
Homefires
True Red Bandana serves up what its name promises, with a red and yellow pattern perfect for a lodge or ranch. The rug is made of poly/acrylic in a large, loop-hooked construction ($290). Mountain Camp offers an intense color palette and a three-dimensional quality created by its cut/loop construction ($290). eLink 581
Horizons International Accents
Unusual shapes and hammered brass bases distinguish this vase collection, available in three sizes. A new handblown art glass line debuts in the Contempo Collection, with pieces including vases, bowls and decorative plates in alabaster sand ($104 to $227). eLink 583
An urban casual style defines the Skyler quartz mantle clock, made from hardwoods and veneers in a light cherry finish ($305). Table clock introductions include the Maxim, a sleek black-finished wood clock with a contemporary vibe ($90). For the wall, the Jasmine grandfather-style clock has medallion details and elaborate crown molding in Hampton Cherry wood ($415). eLink 562
Imax
Reverse, laser-cut black flowers on a frosted white background make for a transitional set of decorative bowls and vases ($30 to $40). Another piece using the laser-cut glass is the Grande Damask footed vase in charcoal gray with the Baroque pattern etched inside and a nickel base and top ($45). Contemporary Asian influence shines on the Phan red jar, made of spun bamboo with red lacquer overlay and a metal top ($149). eLink 588
A wood frame lined in genuine cowhide outlines the Cowl's Run rectangular mirrors from the Signature Collection. Continuing the lodge theme are the Coosa Antler candlestands, made of wood and metal in antique black and silver, and the coordinating Coosa wall mirror in dark brown and antique copper with a scrolling horse motif on top. From the Beach Collection, a pair of O'Tooles Reef Marsh lanterns is made of brass with polished silver, and the Endeavor 1934 sailboat replica stands a huge 96 inches tall. eLink 591
Flatweaves in handspun yarn make up the Jaimak Collection, which has added two new soft organic and earthy colorways to the popular Sumak designs ($999, 6×9). eLink 586
The Bassett rug from the Capistrano Collection depicts a stenciled floral pattern in red against a beige background of 100% wool pile with hard twist construction ($449, 5×8). A lively, modern floral decorates the transitional Key Biscayne rug with mercerized cotton accents ($449, 5×8), while the contemporary Metro rugs, available in berry red or ivory, incorporate wavy lines and circles ($449, 5×8). The Serenity series includes four colorways with subtle striping for a neutral feel ($249, 5×8). eLink 590
JB Hirsch
The Handle table lamp resembles a handled pottery jug with its striking multi-colored glaze. The 31-inch lamp stands on a wood base and features a matching finial ($229). The Tropical table lamp sports a bamboo-look base with a leafy neck ($189). eLink 571
JD Chamberlain
The Tauton vase uses a tilted construction in a soft cream finish that has an embossed spiral motif in a warm caramel color. Other new pieces include the Gallatan textured vase, a simple round vase with cut-out handle offering a unique warm metallic finish accented with a rich textured pattern. The Organza floor lamp is large-scale and was built around organic and unusual shapes, rendered in wood, arorog, cast aluminum, rattan and resin. eLink 654
From the Luminairlite Collection, the Bamboo lamp debuts, featuring a fiberglass frame embellished with tea stain and bamboo leaves ($78 to – $115). The Lighted Planters Collection also is introduced. Designed by Farry Tanadean, the line includes fiberglass frame planters in red, green and orange ($159 to $235). eLink 564
A line of polyresin shells and beauty accessories are introduced, including a shell lamp and mirror all in a coastal motif, complemented by starfish and shell tabletop accents. eLink 568
Several traditional rug designs using trend-right colors debut, including the Wedgwood/Mocha Allover Mahal rug, part of the Winslow micro-point hook collection. The rug is 100% wool and available in eight sizes ($599, 6×9). KAS is expanding its Colonial Collection with the addition of Ivory Lilies, also of 100% wool and depicting red and yellow Peruvian liles on a cream background ($399, 6×9). Other collection extensions will be debuted in the Monte Carlo line of traditional patterns and the Moda line of contemporary designs. eLink 593
From the Westwood Collections by Kichler, a console lamp debuts in an Olde iron finish with umbered alabaster glass, part of the High Country Collection ($199). The Tonbo table lamp is crafted of hand-painted porcelain with butterfly and dragonfly motifs on the base ($199). A burnished silver iron paired with an antique marble finish highlights the Venezia table lamp ($299). Also in the Venezia line, a set of two wall discs debut also in burnished silver with a mirror back ($275). In the Colorblock Collection, a rectangular hand-painted wood mirror and tray are introduced ($199, mirror; $149, tray). eLink 573
Moroccan Escape is a mixed media textural composition without glass ($549). Mountain Mist is a hand-embellished four color lithograph ($549). eLink 580
Labs
The new Botanica Arrangement Collection offering more than 200 new items debuts, along with introductions from Botanica Tree & Greenery and Kathy Ireland Home by LABS. Calla Crest in the Reflections Collection is dominated by contemporary lines in a floral of calla lilies and flared grass accented by large philodendron leaves anchored in sandy bottom resin ($180). In the Seasons Collection, Tuscan Grande combines hydrangea, roses, eucalyptus and tuberoses crowning a burl-finish flute vase ($290). Coral & Seafoam, part of the Transitions line, features a cluster of coral-colored cymbidium orchids framed by fan coral in a sleek sea-green ceramic vase ($120). Fan coral cradles protea and spider orchids in Green Royale ($240). In the Traditions collection, Garden Romance includes a bronze patina pedestal urn brimming with soft pastel florals and blueberries ($180). eLink 584
Ladybug
An ornate three-tier fountain with a gray stone patina and arched top debuts. Also new is the intricately designed Floral Medallion from the Alfresco Dining Decor Collection, made of marble resin ($130). eLink 575
Lam Lee
The Exeter Collection features a pair of vases with a black lacquer finish over a clear, cast form to create a translucent quality with aubergine undertones ($399 to $429). The Bancroft vase is an updated porcelain vase combined with metal and wood and hand-finished in retro earth tones on an aged bronze base ($499). Contemporary vases are formed from distressed gold and silver leaf in the Radiance Collection ($199). The Amadeus lighting line of sconces, pendants and chandeliers features silver and bronze tones with a contemporary flair as well, with a marriage of metal, cast and glass ($599 to $1,699). A new transitional lighting line debuts with the Ambrato Collection, tabletop and floor pieces accented with amber crystals on a metal and cast body hand-finished in oxidized bronze and cast shades finished in hues of amethyst crystal ($699 to $2,499). eLink 595
The Gaines swivel chair and Gigi ottoman debut in the Celerie Collection. Gaines is small in scale with a hidden swivel, single welt detail and maple legs. Gigi is detailed with scalloped edges and covered fabric buttons. The Villa sofa, part of the Palm Beach Collection, is a tufted back sofa that features a pleated collar around the back and arm. eLink 597
Several rugs debut for fall, including Ombre Mosaic, combining transitional color affects of tie-dyeing with geometric patterns of mosaic tile work in colors like amber and juniper. Dimensions Falling Leaves, offered in green or orange, features a simple water jet-cut border design and may be used indoors or out. The design of Architectural Tiles Lapis is inspired by moss and copper patina found in aging gardens. Finally, the Vines rug is inspired by the transitional colors of forest landscapes. eLink 569
A double candlestick base in brushed metal highlights the Galia two-light table lamp with dual pull chain switches and an ivory shade. eLink 600
The Vanda orchid, from the Fresco Collection, overflows from a green vase accented with rattan for a tropical feel ($125). eLink 577
Majestic Mirror and Frame
A mixed media rattan inlay mirror debuts ($299), along with a more contemporary mirror framed in multi-colored wood ($275). Elegant and sleek, a third introduction is a round mirror surrounded by a silver leaf with black trim ($199). eLink 592
Market Street Floral
The Dreamy floral arrangement combines anthurium, ginger and large tropical orchids that rise through natural bamboo orbs from a round zinc container ($450). From the Floral Bundles Collection, Ruby features burgundy peony and creamy hops with deep red-tipped seeded eucalyptus ($130). Purple Pizazz is highlighted by grape ladyslippers, deep rich agapanthus dripping with plum amaranthus, outlined in purple-tipped orchids and frilly grasses ($310). The Greens of Glory arrangement features curly willow with clematis seed stems and long needled boughs atop a curved earthtone metal container ($250). Tropics is positioned in an 18-inch geometrical deep brown glossed container with bladed and frosted tropical leaves and wispy grassy elements ($158). eLink 602
Angels grace gold and resin candleholders topped with tan glass ($55, set of two). A Camel/Palm Tree candleholder and vase measure 37 inches tall and pair brass and glass for an updated tropical style ($499, vase; $590, candleholder). eLink 589
Mary Mayo
Tree Top, appropriately, is a tree design with suede leaves embroidered on silk, double-matted and framed in a simple, rough-hewn solid wood frame ($199). eLink 594
An exaggerated leopard print in classic gold and brown highlights the new rug made in Nepal. eLink 585
Mathews & Company
From the Rustic Saalwood Collection, cocktail and end tables and bookcases debut, all constructed of reclaimed wood, highlighted by rustic beauty ($225, end table; $600, cocktail; $195, one-shelf bookcase; $435, two-shelf). A new addition to the Woodlands line, the 40-inch bar table is crafted of hand-forged iron with a pine top, available with copper, oak and dark stain wood tops ($450 and up). Additions to the Italia Collection, a chair and barstool are made from hand-forged iron and available with cloth, leather or hair-on hide seats ($300–$460). Two longneck bottles debut in the Legend Collection, sold with an inscription in wine color peeking through a rustic beige finish ($370). A large Legend bottle features the signature scribe finish of the collection ($375). eLink 598
Minka Group
More than 100 products debut in portable lighting, wall decor, mirrors and accessories, including expansions of the Casa Cristina lighting collection and Jessica McClintock's The Romance Collection. A traditional table lamp in rich wood tones with ornamental panel inlays debuts, complemented by a fabric rectangular shade with decorative trim and finial ($149). Another traditional lamp features a draped pattern urn on a pedestal in soft neutral tones and gold leafed accents topped by a silk soft back shade ($129). The cylindrical scroll pattern on a casual base and highlighted metallic finish accents another lamp, which also has a textured fabric shade ($99). A decorative round mirror debuts, with burlap textured panels that alternate with an intricately scrolled pattern in warm wood tones ($249). Finally, accent wall plaques complement the mirror with a burlap textured outer panel and a framed scroll relief overlay ($49, each). eLink 605
Miresco Decorative Rugs
Several contemporary rug designs are added, including Dominos, featuring a black background and multi-colored polka dots, and Channel, a stark geometric pattern of criss-crossing and intersecting lines in jewel tones. Medley takes its inspiration from a classic Harlequin pattern, while Glaze is reminiscent of a camouflage look with its earth-toned mottled colors. eLink 582
The elegant Lotus chair is designed in the shape of a free-form arch, wrapped in rattan and with a microfiber seat. A set of Corset baskets recreate the classic apparel device to cinch the waists of the blue and white pieces, and a set of two Free Form vases are crafted of black and brown basketweave. eLink 603
From the Mogni Collection, the Charcoal rug debuts, made of 100% wool and hand-tufted with over-twisted yarn ($699, 5×8). In the Nouveau Collection, Ivory is power-loomed of 100% New Zealand wool with hand-finishing details ($439, 5×8). eLink 608
Moretti's
The Neo barstool blends nostalgic and modern design with legs that evoke Spanish tradition and paired with a modern swivel seat ($1,190). eLink 674
MPH Designs
An elegant metallic vase-shaped base showcases a botanical motif with elegant flair on this new table lamp ($220). Embossed metal in a classic pattern marries a black base and shade for a dramatic touch ($220). eLink 596
From the Basillica Collection, a chandelier debuts with sand color shantung shades in an astral bronze finish. A decorative mirror in an artisan gold finish, part of the Villa Medici Collection, features a gilded floral pattern. Speckled champagne scavo opal cased glass highlights a lamp from The Canterbury Castle Collection. Vines entwine the piece, highlighted by a liberty bronze finish. The Napoleon Court Collection is classic with cream shantung shades that complement the Firenze gold finish. The Meridian Collection has a sand color crepe shade and is highlighted by deep carvings that navigate the body. eLink 587
Mystic Valley Traders
A funky '70s-style print decorates the Zoe bedding collection, in an updated, but distinctly retro color palette of lime green and brown. The Café bedding collection, as its name suggests, is awash in various coffee shades of mocha, latte, cream and hazelnut, while Cedar Lodge takes the cabin look upscale with a sumptuous beige and sage damask bedspread. Crisp blue and yellow florals star on the sunny Provencial bed. eLink 616
Faux walnut tall planters are introduced in the Pacific Heights Collection. Sold as a set of three, the modernist planters are crafted of fiberglass that imitates the look of genuine wood ($450, set of three). eLink 607
Part of the Dick Idol Canyon Road Collection, the Dahlia & Berry bowl offers rustic, casual styling. Inspired by the Southwestern desert and featuring an earth-tone color palette, the dahlia and berry floral arrangement is set in a painted ceramic container ($79). eLink 618
Nature's Gallery
The Southern Bell Sunflower urn premiers this market. The classic harvest arrangement is composed of soft, preserved Southern Bell green hyd-rangeas, dried sunflower heads, pears, monkey pods and salal in a moss-weathered stone urn ($398). eLink 599
The World Tour Design Collection debuts this market, encompassing floral and botanical elements from around the world. The collection will span a wide stylistic spectrum, ranging from branching Japanese magnolias in a sleek oblong vase from the Silk Road Tour ($318) to a wildflower-style mix of delphiniums in a glazed ceramic vase from the Mediterranean Tour ($498). eLink 609
Nfusion
Contemporary offerings debut in a range of categories. Streamlined leather accent chairs are rounded out by sensuously shaped vases and elegantly finished mirrors. eLink 620
Nova Lighting
Portable table and floor lamps debut in the Miles Collection, featuring espresso-stained wood frames with brushed nickel accents and white shade ($169 to $299). Additionally, modern accent lamps are introduced, including Pure, Portal, Parallux and Ventana ($119, each). eLink 604
Oggetti's cube-shaped accent tables are crafted in Vietnam. Featuring lift-off tray tops for serving, the Croc tables are lacquered to simulate crocodile ($625 to $795). eLink 601
New designs being offered range from elegant traditional to classic transitional, infused with bold swatches of color. A soft robin's egg blue lends a chic edge to a porcelain table lamp, while folkloric patterns embellish a Russian-themed lamp with pleated shade. An assortment of urns and vases are offered in both classic and modern presentations. eLink 613
Several table lamps premier in the Dick Idol Canyon Road Collection, including the ceramic Mesa Verde table lamp finished in earthen sage and with a fringed faux leather shade ($199). Southwestern motifs embellish the Pueblo Pintado table lamp, featuring a hand-painted design and faux suede shade ($139). eLink 611
Pacific Rim
Introductions debut in a range of categories this market. The Black and White Collection combines black and white floral and geometric-patterned shades with a streamlined, silver-plated base ($50 to $150). The Marine Blue Art Glass Collection of vases is inspired by ocean waters, subtly shifting from blue to green ($25 to $30). Twisted metal builds the shapes and silhouettes of the new 34-piece Spiral Furniture Collection, including bistro tables, buffet stands, nesting tables and baker's racks ($15 to $300). eLink 622
Introductions this market include a set of Tin Urn planters, hand-pounded with a washed silver finish. A large-scale decorative mirror borrows shape from a star, crafted in carved wood with a chocolate brown finish. The Havana Squareburst charger/wall decor is fashioned from natural abaca woven in a sunburst pattern. eLink 606
Paragon Picture Gallery
Framed prints and three-dimensional, mixed media art debut this market. On the contemporary side, butterfly and fern themes and black and white photography offer a fresh look at modern. Framed damask panels and a host of coastal-inspired designs represent the classical and transitional side ($169 to $452). eLink 619
Phoenix Art Group
Traditional paintings on canvas premier this market. Autumn Bounty I and II, a series of fruit still lifes, offers a close-up view in lush, glowing color. A pastoral garden scene is depicted in Storia D'Italia, while Trees in Glory showcases trees against the empty horizon of an open field. eLink 614
The Portfolio Collection
New offerings this market include real feathers framed under glass in contrast black and white. Additionally, a series of coral drawings are presented. Angels and nudes from artist Bella Pieroni will also be introduced at market. eLink 610
Primex
New designs offer a contemporary slant with sleek, clean lines. A triangular-shaped accent table and low-slung, wide chest are among the introductions. eLink 625
Randomlane
Modern wall art offerings include Light Study I, laminated raised hardboard with laminated lithography floated on an espresso frame ($199). Leaf Elements I – IV by Jodi Reeb-Myers, translate the leaf motif into dimensional art by laminating lithography which is then shaped and floated on a frame ($80 each). A panel collage is created from hand-textured raised hardboard withJapanese sensibilities ($350). eLink 627
Roberta Schilling Collection
In the Moderna by Roberta Schilling line, nature meets contemporary art in a console crafted from Linheiro Chumbo veneer and filled with oyster shells, topped by glass. A colonial town scene decorates a hand-painted wooden hutch. eLink 617
Italian handcrafted wood molding surrounds Farmstead I, a new design featuring a pastoral country scene ($249). Ambiance I sets the tone for a more modern feeling ($249). The Florentine Mirror collection has been expanded, with additions offering a rich Florentine palette accented with gold and silver leafing. Handpainted vintage motifs enhance the designs ($698). eLink 630
The Rug Market
Introductions extend to a variety of style genres. Grand Canyon, a handmade wool design, abstracts Southwestern style in a lush palette ($659, 5×8). Oversized florals create a fresh yet rustic ambiance in Vintage Garden, handmade of pure wool ($439, 5×8). Circle City, a chic contemporary design, combines large and small swirls in subtle, tonal colors in the hand-tufted wool and silk rug ($659, 5×8). The repeat damask motif of Aurora creates a classically sophisticated style in a range of contrast colorways, like camel/pumpkin and brown/cinnabar ($365, 5×8). eLink 615
Runyon Company
The Elliott Nest set of three nesting tables are handmade of steel, powder-coated and topped with a high-end concrete tabletop available in 16 colors ($794). The Full-Lipped Maddie and Nickel round tables use the same construction but offer distinctive shaping ($296 to $480). eLink 621
Safavieh is introducing a series of contemporary rugs in square motifs with blue-jean details like pockets and seams inside the squares. It is also debuting the Arts & Crafts Tibetan Collection, six designs offering a heathered color effect, with less detail and larger motifs than traditional Oriental rugs ($1,200, 6×9). eLink 623
The Protos accent lamp is made of wood composite with hand-painted mirror stars and a pagoda-style shade ($400). A porcelain vase lamp is finished in black with gold accents, but gets a little spice from raised, hand-painted dots and circular motifs ($488). Woven leather wraps a basic cocktail table form to give it new personality ($1,438), and a red Chinoiserie mirror shows off intricate gold leaf work ($938). eLink 624
Schonbek
An elaborate table lamp incorporates a miniature chandelier right into the lamp itself with four crystal arms, hanging crystal pears, grapes and spheres and garlands of beads. The lamp is finished in antique silver and boasts a nude shade so the shape of the chandelier inside can be seen ($1,675). eLink 628
A set of three white capiz shell boxes make an elegant statement alone or in a group. The boxes are available in rectangular or flower shapes, and the capiz shell also is featured on a set of three decorative square bowls and a set of oversize candleholders. A set of bamboo trays is also introduced. eLink 633
A round, three-legged accent table gets an exotic touch wrapped in lotus leaves. The Frances Cube stool uses wide-weave chocolate leather on a metal frame for an interesting seating or ottoman choice ($489). eLink 635
Siwthaisilk
The Leaves and Circles pillows are handpainted batiks on hand-woven natural silk. The pillows are available in natural green, coral or café latte colorways ($75 to $98). eLink 629
Wood and stone meet in a modern cocktail table making its debut this season ($699). A decorative box gains interest with inlaid coconut shell ($299). eLink 612
Sterling
The Gilt Alter charger is an ornate, medallion-style piece crafted of resin ($148). A 15-inch-tall Woven Medallion lamp makes up for its diminutive size with elaborate gold ornamentation and a hand-painted shade ($85). Another new lamp, the Sailing Seas, features a sailboat replica as the base, a dramatic painted shade depicting a stormy sea and nautical flag finial ($248). eLink 626
Several rug collections are introduced, including Kashi, a hand-tufted wool collection in soft colors and dramatic patterning ($329, 5×8). The Goa Collection includes several contemporary designs, as well a peaceful floral, all done in up-to-the-minute color palettes in 100% New Zealand wool ($399, 5×8). Artist Studio draws on the styling of the hottest design trends with contemporary geometrics cut in a high/low pile to create a multi-dimensional texture using rich color palettes ($449, 5×8). eLink 638
An elegant archway overlooking a mountainside is depicted in a tapestry wall hanging in a soothing palette of coral, green and blue. The Parlor Alfresco tapestry illustrates a baby grand piano and violin on a lush patio ($2,700). eLink 632
Textillery Weavers expands its Hairy Tweed Collection with several new color combinations, including black/champagne, black/Dijon, tobacco/multi and tobacco/terracotta. The throws are available in two sizes ($255 to $290). New Plaid Collection pieces include a heavyweight plaid chenille throw in red pepper, almond and tarragon, as well as a barley and dark chocolate combination, also available in two sizes ($375 to $465). eLink 640
Texture Home Decor
A set of three Fretwork nesting tables is introduced, made of acacia wood with inlaid aluminum ($460). The Loft three-tiered table uses etched sheesham wood in a checkerboard pattern on a powder-coated iron frame ($250). eLink 634
Tomasini Fine Linens
The new De Latte Collection combines orange and beige raw silk with elaborate daisy embroidery ($4,000) in elegant top-of-bed offerings. eLink 642
Toyo Trading
A traditional bird pattern appears on a decorative tray with white bamboo frame. Raymond Waites' Renaissance Collection has been expanded to include a 13-inch, handpainted, lidded jar with gold leaf background and a burgundy floral pattern ($110). Other new pieces include the Desiree side table, from the National Geographic Home Collection, in celadon finish with hand-painted scrollwork ($350), and the chinoiserie-style Blossom vase in hand-painted porcelain ($200). eLink 644
Trans-Ocean
Several rugs are added to the Liora Manne Collection, including three indoor/outdoor lines. Ravella is an exotic leafy design, shown in leaf and sand, but available in seven designs and colors ($250, 5×8). Patio is an extensive collection of 36 designs, including Floral Scroll, Seashell, Vine and Kilim ($175, 5×8). New indoor rugs are: Square Vine Sage, with blocks of colors beneath a leafy vine pattern ($235, 5×8); Clouds Neutral, offering a camouflage effect ($350, 5×8); and Circle Charcoal, a contemporary pattern of irregular round lines on a grey background ($350, 5×8). eLink 631
Trees International
New botanicals are added to the Mark Abrams Collection, including the bright red amaryllis with lotus pods, pheasant feathers and birch leaves in a tiger-eye spotted vase ($300). The American Backroads Collection is also debuting, inspired by the new west and the casual living lifestyle, and designs include both indoor and outdoor arrangements, tabletop and wall decor. eLink 636
The Domicile table lamp incorporates a contemporary base of intersecting iron rectangles on a marble-look base and a cream country linen shade ($225). The Morpheus table lamp features a swirling glass vase base in amethyst or aquamarine ($175). eLink 646
A zebra-print gives an updated twist on a classic chair shape. A curio-style cabinet offers glass top and bottom storage areas, a stylishly curved wrought iron base and a brushed paint and maple finish. eLink 648
The Uttermost Company
New lamps include the Ulan table lamp, offering crackled canvas arms finished in antique cinnamon with curving burnished bronze details, as well as the Monaco table lamp, in coffee bronze finish with crystal detailing. New accessories include the Tree of Life lighted swivel mirror, finished in burnished silver with a black base and with a two-sided mirror. eLink 637
The Vienna Collection debuts, including an Old-World inspired lamp, accented with aged mirror that has been reverse-painted in a golden antique scroll pattern ($150). The Ritaglio twin light table lamp is a scrolled metal lamp in India gold finish with neutral silk hourglass shades ($200). The Ritaglio Collection also includes matching charger, candleholders, covered boxes, table lamp, clock and tray. Finally, the Amadeus twin uplight table lamp is unveiled. The lamp offers golden-hued capiz glass shades in an opulent gold patina ($190). eLink 647
An antique map of the West Indies is introduced, presented appropriately in a British Colonial style frame. Several multi-piece wall decor groups are debuted, including several eight-piece sets depicting pottery, hyacinths, tropical birds and antique floral images. Lush tropical foliage and flowers, in both photographs and paintings, also make a strong statement in the market introductions. eLink 643
Wildwood Lamps
Several lamp designs debut, including the Gold and Silver Flowers table lamp, hand-painted on porcelain on a carved walnut base and an off-white silk shade. The Column of Flowers lamp uses lead crystal flowers stacked on a nickel base and a white silk drum shade with tan trim and crystal ball finial. Finally, the Gold Leaf Urn lamp features gold applied to an intricate urn, finished with a scalloped cornered shade of beige silk. eLink 639
William Sheppee
New accent furniture pieces include the Candia Wine Steward, made of hand-forged iron and acacia wood ($299). eLink 641
Willow Green
The Terra Fusion table lamp has an edgy, rusted metal finish, copper accents and a microfiber shade for a look that is earthy but modern ($160). Other new lamps include the Wild Iris lamp, using hand-painted porcelain and iron with a cashew shade ($170), and the Rooster lamp, also handpainted porcelain and featuring a rust red square shade ($200). A pair of Round Top nesting tables with inlaid bamboo also debuts ($280, pair). eLink 650
Zocalo
The Elevation Collection is introduced, including a storage trunk offering walnut inlay and exposed solid wood frames for a modern look with a hint of Asian influence ($349). eLink 645
Zodax
Three etched glass, vase-style candleholders in soft pearlescent green, red and white offer a tasteful look for holiday illumination. Another set of candleholders feature tall, thin, hammered metal bases and amber glass tealight holders. An opalescent charger on stand has a convex mirrored center. eLink 649
Related Content By Author
Interior Design Summit adds market program for designers

More Videos
Subscribe to
Home Accents Today eWeekly
Receive the news you need to know about the trends in the industry delivered right to your inbox.


AmericasMart ICON Honorees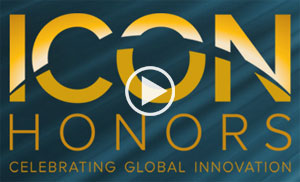 Excellence and superior achievement in the home and gift industry were recognized in July at AmericasMart's eighth annual ICON Honors. Enjoy these video stories celebrating the 2017 award recipients: Spicher and Company, Bloomingville, Wolf Gourmet, Her Majesty's English Tea Room, Kurt S. Adler, Inc., and Chris Rosse, Rosse and Associates. See the videos! See the videos!