Vendors increasingly look online to drive sales
Vendors increasingly look online to drive sales
Joan Gunin, Angela Heck, February 16, 2010
Vendors and manufacturers have been leveraging the power of the Internet for many years now, but the Internet presents an ever-changing lineup of possibilities. Now it's not about whether a company should have a Web site — that's a given — but about which of a myriad of choices and features can best drive traffic and sales.
Frederic Contino, Midwest-CBK's president, said his company maintains both a business-to-business site and a limited direct-to-consumer site for its Colonial Candle brand.
The four-year-old Colonial Candle site has seen double-digit sales increases each year, Contino told Home Accents Today. He also pointed to the company's new drop-ship program as another star online sales producer.
The program allows an end consumer to order a product off of a local Midwest-CBK retailer Web site and send an online payment to the retailer. The shipment and product information is then automatically sent to Midwest-CBK and shipped directly to the consumer.
The B2B retailer Web site is currently going through a total revamp that is not quite finished. It has a password-protected area for registered customers only and features shipment tracking, invoicing, bill payment and returns as well as marketing materials and educational articles.
Contino said that the majority of Midwest-CBK customers are comfortable online and react positively to using the site. "They can check the status of their orders on nights or weekends when our customer service people are not in the office. It offers them both flexibility and convenience."
He said that the Internet will never replace one-on-one relationships between sources and retailers or retailers and consumers and cannot totally replace the ability to see and touch. But, excepting those two elements, it will make everything easier and more efficient.
"The Internet is a big deal for us and we are taking a multifaceted approach and putting more and more focus on it as company," Contino said. "In the future it will grow in importance. After our direct sales force and our nine showrooms across the country, it will be our most important sales tool. There are many Internet marketing opportunities. We are engaged everywhere where it is cost effective and efficient."
The company is just starting to get its feet wet with social networking and exploring how it can be used to build the brand, leverage sales and raise profits.
Jason Phillips, VP and creative director for The Phillips Collection, said his company has jumped into social networking with both feet. "We take it very seriously as we have measurable success in this field and see how it is helping others." The Phillips Collection has a Facebook and Twitter page.
The Phillips Collection also hosts a blog on its Web site and has had success driving traffic to its site with e-marketing campaigns.
The password-protected site sells to retailers and designers and features the company's entire product line. It allows customers to search for products, build wish lists, place orders, see news updates, take a showroom walk-through and has "all the other bells and whistles you might expect from a professional Web site."
Phillips said that the site "has replaced our catalog as the 'go-to-place' to find images, dimensions and related product."
He said his customers love the site and it shows. Online sales have progressed measurably and the Web site is an area "where every dollar invested noticeably increases traffic and daily orders."
While the need to save money in this economy has driven more sources to leverage the Internet, Phillips said it goes much deeper than that. He said interacting with customers online is "vastly superior to snail mail and cold-calling to get measurable and instant response to the messages we send out. We can better track and trend to the needs and wants of our clients electronically than we were ever able to do in the past."
Nothing can replace touching and seeing a product in a company's showroom but, Phillips said, lifestyle images which lend scale and proportion, 3-D walk-arounds, swatches and virtual room builders can all help bridge the gap. He also mentioned that familiarity with a company's past product helps customers conceptualize what they are seeing online.
Mac Cooper, Uttermost's president, agreed. "Nothing can replace the shopping experience," he said, but Uttermost's site uses high resolution images and accurate descriptions to give its customers the information they need to make a buying decision.
The Uttermost site sells only to approved dealers and is what Cooper calls "an evolving tool" with continual product and feature updates.
He said his customers "like the 24/7 aspect, the high-res images and the ease of working on the site." Online sales have grown 50% to 100% for the last four or five years, he said, and the current recession may have pushed that along.
"Our Internet business was growing rapidly before the recession, and it continues to grow rapidly," he said. "I don't know that the economy has pushed online business more or less. ... But we expect continued growth for a long time to come."
Retailers can use the site to place orders, check order status, review best sellers and accomplish other functions.
Uttermost has not pursued social networking but it drives traffic to its site through consumer advertising, point-of-purchase materials and even through the labeling on its shipping boxes.
"We direct a great amount of traffic to our Web site," he said. "This traffic results in significant shopping and learning about Uttermost. The outcome is brand-building and repeat business."
Glenn Wunderley, co-owner of Wunderley, said his company has had a Web site for about 10 years. "We always knew we needed some kind of (Web) presence," he said. "But now we are doing it in a much more advanced fashion."
Wunderley said the changing nature of the industry, including a strong move toward interior designer customers vs. retailers, necessitates the need to stay in front of buyers in a variety of ways.
Wunderley's site includes a full catalog and an online shopping cart. Pricing is hidden behind a password-protected area. The company has moved into shelter magazine advertising as a way to reach the designer customer more directly. "We get multiple trade account requests every day," he said.
Asked how his customers react to not being able to see, touch and feel a piece, Wunderley said that hasn't been a factor.
"People don't ask 'where can I look at it?' I don't see a lot of that," he said. "I'm amazed at some of the prices we sell online — some close to $10,000."
That said, Wunderley still believes there is an important role for furniture stores.
"I don't think the Internet is going to dry up the furniture retailers," he said.
Bob Ulrich, vice president of sales and marketing for Currey & Company, said his company's site is password-protected and fully e-commerce enabled.
It is working with Whereoware on more targeted e-mail marketing, and its site has a lead follow-up system built in.
"We are trying to hone the content side first — make it better for our reps and our customers," Ulrich said. "The next step is to make it consumer-friendly. It was just functional, and now we're trying to put a nice spin on it and bring the Web site up to the standard of our catalogs and advertising."
Ulrich said the economy and the overall changing times make the Internet more important than ever.
"The (Web) will play a bigger role," he said. "You have to keep yourself easy to do business with, and that's one way. We will still have our catalog, but our Web site is another way of keeping customers and reps updated and romancing our product in a way that a rep may not be able to."
Ulrich said reps are embracing the tools on the site, including a new PDF maker that allows them to create custom sales presentations, as well as inventory and customer reports.
"Sales on our site are going extremely well — we are seeing nice growth. ...We have a lot of power users who do everything online, and others who do nothing there. We are looking at ways to drive more people to our Web site," he said, adding that this focus is a major emphasis in the company's advertising campaigns.
Imax Worldwide Imports recently introduced a new Live Chat feature to its Web site, giving customers an easy, interactive way to contact the company.
Live Chat is an easy-to-use Web interface that connects users instantly to an Imax representative to assist with sales, customer service or support questions. It even allows users to print and save chat transcripts for future reference.
"We have already had an extremely positive response from our customers," said Rex Yoakley, vice president of enterprise sales. "Web site users are able to get immediate assistance with their questions at the click of a button."
Editor in Chief Jenny Heinzen York contributed to this article.
According to a January survey at HomeAccentsToday.com, and sponsored by GLM's NYIGF, the Internet is an important tool for retailers, with 90% reporting that they do business with their vendors online. More than 200 retailers responded to the survey, with 42% of them representing home accent/gift stores. Our next survey is on accent furniture. If you are a retailer who carries accent furniture, please plan to participate.
Related Content By Author
Subscribe to
Home Accents Today eWeekly
Receive the news you need to know about the trends in the industry delivered right to your inbox.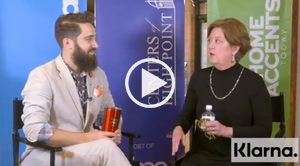 Join HAT's editors for PBM News Desk, an on-site content creation hub in the lobby of the Centers at High Point during the 2017 Fall High Point Market. (Sponsored by Klarna.)
See the videos!