Dimensional Design
Layer texture and intrigue into any setting with sculptural, three-dimensional designs. Based on geometric formations, these high-impact designs bestow a contemporary, urbane vibe.
Epiphany, a multicolored metal sculpture from
C. Jere by Artisan House, layers circles in an
intriguing, hand-finished display ($794).

Circles within circles spiral and connect
to create this dramatic design from Imax,
finished in richly distressed gold ($179).

Palecek creates scallop shells from antique
gold-finished steel wire, linking the shells in a
stunning rectangular display ($258).

Gold Leaf Design Group's Beehive wall play captures
the classic hexagonal shape in white, black and gold and
can be arranged in endless variations for small to large
installations, depending on the impact desired.

 

From Global Views, the Boom
wall sculptures pack a retro-mod
punch in brass with a nickelplated
finish ($149 to $199). 

The iron magazine holder from
Moe's Home Collection is stylish
enough to display on its own with
distinctive tribal appeal ($98).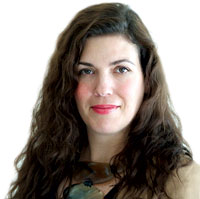 Tracy Bulla
|
Product Editor
tbulla@homeaccentstoday.com
Related Content By Author