Techno vs. Tradition
The 25th edition of ICFF was marked by a distinctive contradiction between high and low: Tech, that is. Recent advances in technology resulted in fantastically cutting-edge creations utilizing 3D printing as well as LED applications - not just for lighting but also for innovative wall décor, furniture and more.
     But a backlash was underway in the form of an anti-technology movement. Traditional production techniques resurface, honoring the value of timeless design and craftsmanship methods with an emphasis on genuine, natural materials that will withstand the passage of years. The most directional designs represent a fusion of the two: Modern technology married to the past, preserving the old ways with a razor-sharp eye to the future.
     The importance of nature in design cannot be understated, not only in the form of materials used, but also as an overarching theme of inspiration. Designers realized their connection to nature in a variety of ways with rocks and minerals, cells, water and botanic elements serving as a springboard to creativity.
     While a neutral palette reigned supreme, pops of color added interest through a neon palette or bright, not-quite-neon hues of yellow, green and blue. Gold and brass finishes make a strikingly luxe statement, but all bets are on copper to emerge as the new finish du jour.
| | |
| --- | --- |
| | Philip Watts' generously oversized door pull offers a dramatic, and slightly macabre, invitation to entry. Available in brass, bronze and polished aluminum. |
| Utilizing techniques such as 3D printing and laser cutting, Nervous System is a generative design studio that releases online design applications enabling customers to co-create products in an effort to make design more accessible. The Radiolaria web application is inspired by the complex shells built by microscopic unicellular organisms call Radiolaria; every aspect of the table is customizable including the patterned top, height and material. | |
| | An asymmetrical composition of perfectly placed shards of glass, the futuristic Eadie chandelier from Mary Wallis is made in New York from hand-cut and beveled glass and brass. |
| The Future Perfect debuted at ICFF with a decidedly low-tech approach, honoring traditional craftsmanship and methodology. All of the hand-crafted designs are made from natural materials like coconut fiber, horsehair, solid brass and sustainably harvested hardwoods. | |
| | Gilles Caffier's cactus vase, made from ceramic and wood with a glass liner, is derived from the principles of nature and handcraftsmanship, without rejecting technology. |
| Koket embeds genuine agate in an intricate metal framework with a decidedly modern profile in the Vivre sconce. | |
| | Pelle's Dorit candle holders highlight the natural characteristics of the wood, such as grain and knot patterns and cracks, in a simple, prismatic form reminiscent of rocks. The Dorits come with gilded or painted facets available in 24K gold, 12K white gold, mustard and gray. |
| The Aloe Blossom pendant from Jeremy Cole features handcrafted porcelain leaves geometrically arranged for even light distribution with a stainless steel frame. | |
| | The Woods, a free-standing glass sculpture consisting of seven trees joined in two separate sections, is the second collaboration between Norwegian design studios StokkeAustad and Andreas Engesvik. Inspired by the forests and lights of Northern Norway, the handblown glass sculptures bridge the gap between industrial design and arts and crafts through a renewed interest in craftsmanship and tradition. |
| Calico creates gilded marbled wallpapers and bespoke wall murals which can be matched to any Pantone color; Wabi originates in the landscapes of the ancient East by capturing the feel of water flowing over pebbles. | |
| | Crafted using a mixture of French traditional methods and modern technology, the luminous Gypse cabinet reveals a stunning combination of gypsum, chrome, brass, sycamore and marble by Jallu Ebenistes for Bespoke Global. |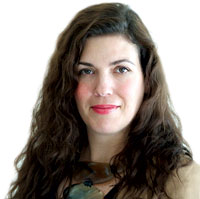 Tracy Bulla
|
Product Editor
tbulla@homeaccentstoday.com
Related Content By Author