Retail Profile: Daisy's, Alameda, Calif.
BARBARA MOONEY IS THE CREATOR AND proprietor of Daisy's, a home accents and gift shop located in the San
Francisco Bay island community of Alameda. The name comes from The Great Gatsby's Daisy Buchanan, Mooney's inspiration for the "necessities, frivolities and embellishments for everyday life" that fill her popular boutique.
Before Daisy's, there was Mooney's catering business - Gatsby Party Company - which evolved into Jay's Coffee, Teas and Treats. Daisy's arrived at the party when Mooney took advantage of an empty retail storefront two doors down from Jay's. She eventually sold Jay's to better nurture Daisy's, which has since expanded into a larger location.
Mooney says she loves everything about her job. "I love my family more, of course, but if I won the lottery, I would expand. Going to my shop at 2 a.m. with my iPod on and making great displays is about as good as it gets."
She also loves her customers and compares herself to Mr. Hooper on Sesame Street. "He always had the answer, as well as whatever it was you wanted to buy. Everyone in town came in to see him because they felt at home in his shop."
Daisy's showcases product in 1,400 square feet of space and was named to Home Accents Today's 50 Retail Stars list in 2010.
Describe your store: The store is set up kind of like a house. We are in a beautiful old brick building with a pretty white storefront and double wood doors. Our display method is to not use displays. The only exception I make is I use three of the Dash & Albert rug displays leaning against the wall. They are not used how the display was designed - I have it by color story, not by type of rug.
How's business? In 2010 we were 12% over 2009 with a 5% higher profit margin. First quarter of 2011 looks to be an 8% increase. I try and keep a varied product base that will allow me to get more customers, so that even if they aren't spending as much, it will still increase. Going forward, I want to pay more attention to the bigger pictur
e. My shop is different, and instead of trying to conform to the standard retail market, I am doing it my way.
Do you see any trends emerging or remaining "hot" in home accents for your area? I am still loving rugs. I was on a panel at the San Francisco gift show when Home Accents Today released the survey that said 2010 was going to be a big year for rugs. That was spot on. My rug business was up 250%.
Describe your average customer: Average customer is a woman, age 45-55. She has kids and a job or is taking a break from her career to raise the kids. She is very confident in her style, but is too busy with life to be obsessed with trends.
How do you reach your customer? Facebook, blogging, email and really good vendors with websites that drive new customers to me. I have drawings and giveaways to keep the buzz going. I've quit paying for advertising. 
So social media plays a big role in your marketing? It is getting bigger. I hired someone to do it for awhile, but soon realized that I am the voice of my store, and it is more genuine if I do it.
What's the best idea, event or change you've made recently in the way you operate or market your store? Definitely using customers to create a buzz and playing on the fact that the style of my shop is "what I like." It can't be pegged as traditional or shabby chic. I have a look I love, and if I love it then it belongs in my shop.
Store opened: 2004
About what percentage of your sales are home accents? About 50%
Which trade shows/markets do you shop? The main shows I do are Atlanta, Los Angeles and New York, but I am going to add a Las Vegas show this year. I am also on the Internet constantly looking for new brands - and I network a lot. I'm very fortunate to participate in discussions with other retailers around the world on two private blogs. We help each other keep an eye on what is going on out there while we are in our own shops. I also bring in a lot of antiques, big and little; they can help highlight just how good reproductions are these days.
Who are some of your favorite home accents vendors? Dash & Albert Rugs, Sid Dickens, Creative Co-Op, Hudson Valley Art and A. Homestead lamps. I love the little touches that make it more complete like Vagabond, Knobstoppers and linens from Bodrum. My newest find is furniture from Best Slipcover Company.
Website: www.daisysonpark.com
 Address: 1347 Park Street, Alameda, Calif.
Want to visit more of the stores Home Accents Today has profiled over the years? Enter the words "retail profile" in the box next to the red SEARCH button at the top of this web page.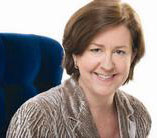 Susan Dickenson
|
Editor in Chief
sdickenson@homeaccentstoday.com
Related Content By Author
HAT Chat at High Point Market: Intros - Ann Gish and Catherine Silver

More Videos