Accent furniture vendors anxious to conquer 2010
Accent furniture vendors anxious to conquer 2010
Jenny Heinzen York, March 1, 2010
Accent furniture proved to be one of the stronger product categories through the difficult recessionary period, and the start of 2010 offers indications that the strength will continue, vendors told Home Accents Today.
Alex Boyer, vice president of sales and marketing for Furniture Classics, described accent furniture as "stronger" than other product categories. "In the recent depressed business environment, modestly-priced items, especially smaller accent furnishings, have been very popular," he said, noting that accent furniture accounts for about 50% of the company's business.
Clell Smith, president of Kenian Imports, which does about 75% of its business in accent furniture, said he thinks 2010 will be "strong as customers look to spend, but on smaller items to spruce up or change the look of home without breaking the budget. Certainly (business) has been affected by the economy and depressed real estate markets, but smaller items are more affordable in a tight economy and offer a great way to change or spice up the look of a room without spending a lot of money."
Bailey Street's business is all accent furniture – made up of about 65% hard lines and 35% upholstery, including Couture Covers, a line of chairs with fitted slipcovers that look like custom-upholstered pieces, according to CEO Jim Berk.
"We had the best new product introduction this January since the company was founded, so we're very excited." Bailey Street introduced 23 items during the winter markets, about the same as last January, but did four times the sales volume with them in 2010.
"In terms of sales, we think there will be a slight improvement this year – not a great improvement," he said. "That slight improvement will come from a much smaller base of customers, because a lot of the key accounts are gone. A lot of the smaller companies have also disappeared. So we are seeing stronger orders but from fewer people. We just don't see a particular uptick in consumer demand."
Accent furniture makes up about 20% of Global Views' business, said company principal David Gebhart. "It's probably one of our strongest categories."
Global Views continues to increase its presence in the accent furniture arena – a process that has developed over many years, Gebhart said. "We've really been headed that way for a very long time," he said. "You introduce one item and it's successful – then the next step is, 'what else can we do that's successful?' Accent furniture requires a huge commitment with real estate and catalog space, but it seemed like a real natural progression for us because it gave a basis and a grounding for our decorative accessories."
According to Palecek's Andrew Palecek, accent furniture represented about 50% of his company's sales in 2009. "Accent furniture fared well last year and is emerging as a strong category in early 2010," he said. "We will continue to see steady growth, with an emphasis on transitional pieces that offer more in both design appeal and value. Organic, handcrafted elements have always been our distinction, and the industry is responding well to bold, natural materials and a heightened level of craftsmanship."
For newcomer Gabby, indoor furniture represented a logical next step for its parent company Summer Classics, a key supplier to the casual furnishings marketplace, said Vice President William White.
"We wanted to combat the seasonality of our outdoor business," he said. "We've been in the furniture business for 25 years or so. We've got the history and have the competitive advantage from a design standpoint. The logic is that we've been producing furniture for 25 years – we felt like we could competitively expand into accent furniture."
Trends to watch for
Gabby addresses the tastes of modern consumers who tend to lead a more casual lifestyle, White said.
"We've decided to fit ourselves in as casual indoor furniture," he said. "This is furniture where you can kick your feet up, have your kids around, have your dog. It's worry-free – it's already distressed and not real pristine and formal."
"Given the nature of accent furniture and its more transitional appeal, consumers are drawn to a unique piece designed to add something dramatic to their living space without having to make a large purchase," Palecek said.
Smith agreed, but noted that for Kenian, color is also an important part of the equation. "We are selling pretty much across the line," he said. "Color will be strong for us spring and summer, we just have a lot of great little pieces that fit many decors and are fun, unique and affordable."
In terms of style, traditional is trending best for Bailey Street. "We're seeing stronger response in the upholstery area – both in the Couture Covers and what we call fixed upholstery," Berk said, noting that the company's Tiga chair, a traditional wingback style upholstered in a giraffe print fabric, was by far the best-seller of the winter season.
Global Views has had success with large media cabinets, Gebhart said, as well as "unique, one-of-a-kind designs on small accent tables. They can't be antique reproductions – they have to have some unique twist – something that makes it fresh and interesting."
Also trending well are the "white" metals, such as nickel. "I keep thinking people are going to move to something a little warmer – or a little more ornate – but they haven't in our line," he said. Limed oak finishes are also working well.
That Belgian farmhouse look "is such a popular look right now," White said. "A lot of other people have a similar look – but they don't have the same attention to detail and the functionality that ours does."
For Furniture Classics, top trends include "industrial-style metal and wood occasional tables; tables made from reclaimed lumber in natural, unstained finishes; rustic wooden furniture with hand inlays and extremely distressed finishes; and tri- or quad-toned hand-painted decorative finishes on carved accent chairs," Boyer said.
Asian impact
Despite the relative strength of the category, accent furniture remains vulnerable to the economy as a whole, and with so much production coming out of Asia, freight rate increases and limited container space have created a variety of problems early in the year.
"Ocean freight is going to be a major factor influencing price for the first half of the year," Smith said. "Steamship lines are taking back most of the reductions they gave up the last two years. Labor and raw materials should be stable, fuel is an unknown."
Global Views was impacted by the container shortages that occurred just prior to Chinese New Year, which Gebhart said could delay some shipments to customers for a few weeks, but he thought that would resolve fairly quickly.
"We are seeing some major potential freight price increases," Berk said. "We haven't seen a shortage of containers with Chinese New Year, but there are cost increases and labor shortages in China, and the cost of raw materials is increasing."
"We have seen an increase in some freight costs, as well as an increase in the cost of raw materials," Palecek said.
Boyer said Furniture Classics has managed the price fluctuations through a carefully thought-out pricing strategy. "Although we price close to the vest to afford immediate value without the smoke and mirrors of promoting, we have maintained about the same product cost as before the downturn," he said. "Therefore, the decreases in freight during the recession simply offered us room to offer additional wholesale promotions. As freight slowly climbs, our margins should remain within our expectations."
But cost management remains top-of-mind for all vendors right now.
"We have made some staff reductions and cut back on some staffing hours," Boyer said. "While we believe in maintaining inventory, and have not experienced a great amount of obsolescence, increased activity due to acquiring an unusual number of new accounts in 2009 did cause inventory levels to drop. At this point we are increasing some work schedules due to the increase in customer activity."
Customer focus and innovation remain the keys to getting through tough times.
"(We will) focus on what we do best — work in our medium; give great customer service; ship quickly and complete; continue to offer new designs; and listen to our customers," Smith said.
"Palecek has extended our customization programs to include more frames, and more ways to achieve the exact look you want," Palecek said. "In addition to custom finishes, we have grown our highly advanced upholstery department, which can meet the demands of an individual designer or consumer, or a large-scale commercial project. We feel that to succeed today a company has to do more than ever to set themselves apart, and go beyond merely meeting the needs of customers."
Gabby has already started shipping, and looks to exhibit in High Point alongside Summer Classics for the fall show. And accent furniture may be just the beginning.
"We want the ability to move and change our product mix over the next three years," White said. "We are exploring other categories and new ideas. It's all about change and what's new – that's what people care about. We will move where the market is going, but we also want to be a leader."
For Global Views, the economic downturn has forced the company to reassess its position in the overall marketplace and adjust it to the current times.
"We're looking at all aspects of the business," Gebhart said. "It's not like you can be one thing and rest on your laurels. You have to think about what segments are you not servicing and go after those. For us, we have neglected the gift stores in favor of interior designers and furniture stores, so we are launching a gift catalog (later this year) to really bring back Global Views as a good source for real well-priced gift items."
New year, new mood
There is no doubt that the new year has brought with it a new round of enthusiasm, evidenced by a strong winter markets cycle.
"Starting with Atlanta and continuing through Dallas, there was much more positive excitement from the customers who were shopping – which created excitement for us," Berk said.
"(Customers) were all really upbeat and positive, and we had really good markets all winter long," Gebhart said. "They seem ready to make investments in their businesses … I just hope they see the turnover at retail now that their stores are full again."
"Palecek is fortunate to have customers who have been with us since we started as a decorative accessory company almost 30 years ago," Palecek said. "That loyal group, along with many of our newer customers, are both optimistic about the future and realistic about the process of growing business.""
"Customers seem cautiously optimistic," Boyer said. "Business is slowly improving in many pockets across the country. Overall, I would say that most customers feel the veil being parted and see light shining at the end of the tunnel."
Smith agreed customers remain conservative, but there are signs of improvement. "(The mood is) optimistic but cautious," he said. "The mood is definitely better than last year, but customers are buying short and more frequently. We are seeing lots of inquiry activity which always precedes orders, and lots of older, inactive customers coming back."
The April Business Update is on permanent botanicals. Visit HomeAccentsToday.com and look for the survey module in the top right of the homepage to have your voice heard. The report and the survey are sponsored by the New York International Gift Fair, operated by George Little Management.
Related Content By Author
Subscribe to
Home Accents Today eWeekly
Receive the news you need to know about the trends in the industry delivered right to your inbox.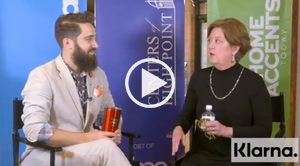 Join HAT's editors for PBM News Desk, an on-site content creation hub in the lobby of the Centers at High Point during the 2017 Fall High Point Market. (Sponsored by Klarna.)
See the videos!