Brooks Brothers home decor expands with tabletop, lampshades, serveware
Brooks Brothers' home collection has expanded with the addition of tabletop and lampshades, the latter constructed of the retailer's signature suit, shirt and tie fabrics.
Drum desk lampshades of striped-tie silk retail for $198 and are offered in guard, horizontal and bar stripes in red/navy and blue/navy color combinations. The silk tie lampshade collection also includes smaller chandelier shades ($98) and a guard stripe pleated empire shade ($398).
For more muted palettes, the lampshades are offered in Brooks Brothers' traditional Wool Pinstripe suit fabric and pale pink or blue Cotton Oxford cloth.
Several tabletop offerings have also joined the Home Decor category, which launched last fall with bath, bedding and decorative pillows.
Fans of the Golden Fleece can now enjoy meals served from emblemed lacquerware dinner plates ($800 ea.) and bowls ($1,500 salad bowl, $1,400 for two-piece rice bowl set), handcrafted of Tilis Japonica wood seasoned for more than three years after being cut. According to the website, each piece is finished with "expertly applied coats of lacquer obtained from the refined sap of the Japanese lacquer tree (a very precious commodity as only 200 grams are available from each tree)... and detailed with shimmering satiny surfaces and gilded touches."
Complete the table
setting with coordinating Golden Fleece spoon and fork
($450) and chopsticks ($350). Other items in the lacquerware collection include a set of tiered boxes ($3,500), tray ($1,000) and chopstick holder ($150).
A navy and white checkered plate of Japanese porcelain ($400) is described on the retailer's website as an "Ichimatsu" motif, believed to be inspired from the wardrobe of a Kabuki actors who would have worn garments embellished with this pattern. "Hand-painted details in gold and platinum are fired at a temperature of 1,460 degrees centigrade for a lasting luster and deep, protected sophistication."
Several Audubon-decorated collections are the result of Brooks Brothers' partnership with the National Audubon Society to "promote the protection and conservation of birds, other wildlife and the habitats that support them." John James Audubon's paintings of delicately detailed birds are presented in fine bone china from Italy's Richard Ginori. The limited edition dessert plates, signed and numbered on the bottom, are limited to 250.
A second set, in porcelain, features Aubudon's Mallard, Harlequin Duck, Mallard X Gadwell and Ruddy Duck paintings.
An Audubon Crystal decanter ($298) and glasses ($498, set of four), also made in Italy, are engraved with renderings of selections from Birds of America ($298).
New to the retailer's decorative pillow collection is an 18" wool flannel crested with a gold buillion embroided Brooks Brothers Golden Fleece crest on a red wool inlay. Filled with feathers and down ($288).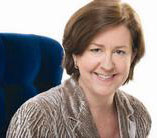 Susan Dickenson
|
Editor in Chief
sdickenson@homeaccentstoday.com
Related Content By Author