Portrait: Porte-cochère
Premium procurement for design professionals
Porte-cochère is a new virtual selling channel where high-end home furnishings brands and interior design firms can network and conduct business. Membership in the Porte-cochère network is offered through an application and vetting
process designed to ensure product quality, integrity, optimum business practices and a high level of customer service - on both sides of the table.
Backed by nearly 40 years of combined experience in interior design, branding and supply chain management, co-founders Ann Shriver Sargent and Anna Beck Bimba say their company's mission is to increase efficiency and profits for its members through direct designer-supplier relationships, and to promote the stature of professional full-service interior design.
Sargent, who spent 28 years leading design teams, said launching the business was a natural progression. "Being a full service designer requires a large bag of talents and the financial reward for the effort is often hard to come by. To inform a great design, a designer has to procure a lot of products across multiple categories and is expected to be an expert about them all."
Bimba came to the venture with 10 years of industry experience as a brand manager and luxury furniture importer, and a track record that includes several international design projects.
About three years ago, Sargent shared her vision for Porte-cochère with Bimba, who had interned years earlier at Sargent's Vermont-based design firm. "Anna was visiting Vermont and we went to lunch," Sargent said. "I mentioned this idea and immediately - and for months after - she barraged me with articles, data and ideas."
In October 2012, the pair co-founded Porte-cochère, combining their industry experience with a dynamic web platform and a shared commitment to adhere to "high standards for all affiliated brands and designers."
"We had some enthusiastic early adopters who were key to getting started," Sargent said. "Our live log-in search and link web tool launched in June 2013, and we are rapidly gaining traction with our membership."
Home Accents Today met the Porte-cochère team at the October High Point Market, where they were scouting product and networking with new and prospective members.
What makes Porte-cochère's business model unique? Porte-cochère's business model embraces what is great about the 21st century - information technology and networks without geographic borders. We know from experience that when items are procured through the design firm's standard process and arrive in the warehouse ready for installation they are part of the profit stream. I (Sargent) am always looking for ways to improve systems and increase profits and job satisfaction. We are in a new era, and technology allows us to scale some solutions for our community and build meaningful relationships with our peers and vendors.
Can you share a little more on your backgrounds? Ann received a bachelor of arts from Boston University, Anna received a bachelor of arts from the University of Massachusetts-Amherst, and we're both Executive Education alumni of the Tuck School of Business at Dartmouth College. Ann led four successful design firms in the residential, retail and hospitality sector. Her design commissions span from Canada to Virginia and include the outposts of Nevis and Alaska. Anna interned with DPF Design in Vermont and Slifer Designs in Colorado, then went to work as a designer in the Washington, D.C. metro area. She eventually co-founded the brand agency DeMorais International and was instrumental in launching European luxury furniture brands in the U.S. market.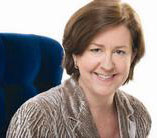 Susan Dickenson
|
Editor in Chief
sdickenson@homeaccentstoday.com
Related Content By Author
Experience the Jaunty difference With Our Rug Sample Program

More Videos