Retail Profile: Blue Raccoon, Lambertville, N.J.
Nicholas Bewsey and Nelson Zayas are the owners of Blue Raccoon Home Furnishings in Lambertville, N.J., a small town of antique shops, galleries and coffee shops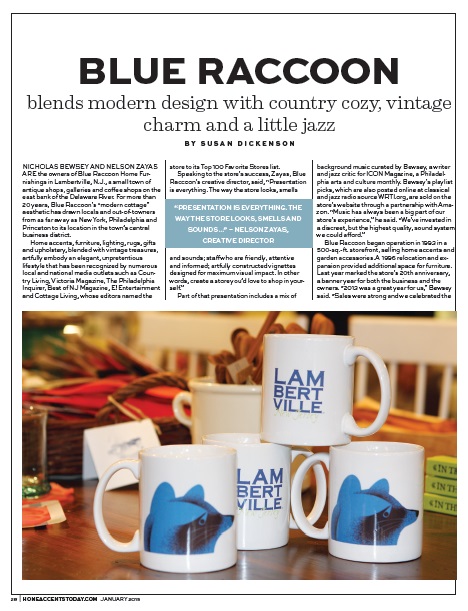 on the east bank of the Delaware River. For more than 20 years, Blue Raccoon's "modern cottage" aesthetic has drawn locals and out-of-towners from as far away as New York, Philadelphia and Princeton to its location in the town's central business district.
Home accents, furniture, lighting, rugs, gifts and upholstery, blended with vintage treasures, artfully embody an elegant, unpretentious lifestyle that has been recognized by numerous local and national media outlets such as Country Living, Victoria Magazine, The Philadelphia Inquirer, Best of NJ Magazine, E! Entertainment and Cottage Living, whose editors named the store to its Top 100 Favorite Stores list.
Speaking to the store's success, Zayas, Blue Raccoon's creative director, said, "Presentation is everything. The way the store looks, smells and sounds; staff who are friendly, attentive and informed; artfully constructed vignettes designed for maximum visual impact. In other words, create a store you'd love to shop in yourself."
Part of that presentation includes a mix of background music curated by Bewsey, a writer and jazz critic for ICON Magazine, a Philadelphia arts and culture monthly. Bewsey's playlist picks, which are also posted online at classical and jazz radio source WRTI.org, are sold on the store's website through a partnership with Amazon. "Music has always been a big part of our store's experience," he said. "We've invested in a discreet, but the highest quality, sound system we could afford."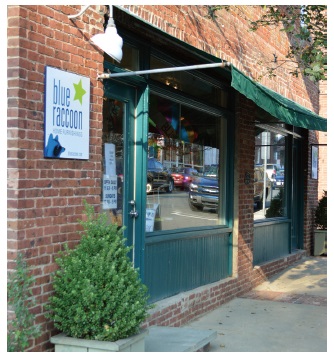 Blue Raccoon began operation in 1993 in a 500-sq.-ft. storefront, selling home accents and garden accessories. A 1996 relocation and expansion provided additional space for furniture. Last year marked the store's 20th anniversary, a banner year for both the business and the owners. "2013 was a great year for us," Bewsey said. "Sales were strong and we celebrated the store's anniversary on Oct. 5 with a wonderful party and an amazing jazz band led by legendary Philadelphia saxophonist Larry McKenna. (Retail partners) Mitchell Gold and Bob Williams and several of their staff traveled to attend and were our guests of honor.
"Coincidentally, marriage equality was granted and upheld by the governor just a few days earlier, and the timing seemed perfect to announce our marriage plans to all our guests during the speeches. It certainly capped an already amazing evening in the best way. We got married a month later on Nov. 8 in our store with a dozen friends looking on, and had a lovely reception at the restaurant next door."
Last year also marked the beginning of a new renovation project. "We realized a personal goal and moved into Lambertville proper where we were fortunate to find an 1864 Victorian in need of a lot of renovation and TLC," Zayas said. "As much as we didn't want another project, we've embraced a home that we already love and will be documenting its makeover step-by-step on our website. We'll share prices, sources and the requisite drama – all as if we are creating our own personal show house. Our home is about a five-minute walk to the store and it was the best decision we could have made for our lives."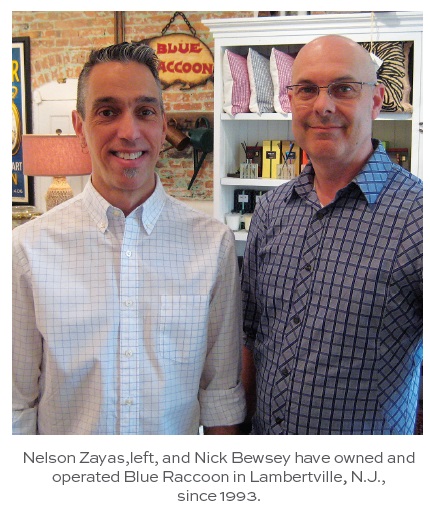 Overall, the past 21 years have been filled with memorable experiences and Bewsey and Zayas say they have especially enjoyed meeting and establishing relationships with their many interesting customers.
"Running a store like ours still allows us to invest creatively in running a small business," Zayas said. "There's always the element of performing each day when we open – you never know who will show up and what the reaction will be. There's always theater in retail."
What sets you apart from the competition? The fact that we sell American-made upholstery is important to our customers and for us as well. Our long-term relationships with our vendors – we've been with Mitchell Gold + Bob Williams for 18 years and probably 20 years with lighting manufacturer Robert Abbey - keep us up-to-date on creative trends and design styles, and the lines create stability from a business point of view and an aesthetic component that connects us with our customers.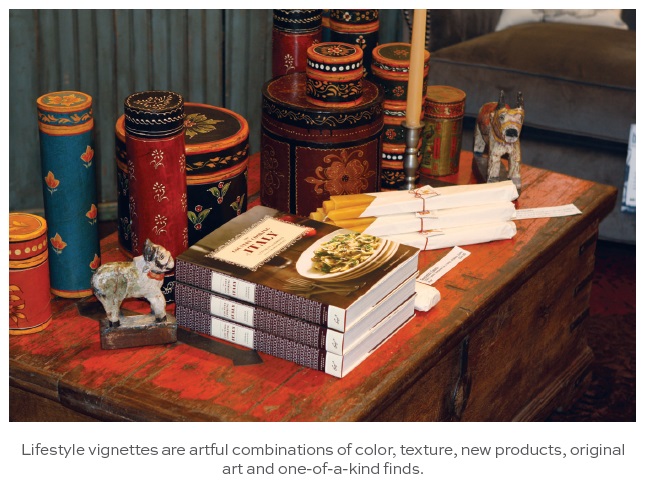 We still believe customer service, a smile and a genuine thank you goes a long way in every customer interaction. That sets us apart and continues to elude many stores.
How do you reach your customers? Most of our 21 years have been spent in this location, so even though we can still be perceived as a destination store, our longevity and history make it easy for repeat customers to find us.
We maintain an active website, though online sales are marginal at this point for us, and we actively post on Facebook, Pinterest and Instagram. When we do run sales, we will promote those in local print media.
What are your roles in the business? Nelson maintains the front end (merchandising, customers, staff), and I (Nick) manage the finances, public relations, website and social media.
Of course, we are fortunate to be able to delegate many things to our exceptional manager, Cynthia Philo, and our two part-time staff members, and we employ a small but dynamic advertising firm that collaborates with us on graphics, ads and all social media.
How did you two meet? We met in college at NYU. Nick was studying film and creative writing and I (Nelson) majored in dance. Somehow, over time, you find that you're really good at your part-time job in retail – you're more organized, great with people and represent the vision of that shop well. And, ultimately, we didn't see ourselves living the life of starving artists.
How did you get into the home furnishings retail business? Our parents on both sides ran their own businesses, so we grew up in entrepreneurial environments. You don't realize how much watching your parents work together informs your own relationship, and Nelson and I always enjoyed working together.
When we decided to start our own store, we looked in New England, upstate New York and even considered Maine where my family had a second home before discovering Lambertville and knowing right away that was where we wanted to be. Lambertville and (nearby) New Hope, Pa., illustrate the best that small town America offers. It's a wonderful, grounded community.
How did you fare during the recession? Like everyone, we took a hit after 2008 and 2009, with many customers losing or changing jobs, cutting back on discretionary purchases and such. We rebuilt as fast as time allowed and truthfully, getting back to the sales volume prior to the recession remains an incremental process. Controlling inventory and payroll expenses can always challenge any business, and ours is no exception.
The so-called "economic free fall" was upsetting and we took the biggest risks in our store's history to get through it. That included shutting a second location in New Hope and consolidating our retail store within our Lambertville location. We shed employees (finding many of them new jobs before letting them go) and our delivery truck and drivers. We let go of our expensive cars and cut everything to the bone, even renegotiating our lease.
In the end, we made it work and we prevailed by coming out stronger, more focused and better disciplined in terms of buying and controlling inventory. It was a breathtaking process!
How much of the business is retail, and how much is design? We estimate the ratio is about 80% retail versus 20% design jobs. But we have concentrated on expanding the service significantly in 2015 – adding a design assistant who can help Nelson when he's feeling pulled in too many directions.
How do you display/merchandise? Coordinating texture and color is essential and an art in itself. Nelson layers lifestyle-oriented vignettes in the store, combining upholstery, lighting, rugs, case goods, accessories and gift items. We mix original art with one-of-a-kind found pieces – cabinets, tables, blankets and pillows – to create an unexpected in-store experience.
It's a carefully curated collection, but always looks welcoming. Nelson apprenticed at Zona in New York in the 1980s under Louis Sagar, rising up to become assistant manager and director of merchandising. Many of the elements for effective retail display came from that training.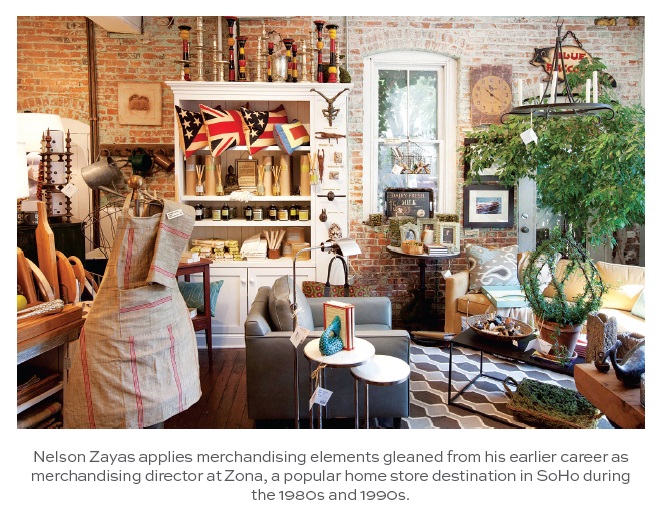 Size of the store: The store is approximately 1,800 square feet and is located in an old historic brick building.
Describe your average customer: Blue Raccoon's average customer is female, between 35 and 60 years of age. We live in a relatively affluent area. Bucks County is just across the river, Stockton, N.J., is to the north and Princeton is a short drive to the east. On a map you can see that Lambertville is midway between New York and Philadelphia. Blue Raccoon Home Furnishings is a regional presence – positive word of mouth sustains us above all else.
Who are some of your key vendors? Roost, Chandler4Corners, Global Views, Robert Abbey, Currey and Company, Visual Comfort, Feizy, Mat the Basics, Soicher-Marin, Mitchell Gold + Bob Williams, Vanguard, MK Home, Eric and Christopher, Faribault, Textillery, Barreveld, Europe2You, Nest, Tatine, Homart, Be Home, local artists
About what percentage of sales are home accents? Approximately 35% of overall sales. Our goal is to get that to 40% this year.
Markets/trade shows you attend: New York, High Point, and smaller trade shows in Ohio, Kentucky and New England
What's hot? We're observing that more consumers are becoming comfortable with industrial design — hard metals, steel tubing, copper, aluminum and nickel-plated details including furnishings for the living room, bedroom and dining room. Lighting and accessory manufacturer Jamie Young is at the creative forefront in many of these areas. Almost anything handmade is a plus in the eye of our customers.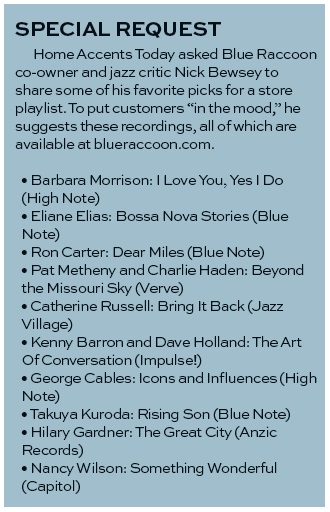 What are your hopes/plans for the next 12 months? We are looking forward to 2015 for several reasons: We plan to rely on smaller regional trade shows to find products that fit the Blue Raccoon aesthetic, our website traffic is continuing to build, and we're sure the design decisions we made at the October High Point market relative to our upholstery lines are going to excite our customers.
What are your biggest challenges? The biggest challenge for us is the same one facing small family-owned businesses across America: the internet. We read and hear about online buying growing exponentially each year and the temptation to get into that game is persuasive. But without a significant online infrastructure and capital, it's an exercise in futility and many businesses our size have been burned trying to play in that sandbox.
Our store can engage buyers directly; the face-to-face experience still has a large part to play in American consumerism. As long as your customers trust that you're honest and have integrity, they tend to be repeat customers. After more than 20 years, you look back to reflect on those lean early years, then the explosive growth, the gift show visits and the vendors who come and go. You get to know your neighbors and customers who have raised children that are now in college.
We've experienced so many business cycles and changes, but we've always maintained our focus to get us through the peaks and valleys of retail … and we still enjoy opening our store up each and every morning.
Website: blueraccoon.com
Address: 6 Coryell St., Lambertville, NJ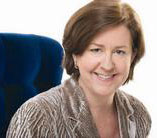 Susan Dickenson
|
Editor in Chief
sdickenson@homeaccentstoday.com
Related Content By Author
Subscribe to
Home Accents Today eWeekly
Receive the news you need to know about the trends in the industry delivered right to your inbox.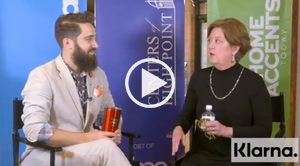 Join HAT's editors for PBM News Desk, an on-site content creation hub in the lobby of the Centers at High Point during the 2017 Fall High Point Market. (Sponsored by Klarna.)
See the videos!