Majestic Mirror & Frame opens new manufacturing facility
300,000-sq.-ft. facility expands company's production capacity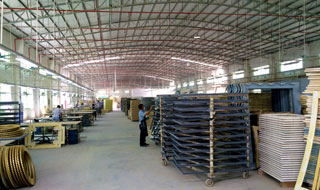 Majestic Mirror & Frame's new 300,000-sq.-ft. manufacturing facility aims to improve efficiency and expand production capacity.
Mirrors and wall art manufacturer
Majestic Mirror & Frame
has opened a new state-of-the-art manufacturing facility and warehouse in Huizhou City, Guangdong, China.
The new facility was developed to improve and streamline the company's manufacturing and warehousing capabilities, increase efficiency and expand its overall capacity for production. At 300,000 square feet, the facility is much larger than Majestic Mirror & Frame's previous facility.
Enhancements such as improved production technologies with automated stations should allow the company to create more of its contemporary and traditional mirrors, backlit mirrors, TV mirrors, makeup mirrors and art pieces at affordable prices, company officials said.
"This was an incredibly important project for Majestic Mirror & Frame as we strengthen our supply chain and global reach," said Josh Mandel, president of Majestic Mirror & Frame. "Our ambitions were high. We wanted to increase capacity and efficiency with our new facility while simultaneously improving our product quality and customer service. These improvements will help us meet the needs of our customers."
Related Content By Author
HAT Chat at High Point Market: Intros - Ann Gish and Catherine Silver

More Videos