Retail, tech execs talk allchannel, authenticity and 'app fatigue'
Shoptalk 2016: Disruptors, influencers, content commerce and curators are breaking the retail rules
Last month in Las Vegas, 3,000 retail executives, tech companies, service providers, marketing experts, investors and retail writers attended the inaugural edition of a conference called Shoptalk.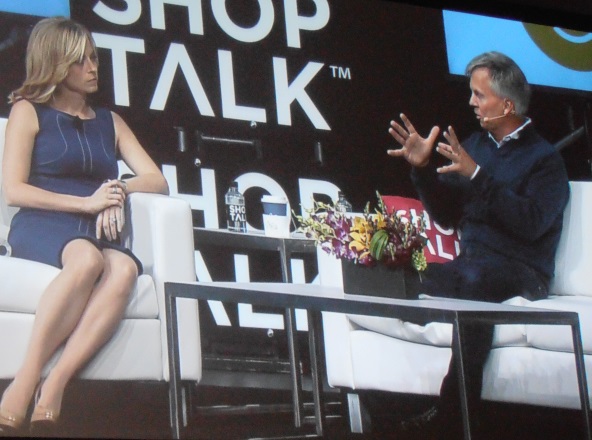 Ron Johnson discusses his new company, Enjoy, with CNBC's Courtney Reagan
Hosted by the organizers of Money 20/20, an annual event highlighting innovations in payments and financial services, Shoptalk is a high level networking conference for retailers and e-commerce innovators, investors and exhibitors. Attendees from 20 countries listened to hundreds of speakers and decision-makers share new ideas, best practices and lessons learned – executives from companies like Facebook, Google, Pinterest, Ebay, Hudson's Bay, Dot & Bo, Amazon, Paypal, Sears, Banana Republic, Whole Foods, Bonobos, Neiman Marcus, Casper Mattress, Rebecca Minkoff , Laurel & Wolf, to name just a few.
As the guest speakers took the stage, several themes were quick to emerge:
The retail landscape is changing very fast and in unexpected ways; mobile technology is creating a lot of opportunity and potential "next big things;" today's shopper doesn't "go" online, she lives online;
The term "omnichannel" is outdated because almost all major retailers are now on all channels;
Authenticity and influencer marketing – "engage the Millennials rather than broadcast to them" – have become key components in marketing campaigns;
"App fatigue" is forcing companies to rethink how they can earn and hold those coveted, but limited, spots in the customer's digital attention space.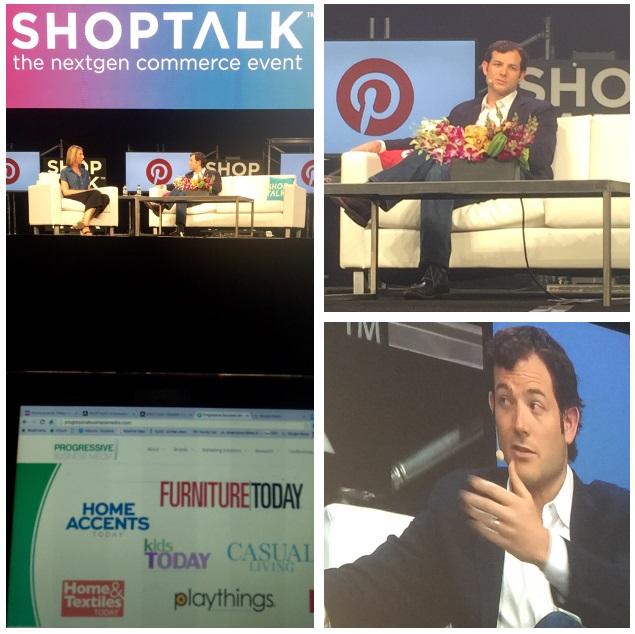 Tim Kendall, president of Pinterest, talks buyable pins with Marketplace's Molly Wood
The following is a small sampling of some of the enlightening dialogue that came out of Shoptalk 2016. Look for more coverage in Home Accents Today in coming weeks.
"We did some research on people buying online and we asked them, 'Once you see a product you want to buy, what's the first thing you do?' Their response: They look to see if Amazon sells it. So, everybody, be careful."
"When it comes to optimizing store service and experience, challenge yourself to think of an in-store session as identical to an online session." "People mistakenly imagine Millennials as young 20-somethings, but they're 18 to 34, and there's a lot of change going on in their lives."
"I don't like the term 'social media influencer.' It's too buzzy. I think of influencers as content creators … The reason they exist is because the cost to produce content has dropped dramatically. You no longer need a printing press or national distribution in a Safeway in order to be heard. They range from Rihanna and Kardashian/Jenners to the guy who really loves your brand and posts about it all day. The spectrum is more like mega celebrity to social influencer to category expert to advocates who have an affinity for your brand but don't have a large influence, and that's all good material. There are different use cases for each."
Jerry Storch, CEO, Hudsons Bay Company: "The future doesn't belong to internet-only companies, it belongs to customer-facing brands that meet the needs of the customer however she wants it, whenever she wants it, in a store, online anywhere in between. Most retailers aren't even close to anything resembling an end-state if there ever is such a thing in the world. We're just in the Roman-numeraled pages of what we need to do on the internet."
Former Target, Apple and JC Penney executive Ron Johnson, on his new company, Enjoy: "We call our platform 'personal commerce' to differentiate from electronic commerce and we think it's a third platform. So, when you buy (general electronics) from Enjoy, you order a product, then pick a precise time and place and one of our trained experts will hand deliver the product wherever you want – home, office or coffee shop, just like Uber. They'll spend an hour with you not just setting it up, but creating an experience that makes you fall in love with that product. We'll deliver your new iPad pro, download your soft ware, connect to all your devices. It's free. We do this for the same price you pay Apple, Best Buy or Amazon. So like the Apple Store Genius model, we designed a great model that delivers quality."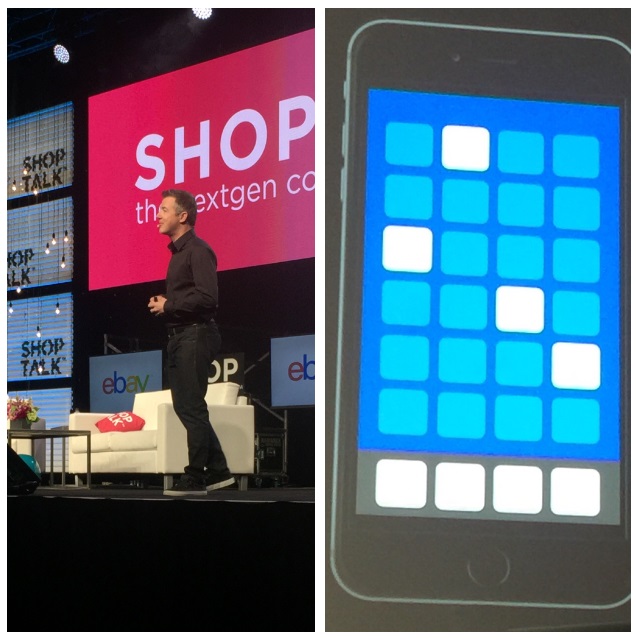 Ebay's chief product officer, RJ Pittman, introduced the concept of "app fatigue" and digital's saturation point, then gave a glimpse of Ebay's work with voice and image recognition in developing new, more natural, search and discovery processes.
Nicholas Franchet, director global vertical strategy, Facebook, on the new "Mobile First Commerce" era: "We believe we're entering a new era of commerce called "mobile first commerce" – that is to say of all the touch points, mobile phone is the most important. At Facebook, we're very much at center of this revolution. It means mobile is not just a technology or set of technologies. It's fundamentally a different consumer behavior, a new consumer behavior. ...And getting the picture right is very critical. This is about digital storytelling. This is about reinventing merchandising. Product storytelling using this new medium where people are spending 20% of their video time. This is about driving sales … combined with a call to action called "Shop Now"… The center of our experience for retailers. In order to do this well, marketers now have to work with the left side and right side of the brain. That is to say in order to maximize relevance and engagement, it's about creating messaging that's beautiful and engaging, that works on mobile devices, really working with creative muscle, while at the same time leveraging all the data driven insights and programmatic approaches, attribution, to maximize. Combining the two is what is necessary to get to the future of marketing, the right balance between the creative and the quantitative. That's what we see really successful marketers do well. It's going to require a lot of experimentation and trial and error, and innovation."
Tim Kendall, president, Pinterest, on buyable pins: "Since launching buyable pins last June we've four X-ed the amount of selection so we now have 50 million products you can buy on Pinterest. What we see is more and more interest in engaging with the product and people buying.We started with a few retailers, and as of today we've got 20,000+ retailers selling product on Pinterest. The model is we don't charge merchants to participate. We're trying to build this marketplace where people have access to great selection. ... I do think it's a very unique opportunity to not be interruptive (with advertising) because what we're building for you every day on your phone is a catalog of ideas, most of which come from businesses. 75% of all the content on Pinterest is from businesses. What that means is that when we show you that catalog of ideas, we don't have to trade off between the user experience and the retailer experience."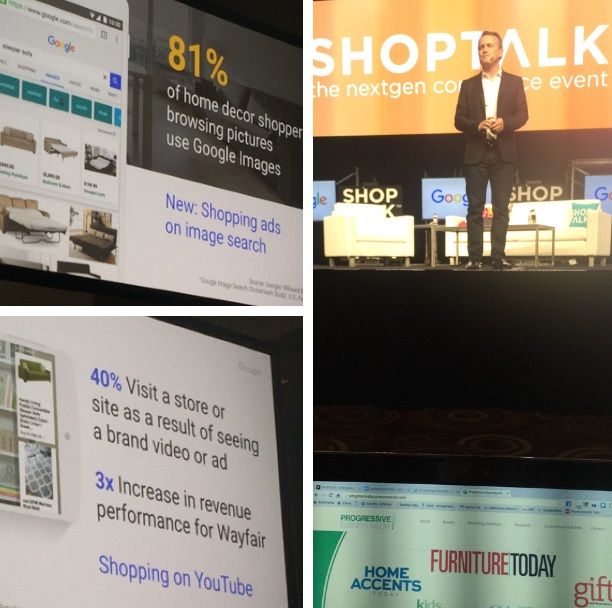 Anthony Soohoo, CEO, Dot & Bo, on combining content and commerce: "The whole reason we started Dot & Bo was I found myself looking for furniture advice and realizing all these design magazines and HGTV didn't have a buy button, so that was kind of the experience I wanted to create. Most of the time when they're shopping for their home they need to be guided, they need to be led … What we do is try to get into a person's inbox to give tips and provide as much info as we can on that email so if they do want to come to the site and engage with us, they can, but it's their own choice. I believe content has to be entertaining, relevant and most of all, useful. What we started understanding early on is that about 80% of customer inquiries with home furnishings happen prior to the purchase, and that drove a lot of our thinking in terms of the type of people we hired – people that went to design school, who wanted to break into online commerce, or wanted to have a future as a merchandiser."
Shan-Lyn Ma, CEO, Zola Registry, on rethinking registries: "I started thinking up ideas three years ago, and that happened to be the year that all my friends got married at the same time, and I shopped a lot of wedding registries. … Having worked in e-commerce for quite some time before, I found that my friends' wedding registries was the worst shopping experience I had ever had. And asking them about it, it turns out they hated it as well. Existing wedding registries had not changed in decades … so I decided we could do much better."
Michael Dubin, CEO, Dollar Shave Club, on subscription retail: "What we're doing for razors is like what Starbucks did for coffee. Howard Schultz came along and said, 'Wait, this is actually an important part of your life, this is something that's very special to you and something you do daily and it deserves a culture and a ritual and a lifestyle around it.' Three million DSC members get shipments (including a monthly magazine) every month. If you bump into someone on the street that belongs to Dollar Shave Club, they say, 'Oh, I'm a member.' They don't say 'I'm a subscriber' or 'I get those razors.' They really feel like they're part of something."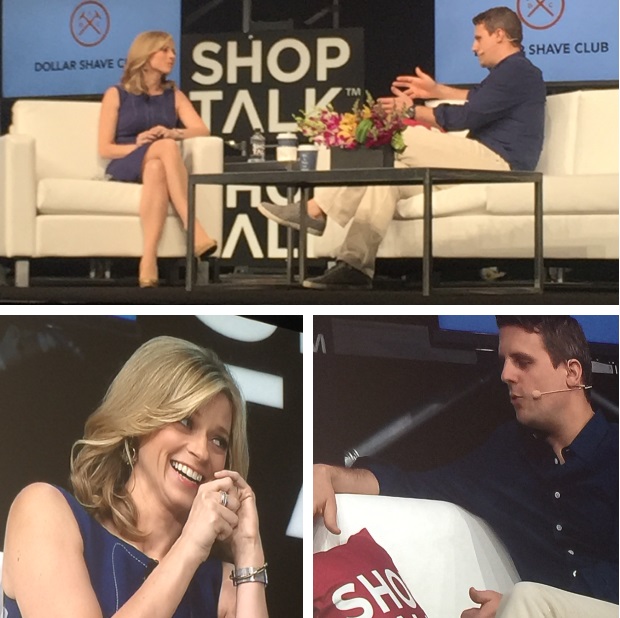 Courtney Reagan, CNBC and Michael Dubin, CEO, Dollar Shave Club
Google VP Jonathan Alferness on shopping for furniture: "My wife and I recently purchased a new home. Last week we were searching sleeper sofas on Google Images to get an idea of diff erent styles for our guest room. Aside from delivering a bunch of images for us to share and use for inspiration, image search also allowed us to filter by color, size and price. We didn't have to leave Google Images to get the details. If we liked what we saw, we could buy it right in that moment. We (Google) also know that people turn to video and Youtube to explore products. Last year, we decided to make this connection easier by making Youtube videos shoppable – your own branded videos as well as third party videos. So if we're watching a video on how to arrange our guest room, we could shop those sleeper sofas right from within Youtube. One of our largest customers, Wayfair, nearly tripled their revenue performance using these formats."
Brian Sugar, CEO, Popsugar, on marketing to Millennials: "At Popsugar we take an 'IPA' approach when we're creating products and services and working with marketers and brands. I stands for Immediate, gotta be doing things better, faster than were doing them yesterday. P stands for Personalized. Over years of publishing we've always talked about doing things personalized. With Amazon cloud services and various others we're finally at a point where the level of computability is affordable for companies like us. A is about Authentic, the hardest one to do. The way you do that is the Instagram influencers. We have a 15,000 influencers network across social media and … we get these influencers to talk about the brands… nothing better than some famous blogger talking about your fashion brand for Target or what have you in a very, very authentic manner. So in everything we do we're making it faster, more personal, more authentic."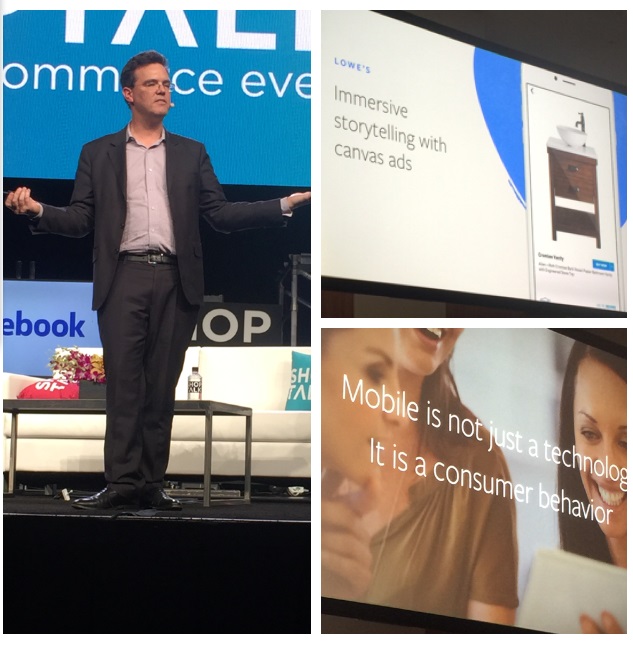 Nicolas Franchet, Facebook's director, global vertical strategy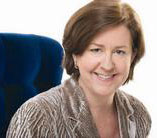 Susan Dickenson
|
Editor in Chief
sdickenson@homeaccentstoday.com
Related Content By Author
Subscribe to
Home Accents Today eWeekly
Receive the news you need to know about the trends in the industry delivered right to your inbox.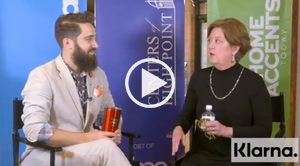 Join HAT's editors for PBM News Desk, an on-site content creation hub in the lobby of the Centers at High Point during the 2017 Fall High Point Market. (Sponsored by Klarna.)
See the videos!