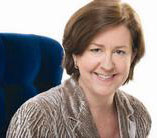 Susanna Salk, Barclay Butera, Amy Lau, Joe Nye's Las Vegas Market 'shopping trip' now viewable online
February 17, 2009
At the Las Vegas Market last week, NBC Today show contributor Susanna Salk spent some time walking the halls and showrooms of World Market Center with interior and collections designers Barclay Butera, Amy Lau and Joe Nye. Afterwards, they sat down for a conversation with Salk about their "shopping" trip, which was caught on videotape, shared with a live audience at market, and is now viewable online at http://www.videonewswire.com/event.asp?id=55266.
The hour-long result, Ahead of the Curve, offers an informative, entertaining look at some of the things that caught the eyes of these industry professionals, as well as a fun peek inside some of the WMC showrooms. Butera, CEO of Barclay Butera Home, is a market veteran, but last week was Lau, Nye and Salk's first visit to the Las Vegas Market.
Their findings are grouped into three trend-themed videos, beginning with sustainable and eco friendly products. Butera: "There's so much diversity here… a lot of people have come in and brought high design and sophistication to that aspect of interiors – that area of sustainable living."
The designers' second video, gentlemen's lounge, showed several items from Lexington Furniture with a British Colonial feel – leather, nailhead trims, mixture of texture and detail. Nye exhibited a set of Chinese Chippendale stacking storage pieces and a snow leopard pagoda chair ("well priced and comfortable") by Jardins en Fleur as two of his favorites in the category.
The third trend group focused on the use of exotic color and historic reference in designs. Lau described it as historic pieces that receive a breath of new life from manufacturers and showed, as an example, Kimball's Dorothy Draper curio cabinet and console, updated with a coat of white lacquer; and a white rococo mirror from Mirror Images, also a favorite of Butera's. Nye found inspiration in Thomasville's new line from Washington, D.C.-based designer Darryl Carter.
Also in the Webcast, remarks by World Market Center CEO Bob Maricich, and a post question-and-answer session with the designers.