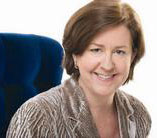 ATLANTA MARKET: Ribbon Cuttings
January 9, 2009
January 2009 Atlanta Market Ribbon Cuttings
Terence Morris, left, Matt Edwards and Renee Shafer of Americasmart and a variety of exhibitors cut the ribbon on the 6th floor of Building Two West Wing's 6th floor.

Americasmart's Dave Savula and Kristi Forbes are joined by 7th floor exhibitors for the opening of the floor in the new West Wing.

Americasmart officials Janelle Potier, Kristi Forbes and Agnes Harty, along with 8th floor Gourmet and Housewares exhibitors, celebrate the floor's opening with a Thursday morning ribbon-cutting in front of the kitchen demonstration area.

Dave Savula, Karen Greaber and Maria Hill, all of Americasmart, along with Gardens exhibitors from the 9th floor, cut the ribbon in front of the two-story LED waterfall.

Katie Belveal, left, of Americasmart; Katie Nugent and Tania Santana, both of Leftbank Art; and Americasmart's Kathy Bovey cut the ribbon to Leftbank Art's new showroom, MM 13-B-6.

Phil Beachler, left, Johnston Benchworks; Americasmart's Kathy Bovey; Scottie Westmoreland and Melissa Westmoreland, Westmoreland; Keith Johnston, Larry Michael and Joan Fain, all of Johnston Benchworks; and Americasmart's Katie Belveal cut the ribbon to Johnston Benchworks' and Westmoreland Furniture's new shared showroom, MM 13-E-11.

Katie Belveal, left, of Americasmart, Jose Ramos, DeeDee Philpott, James Berk, Greg Waylock, all of Bailey Street, and Kathy Bovey of Americasmart cut the ribbon to the company's new showroom, MM 12-A-5,7. 
Make sure to check back tommorow for more of What's Happening at Market!