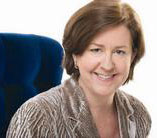 National Furniture Bank Association helps families, environment & retailers
October 8, 2007
"A major obstacle consumers face when contemplating the purchase of new furniture is what to do with their old furniture. It's a proven headache that causes them to procrastinate or, worse, spend those dollars on a high definition television." So says Don Lawrence of the non-profit National Furniture Bank Association, an umbrella organization of furniture banks across the country that puts used and unsold furniture into the homes of families in need.
I first heard about the NFBA when Home Accents Today ran an item in which the organization invited High Point Market exhibitors to donate showroom merchandise to a local furniture bank, with pickup provided by MGM Transport Corp. In that release last October, Kimberly Wray, vice president of marketing and communications for the High Point Market Authority, described the NFBA as a way for exhibitors to not only save money but do something good for people in need. "For many of our exhibitors, it just doesn't make financial sense to ship display merchandise back to their warehouses. Donating furniture directly to the NFBA is a win-win situation for everybody involved."
From a social and environmental perspective furniture banks benefit victims of natural disasters, women and children escaping domestic violence, working families who are living below the poverty line; and they help keep usable furniture and accessories out of incinerators and landfills. The servicing arm of the NFBA, an effort called Help1Up, organizes the pickup, provides donors with a tax receipt and makes the deliveries to pre-screened recipients.
From a marketing perspective, furniture banks help eliminate a major obstacle to buying – what to do with the furniture being replaced. "Our customers think 'I don't like my furniture anymore but I don't want to just throw it away,' … 'I don't have time to have a garage sale,' … 'My kids don't want my old furniture,'" said Mary Frye, president of the Home Furnishings Independents Association (HFIA) and an NFBA board member. "We make such a good product that it lasts longer than we can profitably stand for it to last in our customers' homes. Through furniture banks, we can get useable furniture out of the hands of people who can afford to buy more and into the hands of those who won't be our customers for awhile."
Accessory donations are just as important as furniture. "Part of the mission of furniture banks is to maintain the dignity of their clients and improve their outlook while providing necessary assistance," Frye said. "Just as beds, tables, sofas and lamps make a house or apartment usable, pictures, vases and throws make it personal. That 'ah-ha moment' when you arrive home and know that you have not only the basics but a little more nourishes your soul. That feeling gives you hope that you not only have 'enough' but you also have a little 'extra' because somebody cares."
There are several ways to get involved. Frye encourages retailers to start locally. "If a retailer is lucky enough to live in a community with a furniture bank, the retailer can use the services of the bank. If there is no local furniture bank, retailers can learn how to have a virtual furniture bank, so to speak, to hold on to the furniture while working with a local service agency that can place the furniture with a needy family." To find out if your community has a local bank, you can search by zip code at www.help1up.org.
 
High Point Market exhibitors may donate items from their showrooms by contacting Kevin Polk of the Emergency Interiors Furniture Bank at 919-345-8516. Through a partnership with MGM Transport, donations will be picked up directly from the showroom after market and delivered to families in need.
The NFBA continues to open new furniture banks and increase the capacity of existing banks by providing best-practices guidance and facilitating large donations from manufacturers, retailers and the lodging industry, but it needs financial support. Consider becoming an entry level supporter for $100 or purchasing an entry level sponsorship for $1,000.
Earlier this year, Furniture/Today editor and NFBA board member Ray Allegrezza said the American Home Furnishings Alliance's endorsement of the NFBA marked the first time that the entire industry has come together in support of a single cause and encourages participation at all levels. "Supporting Help1Up is a no-brainer," Allegrezza said. "It's free, facilitates new furniture purchases, provides a valuable service to our customers, protects the environment, and assists tens of thousands of families in need."
For more information, visit help1up.org or contact Don Lawrence, NFBA vice president of communications, at dlawrence@help1up.org or 800-576-0774.