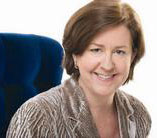 MARCH MADNESS: How Alexander Julian left his permanent mark on the UNC Tar Heels' uniforms
March 27, 2009
DESIGNER ALEXANDER JULIAN, the only designer to have received both a Pinnacle Award* for furniture and a Coty Award for fashion design, recently told an audience at High Point University that legendary Carolina Coach Dean Smith gave him the biggest design challenge of his life when he asked Julian to redesign the UNC Tar Heels' basketball uniforms:
"Having been born and raised in Chapel Hill (his parents opened Julian's on Franklin St. in 1942), my father went to school there, I went to school there, my oldest daughter was in school there, I was chairman of the Chancellors Club… but to have Dean Smith call you and ask for new uniforms for the Tar Heels was like having God ask for new halos for the archangels."  
I had heard Alex tell this story before, a couple of years ago in Frederick Cooper's High Point showroom when he was there for a new product (lamps) launch. When I found out he would be delivering the keynote address at the start of
this year's Design, Arts and Technology Symposium at HPU, I took my tape recorder.
AS A UNC GRAD and mother of a UNC senior, I share Alex's passion for the Tar Heels — and no Tar Heel is immune to March Madness. The year I graduated, 1982, we won it all.
Coach Smith, after bringing us painfully close in the three years prior, finally coached our team to the NCAA championship title. The final four battleground that year was New Orleans. In the championship game, with 32 seconds left on the clock, Georgetown was ahead of us by one (62-61). Freshman Michael Jordan scored, bringing us ahead by one. With 15 seconds left on the clock, the Hoyas' Fred Brown brought the ball down the court and then, by mistake, passed it directly to the Tarheels' James Worthy. Click here for the YouTube video.  Home Accents Today's editor-in-chief Jenny Heinzen York and product editors Tracy Bulla and Lindsey Strader are also alumni of the UNC School of Journalism, as is Cinde Ingram, editor of our sister publication, Casual Living. (Cinde shares her memories and reports on a very cool Carolina grill on her blog HERE).
SO, JUST LIKE ALEX made a quick diversion that morning intoTar Heel country (during his talk on design at HPU), I'm going to do the same thing here, with Alexander Julian's explanation of why the Tar Heels wear his "lucky" argyle down the sides of their jerseys:
"It was the weightiest design decision I ever made, because if I screwed it up I could never go home again! The colors were already chosen and yet I changed them. The team had gone to what is known as TV blue becau
se of the color television transmittal. (True) Carolina Blue came across as light grey, so they had gone to a heavier version of Carolina Blue which had nothing to do with Carolina Blue — more teal than anything else. And the NCAA gives you four inches on the sides of the uniforms to decorate and I didn't know quite what to do.
"Dean (Smith) is a brilliant coach, but he's not as comfortable with design issues and he involved all of the assistant coaches and the entire team in the decision. Now, all of you who have tried to get one person to understand one design know exactly what I mean. When you complicate it with two people you're trying to convince, it's four times harder – it's exponential. And here I had 30 people to convince.
"So I tried psychology. And my psychology was named Michael Jordan. Michael was relatively popular at the time. This was 1991, and  he was in Chicago, on top of the world. I called Michael and asked him to be my sounding board for the designs. I gave Coach Smith three different versions of this
uniform to choose from. We would have these three-way conversations… Fed Ex to Michael Jordan, Fed Ex to Coach Smith… then conference calls to talk about this stuff. Michael liked the argyle best.
"And guess what? As soon as Michael said that, then the entire team also liked the argyle best. So we made the first uniform in Michael's size, sent it to Chicago, he worked out in it, then we sent it down to Chapel Hill. There was near frenzy, I'm told, in the locker room as to who was going to be the first Carolina player to put it on after Michael because they wanted Michael's mojo. Hubert Davis (photo, above right) won, he was the same size and he was the model. Now he's a great sportscaster.
"I'm very proud that they won two national championships in my uniforms and the argyles have sort of become one of the symbols of the University of North Carolina. The wrestling team now has them and they're talking about putting them on several other uniforms.
"Some people think the argyle came from Dean Smith's old four corners play because it looks kind of like that, but actually it came from the fact that my first Coty award was catylyzed by a 14-color argyle sweater. That was my 'lucky' argyle and so I put my 'lucky' argyle on these uniforms and we won the national championship the next year."
Good luck this week, Tar Heels. 
*The American Society of Furniture Designers' deadline for Pinnacle Awards nomination submissions is June 1st. The awards are underwritten by Home Accents Today's sister publication, Furniture/Today. Read more about the awards here.