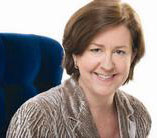 Chicago Market announces its first Retailer of the Month: Curious Sofa's Debbie Dusenberry
June 5, 2008
The Chicago Market: Living and Giving™ is proud to announce the first edition of the Retailer of the Month program and its June 2008 honoree. The ROTM program is designed to acknowledge exceptional retailers who are making a difference in the gift industry, as well as to provide inspiration to other retailers who can benefit from the winners' stories.
Congratulations to the June 2008 Retailer of the Month, Debbie Dusenberry of Curious Sofa in Prairie Village, Kansas, who, after 19 years as a photo stylist created her inspirational boutique, Curious Sofa. Dusenberry launched Curious Sofa's Web site in 2000 with one page showing only hours and location. Today the Web site also displays the store, merchandise, press and store information. In 2006 Dusenberry started a blog to present new products and post announcements of store events. The secret to Dusenberry's business, aside from in store events and an over-the-top website, is her passion. "I have always loved antiquing, decorating and shopping unusual boutiques, so I wanted to [create] a store with a great mix of new and old home furnishings with hand selected products you couldn't find anywhere else," she said. "All of [my] interests have come full circle with owning my own retail store as I use and enjoy them every day."  
 
Chicago Market: Living and Giving will feature a different retailer each month. Nominations may be e-mailed to Sara Hall, buyer relations manager, at shall@mmart.com. For more information on Merchandise Mart Properties, Inc. (MMPI) or The Chicago Market: Living and Giving, please visit www.shopchicagomarket.com or call 800.677.6278 (MART).