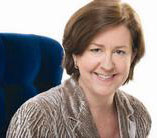 JCPenney launches Simply Green; Michaels Pres. & CFO to resign; Sears promotes Holt to VP
March 19, 2008
JCPenney will begin using a newly developed Simply Green mark to assist customers in making environmentally conscious purchases. The qualifying merchandise must fall into one of three categories: organic (defined under JCPenney's program as being made from at least 70% raw materials grown without chemical fertilizers or pesticides), renewable (made from at least 25% renewable materials such as bamboo, sorona, ingeo, soy, capiz shells or wood that comes from certified, well-managed forests), or recycled (must contain at least 25% recycled materials). The Simply Green logo will be clearly visible on the hang tag or package insert of all approved JCPenney private brand merchandise which will be highlighted in Simply Green "zones" throughout the store. Environmental lifestyle expert Danny Seo is serving as JCPenney's green living partner, providing consultation to the company and serving as an advocate for eco-friendly living. 
March 18 — Michaels Stores, Inc. announced the resignation of President and CFO Jeffrey N. Boyer effective April 4, 2008. While Michaels searches for a replacement, Senior VP-Finance and Treasurer Lisa K. Klinger will serve as acting CFO and VP-Finance and Corporate Controller Richard S. Jablonski has been named principle accounting officer.
Sears Holdings Corp. has promoted Kevin R. Holt, a former executive at Meijer stores, to executive vice president of the company's Sears and Kmart store operations. Holt, 49, was hired in September as senior vice president and chief effectiveness officer. Prior to joining Sears, he was executive vice president of retail operations at Meijer, a Michigan-based retailer of groceries, general merchandise and home goods. Sears Holdings posted a 47.5% decline for the fourth quarter ended Feb. 2, to $426 million from $811 million in the fourth quarter a year ago. Net sales fell 6.8% to $15.07 billion from $16.18 billion for the same period last year. The company continues in its search for a new CEO. 
Montgomery Ward has launched a Web site promotion called "Tell a Friend About Wards and Win" to help fuel its Internet and catalog business. Visitors who register online at www.wards.com/friend and enter their own and a friend's e-mail addresses, are entered into a drawing for one of fifty $100 gift cards.