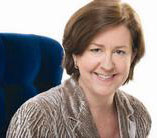 D.C. CharityWorks "Red Hot & Gorgeous" GreenHouse Opens Saturday
October 8, 2009
TONIGHT'S PREVIEW RECEPTION for Washington, D.C.'s CharityWorks GreenHouse is SOLD OUT and, after watching the Washington Post's video with chief designer Barry Dixon it's no w
onder. The custom-built craftsman-style house at 1310 Calder Road in McLean, Virginia, showcasing stylish sustainable living, efficient building design and innovative technology, is a beauty –inside and out. I'm proud to have a very special interest in the project: my daughter, Sophie Pyle, one of the co-hosts for the GreenHouse's Young Benefactors soiree this Wed. evening, Oct. 14. Sophie and co-hosts Piper Gioia, Dabney Doswell and Mark Turner will be joined by Washingtonian and global environmentalist Philippe Cousteau for "Red Hot Green & Gorgeous" (sponsored by Washington Life magazine), which begins at 7 p.m. 
Sophie became involved with the CharityWorks GreenHouse through my good friend and Home Accents Today contributor, D.C. designer Lynni Megginson, whose highly-anticipated and much-publicized virtual golf room will be unveiled when the GreenHouse opens this weekend. It seems like just yesterday Sophie texted me that Lynni was on her way to pick her up for a planning
meeting, and the opening date of October 10th seemed so far off. Hard to believe it's already here, Sophie and Lynni are now old friends, and I just read on Facebook that another Home Accents Today retail friend and contributor, Christi Tullis (Ambiance Interiors) is flying up from Georgia for the opening weekend. 
If it weren't for the fact that I'm leaving for Spain this weekend to attend the annual FARCAMA exhibition of Castilla La Mancha's artisans and craftsmen (and thrilled to be doing so) I would definitely be teeing off Sunday morning in McLean with Lynni, Sophie and Christi. I wish them, and all of the CharityWorks designers and staff, much success this opening week and look forward to getting up there before the GreenHouse closes to the public on October 30th. (And… via email, I just received my schedule for next week — includes a side trip to Talavera de la Reina, Spain's "City of Pottery!")
Tickets for Red, Hot, Green & Gorgeous as well as general admission tickets for the GreenHouse can be purchased HERE… Lynni chronicles her virtual golf room on her blog at http://www.lynnimegginson.com/… Philippe Cousteau's video provides an indepth look at the construction… and Jura Koncius writes about the GreenHouse in today's Washington Post Home and Garden section.