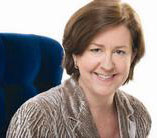 LIVE from Las Vegas: retailers talk business
January 29, 2008
Buyers at Las Vegas' World Market Center shed some light on a question that's on the minds of many these days … how's business? The January markets have given us a chance to hear from a bevy of retailers representing different geographic areas, economic categories and styles. This week in Las Vegas, we found a few who are diversifying from furniture into more accessories to fill the gap left by the closing of big box stores and to provide lower priced options for home decorating. Some said they feel the media is to blame for instilling a larger than necessary sense of fear in budget-conscious consumers. Here's what else they said:
We sell furniture, accessories and lighting in a town near the eastern Colorado border where several large oil and natural gas companies are located. Unlike much of the country where people are suffering from a downturn in the economy, this small town is popping. We had a wonderful Christmas and our open house was the best attended ever – double the size of last year. I'm here restocking and looking for fresh new designs for the young engineers that live here, and the newcomers from Arizona and the East Coast. The economy is just so different. I've already been to two markets this year but I specifically made the drive here to Las Vegas to meet with Shana (Smith, of Imax). –Marcia Batty, The Galleries, Vernal, Utah
It's interesting because although our holiday business was very close to being equal to last year, I noticed my customers have become far more educated and discriminating in their selections. I've been in business for nine years. When I first started, no one was carrying anything in the accessory lines like Imax or Uttermost, and we could just buy anything. Now it takes more thought, expertise and merchandising; and it's great that the customer is so much more attentive to design, selection and quality. My wife just joined the business and incorporates a lot of art and creativity into our displays. It adds another element, plus shows the customer how they can use the product. We're even offering a new segment in a home we've restored and turned into a showroom so that everything is shown in its living environment. Overall, business is growing and I've been able to maintain my market share due to several factors, including the closing of a couple of big box stores in town this year … and I've diversified to accommodate that. I'm not a furniture store, but now I'm selling furniture and more accessories to go with it. –Bill and Drinda Warren, Shops UpFront House & Garden, Statesville, N.C.
Christmas was way better than last year. We've been in the furniture, accessories and interior design business two years and are here looking to restock as well as to find something new. –Carla Shields and Shelly Vicar, Vicar's Furniture, McAlester, Oklahoma
Last year as a whole, except for a few ups and downs, business was pretty good. We sell a wide variety of furnishings and floor coverings, and this is our second Las Vegas market. The holidays were better than the year before, but we've slowed down in January. –Sharon & Jim Goetze, Goetze Bros. Carpet & Furniture, Stover, Missouri
Our stores offer a complete line of product, sold in small town America. We have about 260 stores. A little over a year ago we replaced our ready-to-assemble furniture with an 'accent appeal' shop, a collection of accents in an area of about 1,000 square feet, that's doing very well. As for the economy, if a customer is unable to buy a new living room suite, they can usually buy a piece of decor to change their environment … or give a room a new look for a couple hundred dollars. I grew up with the same pieces of art on the walls – they were never changed. Today that's not the case. –Bruce Dale, Duckwall-Alco Stores Inc., Abilene, Kansas
We have stores in Montana and Washington – our expectations were altered down a bit but the accessories did better. We're readjusting our priorities … if things are not moving, we're just giving it a bit of a recharge and some updating. Wall decor, including mirrors and clocks, is really big as are rugs and lamps. Serving our markets is based more on region, i.e. people with second homes, rather than trends. –Dave Shea, Ashley Furniture Home, Missoula, Montana
Our Christmas was better than last year. We're in a good market with little competition, and we're in the process of expanding and opening another store. So we're here to stock and see what's new, but we're not buying many big ticket items. –Mandy Davis, Krista Fuerst and Susan Nilsson, Accent Home Furnishings, South Logan, Utah