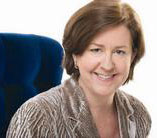 Polo round-up: JCPenney-Ralph Lauren's new brand
February 14, 2008
JCPenney enters the Polo arena this month with the rollout of its new American Living collection designed by
Ralph Lauren. For a sneak peek of the products, henceforth identified by an American Eagle-American Flag logo sans any mention of the Ralph Lauren name, go to www.americanliving.com.   The rollout, taking place this month, marks JCPenney's biggest product launch in its 105-year history and is projected to be a record retailer-designer deal in terms of its size. American Living is the first brand created by Global Brand Concepts, a new group within the Polo Ralph Lauren Corporation. Global Brand owns the trademark for American Living family and home products, and will oversee
design, sourcing and production. JCPenney will own the products and is responsible for inventory, marketing and selling.
JCPenney and Ralph Lauren execs plan to discuss the partnership at a formal briefing on Tues., Feb. 19th. Inventory should be in stores nationwide and available online by Feb. 24th, in time for American Living's new advertising spots which will run during the Academy Awards broadcast. A round-up of news clips and web bites further reveals:
- The American Living brand includes about 40 categories including home decor, bedding, bath goods, apparel, shoes, luggage and handbags.
- American Living merchandise is already available in some locations with close-to-complete collections in a few Texas stores (North Dallas and Lewisville).
- The brand reflects Lauren's classic, traditional Americana aesthetic and is given high visibility in the store, displayed on white wooden tables and shelves (a la American country white-wash). Some of the locations will incorporate separate American Living stores-within-a-store.
- American Living could generate close to $500 million in sales during its first year and is expected to become a billion dollar business in the next few years, accounting for 5% of JCPenney's annual sales.
- Although American Living products may cost more than the JCPenney consumer is used to paying, the under-$150 pricing for cotton sheet sets and bedding is less than the average price points at the Polo and Ralph Lauren shops.