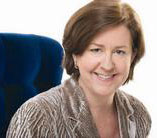 My 52-year-old eyes love Google Glass!
October 5, 2013
Google Glass launched its nationwide promotional tour today in Durham, N.C., and I was there. And now I really, really want a pair.
Several months ago, I applied to be an early user in Google's #ifihadglass campaign (a "Google Glass Explorer"). I learned about the technology while researching and writing HAT's Future of Retail special report (March 2013). Sure, there are a lot of potential applications at retail I could write about -- from the sides of both the shopper and the seller -- but there are also a lot of cool ways a pair of these beauties could enhance my professional and personal life -- interviews, market coverage, directions, thesaurus/dictionary, retail scouting... not to mention the whitewater rafting trip I just took with my kids, the new grandbaby, my husband's honeybees... all photographed, researched, shared, archived, etc., hands free with Google Glass.
Well, I was accepted in the program, along with (ahem) other "celebrities and high follower counts" like Newt Gingrich, Soulja Boy and Neil Patrick Harris. Three things held me back: price, the requirement that they be picked up in person in NYC, and the uncertainty that I would be able to see the little screen.
You see, my 52-year-old eyes require a strong pair of +2.0 reading glasses to read anything beyond the tip of my eyelashes.
Still curious (and hopeful), today, my husband Tim and I drove over to Durham for the launch, a very well-organized event in the beautiful American Tobacco Historic District. We waited in line for about 30 minutes with other Glass enthusiasts who had RSVP'ed for the event, signed in, received an orientation about the touch bar and "Okay, Glass" verbal commands, then were invited to give it a go.
I slipped into my glasses, gave the sidebar a quick tap, then said "Okay, Glass, get me directions for Pizza Hut," for lack of a better thing to ask. I could see the words, map, everything - perfectly in focus! Next command. "Okay, Glass, take a picture" and I took a
picture of my husband playing with his Google Glass. I don't know how they did it, but there was the picture of my Tim, floating somewhere out there just above my right eyebrow, in perfect clarity. That sold me.
A few more minutes of Glasstime, and I went in search of the first Google consultant I could find to ask if it was too late to obtain the pair that had initially been reserved for me (you can't buy them yet -- Google Glass won't be available at retail until sometime in 2014). We shall see.