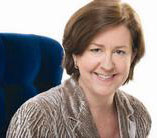 Retailers are getting the picture
December 3, 2013
Savvy Retailers and marketers know that good product photography can be a powerful tool when it comes to moving product. If you're selling online or promoting your products via social media, it may be time to zoom in on this aspect of your business.
At Home Accents Today's most recent market buyers breakfast, Matt Huber, executive vice president of Belfort Furniture, made an interesting observation while talking about a trending preference for vibrant, colorful and boldly patterned rugs. "I almost wonder if it's because everyone does their research online now, and those are the ones that catch your eye first." He suggested that larger geometric patterns such as chevron make a bigger visual impact when viewed as thumbnail images on a computer or mobile device, as opposed to more intricate prints and patterns that may not always be presented in high resolution or with a magnification tool.
Over the past year, when interviewing major online retailers of home furnishings, the word "scale" has popped up
John Gidding moderated a discussion among designers (from left) Robin Wilson, Michelle Wiebe and Lori Dennis, and realtor Zan Monroe at the
High Point Market
press breakfast.frequently - as in, a product with good "scale" will photograph truer-to-size in online photographs and catalogs, thus increasing its chance for being included in the e-tailer's inventory. "Online, conveying the product's proper size and scale in an image is so important - we're very detail-oriented when it comes to product specifics,"
Kecia Hielscher, Hautelook.com's VP-Home, told me this summer
. "How an image will photograph for online absolutely plays into our (purchasing) decision."
The subject came up again at the October High Point Market Authority press breakfast, which featured a panel discussion on post-recession design led by John Gidding. The panelists, interior designers whose work has been photographed for television programming and shelter magazines, said the medium definitely influences the design. In one project, a room makeover called for a neutral sofa, but because it was a project
Hank, through the Kelvin filter, on Instagram.
for an HGTV show, the sofa was accessorized with more color, patterns and texture than the designer would have used "in real life." For print, the designers said they gravitated toward the use of more color and texture, even to an extent that such dressings would not be their picks for a real home.
And just when we were getting used to sharing all those beautiful photos on Pinterest, now there's a new kid on the block - Instagram, the social photo-sharing tool that lets you snap, crop, add a filter or border, and share with friends on your Instagram, Facebook and/or Twitter accounts. Several brick-and-mortar retailers told us they're using Instagram to create their own sort of "flash sale" experience, highlighting specific products every week using interesting camera angles and filters. Interior designers I spoke with last month expressed a preference for Instagram over Pinterest as a way to showcase their work. "I give a sneak peek of a project or a vignette on Instagram and people are all over it," one designer at the Home Accents Today breakfast said.
After
playing around a bit with Instagram, I discovered I liked the simplicity of one incoming and one outgoing stream of photos (as opposed to numerous Pinterest boards), the searchability, and the cropping/ filtering features. A close-up of my cat's face was just another black and white cat face until I applied the "Kelvin" filter and turned Hank into an orange-tinted hipster cat with an edgy border more befitting of his coolness. Hashtags work here, too - when I searched for photos taken at the High Point Market, I found 15,779 posts tagged #hpmkt.
Twitter is also flexing its muscle in the photo-sharing game. On Oct. 29, Twitter began embedding tweeted photos and videos directly into its users' Twitter timelines. You no longer have to click on the pic.twitter label to open the photo for viewing.
The importance of good product photography certainly isn't limited to social media. In recent months, the online shopping giants have raised their photo requirements for sellers.
On July 1, eBay began requiring each listing to include a minimum of one photo measuring at least 500 pixels on the longest side, with no borders and no seller-added text or artwork. Amazon requires that products fill 85% or more of the image space and that the picture be a minimum of 500 pixels in either removethebackground.comheight or width to enable the zoom function.
Amazon also requires that all images have a completely white background, and if that presents a challenge, be advised there's a site called Removethebackground.com where you can submit your product images and, for a small fee, they'll take care of it. Intrigued by the idea and the free three-photo trial, I gave this one a try. The result may be seen in the photo above. Prices start at $1.45 per image or you can set up an account starting at $29 per month.
For more tips and advice on creating great photography for websites and social media, check out: www.practicalecommerce.com/articles/2669-Our-Guide-for-Do-It-Yourself-Product-Photography. This guide has everything you need to know to set up your own basic in-store photo studio, including where to buy seamless white paper ($42 per roll) so that, going forward, you can white out the backgrounds as you shoot.
Now, get out there and start snapping, and share your results with me on Instagram, Twitter and Google+.