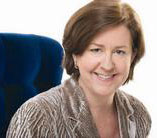 Partying with the Stars
November 6, 2013
On Saturday, Oct. 12, I attended a great in-store party at Mary Sherwood Lake Living, a lifestyle retailer located on the North
MSLL's "Stars" party e-invitation featured our Retail Stars logo.
Carolina side of Lake Gaston (the lake is situated on the N.C.-Va. Border).
One reason for the party was to celebrate MSLL's selection earlier this year as one of Home Accents Today's 2013 Retail Stars. I also happen to know that Mary loves to entertain in her beautiful store, especially with the recent addition of a new gourmet kitchen and seating area where, in addition to social gatherings, she hosts cooking classes and product tastings.
In addition to being stocked with all sorts of gifts, gourmet goodies and home décor, MSLL also houses a complete interior design studio. More importantly, it's a valued community gathering spot, evidenced by the conversation, greetings and number of customers and friends in attendance that day (and every day, from what I hear).
And that's what makes Mary Sherwood a Retail Star.
In this photo, Mary is holding the youngest customer at the party... so the parents can shop.
As shopping becomes a top priority in the coming days, please make note of those independently owned stores that shine a little brighter and go the extra mile to sell the decorative accessories, mirrors, rugs, lamps, botanicals, soft goods and wall décor that are the bread and butter of our industry.
Although we're a few months away from calling for our 2014 Retail Stars nominations, it is NEVER too early to get them on our radar - you can send your recommendations to me at any time, sdickenson@homeaccentstoday.com.
In the meantime, enjoy these pics of Mary Sherwood Lake Living's 2013 "Stars" party... And thanks again, Americasmart, for sponsoring and supporting this annual endeavor.
MSLL's new in-store kitchen (above). My favorite: habanero pork bbq, pineapple peach pepper sauce, coleslaw and cornbread, layered in pint-size, self-serve mason jars.
Before the new kitchen, there was this one (above), which is now used to display gourmet foods, kitchen supplies and serving wares.
While I recognized many vendor products from our pages and the various markets, it's always fun to see how retailers display and merchandise them in their shops.
With Mary Sherwood (at right).