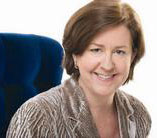 'I Love Lucy,' especially in living color
December 19, 2013
I love Lucy. And I am so looking forward to Friday night's I Love Lucy Christmas Special in which I'll get to see Lucy and Ricky's New York apartment in hi-def clarity and color!
I'm sure there are a lot of 1950s black-and-white TV purists out there crying "blasphemy," but I'm quite curious as to what Lucy and Ricky, Fred and Ethel, their living rooms, furniture and Ricky's night club are going to look like, blown up in full color on the big flat screen in my living room.
Here's what entertainment writer
Diane Werts wrote
in a Newsday piece:
Friday's first scenes might be a shock -- Lucy's "red" hair is tomato orange -- but soon you notice fresh set details, even then-hubby Desi Arnaz's necktie pattern. Lucy's olive green kitchen cements the '50s time frame.
Olive green kitchen!
Earlier this week, Joss and Main hosted an "I Love Lucy" shopping event, honoring the sitcom for its perfect pairing of "humor and heart with a wonderfully happy home."
Joss and Main's collection included some midcentury picks in furniture and home décor, along with "colorfully-patterned pillows and rugs, playful decor, and charming prints inspired by the show." Good timing, great visuals.
One of the things I've always loved about watching the "I Love Lucy" reruns are the memories it brings back of the decor in my midcentury transitional childhood home -- those big boxy chairs and sofas with arms so wide I could sit on them, "Early American" plaques and fabric prints, plastic "greenery," and Chinese-themed accents, most of these pieces purchased by my mom through the Sears catalog or with S&H Green Stamps -- popular retail channels of Christmases past.
But, by far, the greatest thing about watching those reruns is Lucy Ricardo. What a gal. The I Love Lucy Christmas Special airs at 8:00 p.m. ET Friday night, Dec. 20, on CBS. I'll be watching.