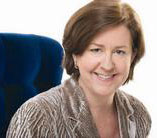 Meet me at the Messe! Ambiente 2014 photos
February 21, 2014
The first tradeshow I ever attended at MesseFrankfurt was Collectione, in the summer of 2007. I knew nothing about the
Fabula Living, Denmark
fairgrounds, nothing about Frankfurt, was nervous about going, and knew no one there. The 2007 Collectione show, geared toward high-volume buyers of gifts and home goods, hosted a total of 207 exhibitors from 25 countries, attended by 6,000 visitors from 64 countries.
Earlier this month, I made my fourth visit to MesseFrankfurt for Ambiente 2014, which hosted 4,724 exhibitors from 89 countries, attended by 144,000 visitors from 161 countries -- their biggest show in 10 years. (Last year's report is here.)
Ambiente is huge, but now I really know my way around - and I love this show.
Most of the home décor categories are located in Halls (buildings) 8, 9 and 11, tabletop is in Hall 4, and a world-bazaar assortment of international fair-trade collections can be found in Hall 10. Each of the halls takes about a day to walk through. The Ambiente fair ticket i
Creative Light, Germany
ncludes free rail travel around Frankfurt and English is spoken just about everywhere at MesseFrankfurt.
Ambiente features all kinds of great design exhibits, awards and lectures, including the prestigious German Design Awards, showcases of emerging design talents (in "Talents"), and the not-so-prestigious Aktion Plagiarius awards for design knock-offs.
Susan Vietri and Cathy Steel at GLM/41 Madison party, Frankfurt
I saw lots of friends - the MesseFrankfurt organizing folks from Germany as well as a few from the U.S., some of the super-nice visiting journalists I've gotten to know over several years, and what seems to be a growing number of journalists (including Alexa Boschini and Cindy Hodnett attending for sister publications Casual Living and Furniture Today) and visitors from the U.S.
Many of the Americans could be found dining together at a terrific party hosted by New York's George Little Management and 41 Madison at the Hotel Hessischer
Paolo Cravedi, Alessi; Randi Mohr, NY NOW; Christian Falkenberg, NY NOW; Tom Gottlieb, Two's Company
Hof, across the street from the MesseFrankfurt campus, Saturday night of the show. Side note: As part of Ambiente's growing contract business program, fair visitors could sign up for a guided tour of the 5-star Hotel Hessischer Hof which features a new interior redesign
project by HRH Floria Landgrafin von Hessen and Nina Campbell
.
Lene Bjerre, Denmark
Japan, this year's partner country, was well represented: the well-attended (standing room only at one point) opening night gala featured an interesting German-Asian buffet and appearances by Hello Kitty and friends; numerous Japanese manufacturers and special exhibits of traditional and contemporary craftsmanship were showcased throughout the exhibit halls and common areas/foyers; Japanese actress, Rila Fukushima led press on a walk-through tour of the fair; the closing ceremony featured Geisha dancers and sake-in-a-box (apparently, the traditional way to drink sake is from a "masu," a box made from cedar wood).
Next year the partner country is ... the United States of America!
So, for those of you who have been thinking about trekking across the Atlantic to Frankfurt, 2015 may be a good year to do so.
Grund, Czech Republic
With more than 2,000 exhibitors in just the home furnishings, textiles and indoor/outdoor furniture categories, Ambiente does not disappoint. In addition to the German exhibitors, the clean lines and organic textures of the Netherlands, Denmark, Sweden and Finland seemed to be well-represented. I enjoyed meeting first-time exhibitors from the Czech Republic (Grund), a great fair-trade outfit from Lebanon (Morus), and seeing the beautiful home décor and furniture at Fink and Eichholtz, creative digital print bedding at Snurk, beautiful lighting at Zenza, Kori-show's great showcase of Japanese goods, Brut Cake's fun upholstery pieces, and the fresh "tranquility and light remedies for the home" at Denmark's House Doctor.
There's too much to put into words here, so I've edited some of the photographs I took into two collections, links below:
Photo album 1: Ambiente 2014
Photo album 2: German Design Awards, Ambiente 2014 Trends, parties, special exhibits
My Ambiente wrap-up and show report will publish in the APRIL 2014 issue of Home Accents Today. Until then, enjoy the photo albums... and next year, meet me at the Messe!
U.S. buyers and exhibitors interested in attending Ambiente or participating in the fair's U.S. partner country program for 2015 should contact Kelly Street, international marketing manager, at Kelly.Street@USA.messefrankfurt.com.