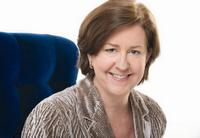 Downton Abbey home decor collection: A closer look
December 20, 2013
Downton Abbey fans might enjoy seeing a few more photos from the new home decor and textiles collection Heritage Lace will be debuting at the Atlanta market in January. As
reported earlier this week in Home Accents Today
, the Downton Abbey products focus on the characters and their particular station in life, much like the "upstairs - downstairs" plotlines that take place on
the award-winning PBS series
. The variety of products will reflect both the practical items crafted for today's homes, as well as luxury items designed for everyday living.
The Downstairs collections, named after Mrs. Hughes and Mrs. Patmore, include kitchen towels, placements and fabric baskets.
"Upstairs" characters Lady Mary, Dowager Countess of Grantham and Lady Cora's collections focus on fine textiles, ladies accessories and linens and other high-quality items.
Ruffled Luxury placemat
The Heritage Lace collection captures the color, texture and tactile appeal of fine laces, sheers, linens, velvets, burlap, natural wovens and embroideries "that would be right at home in Highclere Castle – and fit right in with modern tastes and sensibilities."
All collections will be available for purchase online beginning Feb. 1, 2014, and at retail in early March, 2014.