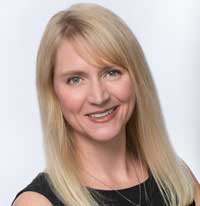 Monica Pedersen on American Dream Builders, launch with Softline
March 28, 2014
At the New York Home Fashions Market, I had the opportunity to sit down with Monica Pedersen, one of the judges on the new NBC program American Dream Builders, not to mention former HGTV star and licensor of home furnishings products.
She was visiting the Softline showroom in New York's 130 Fifth Avenue Building where her new line of home textiles was making its New York debut, following a launch earlier this winter at the Las Vegas Market. It was the day after the show's first airing on Sunday, March 23, and she had a lot to say about the experience.
The program is a reality show competition meets home makeover program meets human interest, she said, as two teams of designers compete to redesign and renovate homes of deserving Americans. She and host Nate Berkus, along with former football star-turned landscape architect Eddie George, are charged with selecting which designer leaves the show each week.
The new collection with Softline features four groups – Gold Coast, Lincoln Park, West Loop and Del Mar – each including fabrics by the yard, ready-made curtains and decorative pillows.
"Softline's credo of 'Affordable Elegance' underscores Pedersen's passion for fabrics," according to a Softline statement about the debut. "Being an expert in home repair and remodeling and getting the most out of the tightest budgets, Pedersen and Softline's collaborative aim is to provide diverse, high-end designs in drapery fabrics and decorative pillows to fit every budget."
"It's an easy relationship," Pedersen said of the partnership. "I started in design doing window treatments – it was always my love. And having been in fashion (as a model), and the textures, fabrics and draping you use, it really lends itself to window treatments."
Textiles are the secret to her designs, she said.
"I always like to start with a great fabric – it's the quickest way to define where you are in your design," she said. "And a window treatment is not the commitment of a big piece of furniture – it's fun, it's fashion."
Most of the line is in neutrals, with subtle hints of color and pattern providing definition. The designs are transitional to traditional. Most of all, she said, they are accessible.
"I'm trying to create looks that are available to everyone," she said.