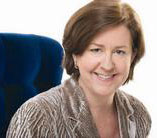 Tour a cargo container retail park
April 4, 2014
Las Vegas' new Downtown Container Park, a colorful, quirky collection of about three dozen shops and restaurants housed in shipping containers, is the subject of my "Retail Ideas" story in the April 2014 national issue of Home Accents Today. While attending the January Las Vegas Market, my friend Christi Reeves Tasker, a resident of Las Vegas, agreed to take me on a quick tour of some of the city's retail spots. The tour ended with a stop at the Container Park on East Fremont Street, one of the coolest retail concepts I have ever seen.
I was especially interested in seeing the park since I'd recently read something about the use of "sea cans" and cargo containers as a way to boost retail and commerce in downtown High Point, N.C., a town that doubles in population twice a year during the semi-annual international furniture market but must deal with a very quiet downtown area (where the furniture showrooms are located) the rest of the year. Growing up in High Point, I watched thedowntown life all but vanish, and in recent months have been following some of the ideas being presented by planners contracted by the City of High Point and the "civic boosting effort" Ignite High Point.
When urban planner Andres Duany suggested the cargo container idea, High Point residents had a few questions. I also found myself trying to picture what in the world Duany was suggesting -- I just couldn't envision it. Now I know. The link to my April story is here. My photos of the Las Vegas Downtown Container Park follow: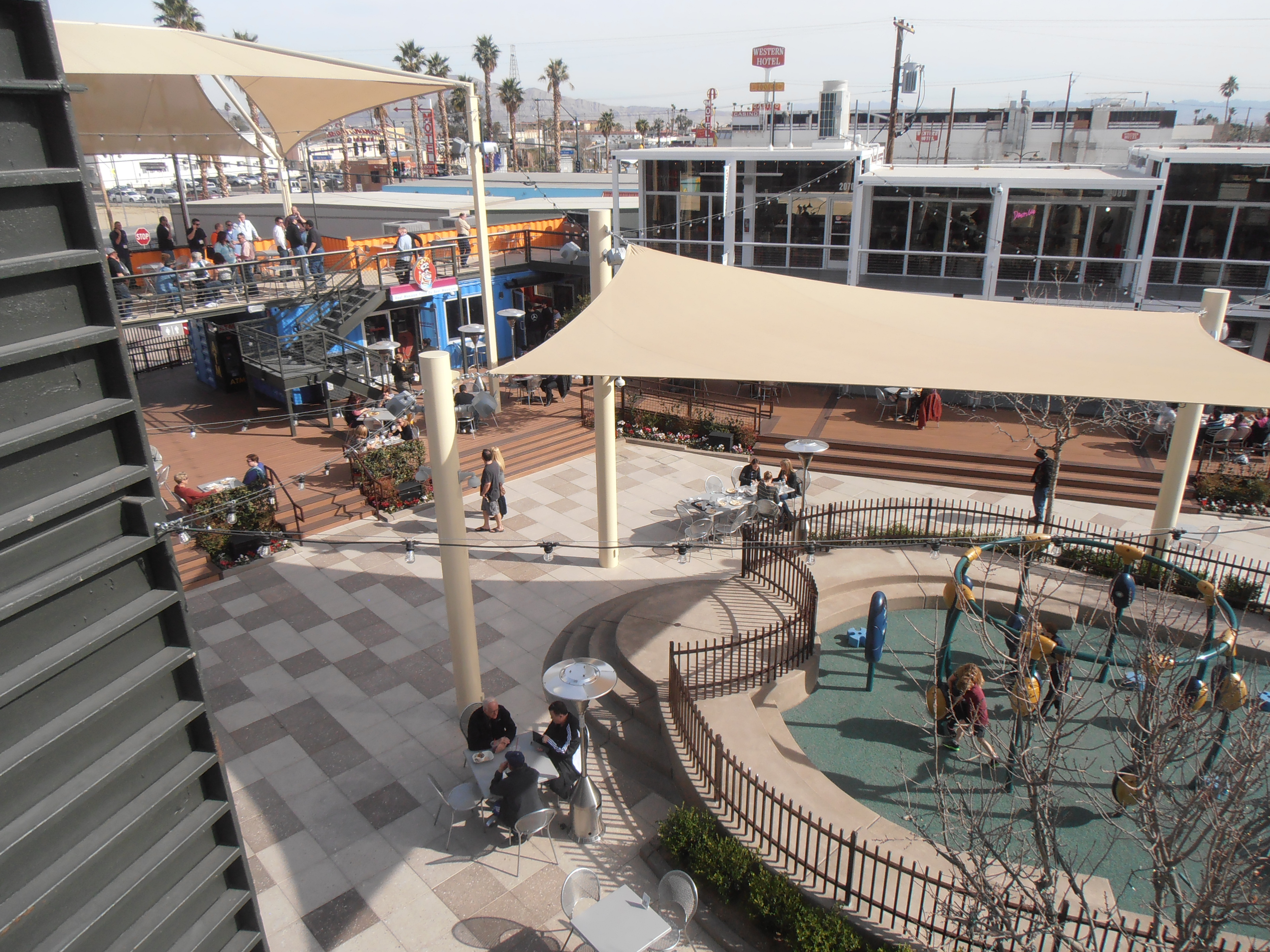 All of the shops front a central common area with a play area, giant tree house, observation tower and 33-foot tall slide.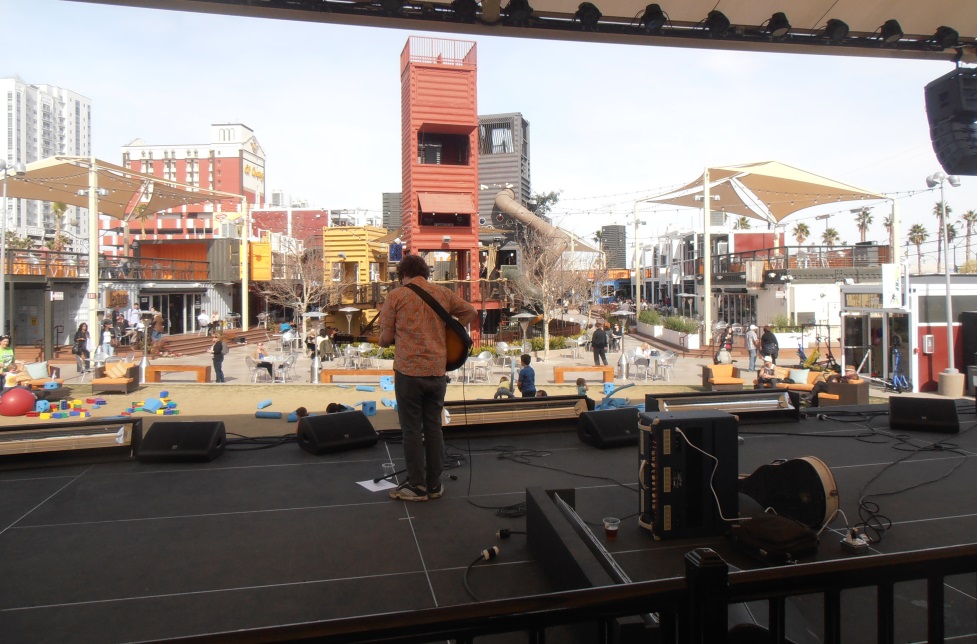 There's also an outdoor stage and dome theatre.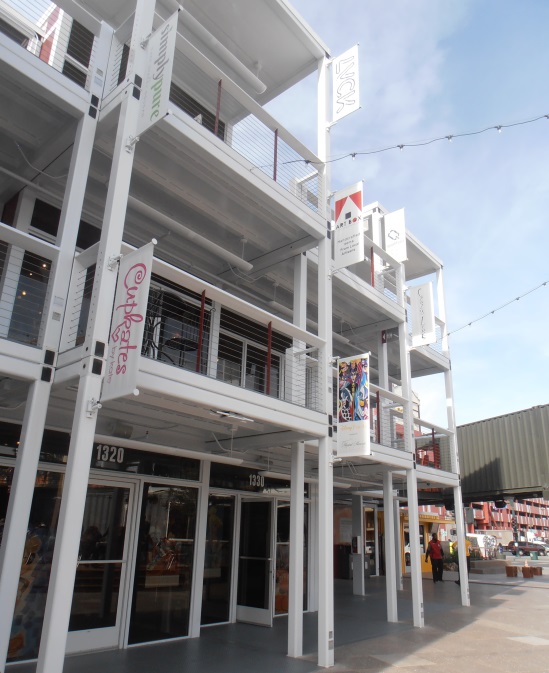 Some of the container stores are triple stacked...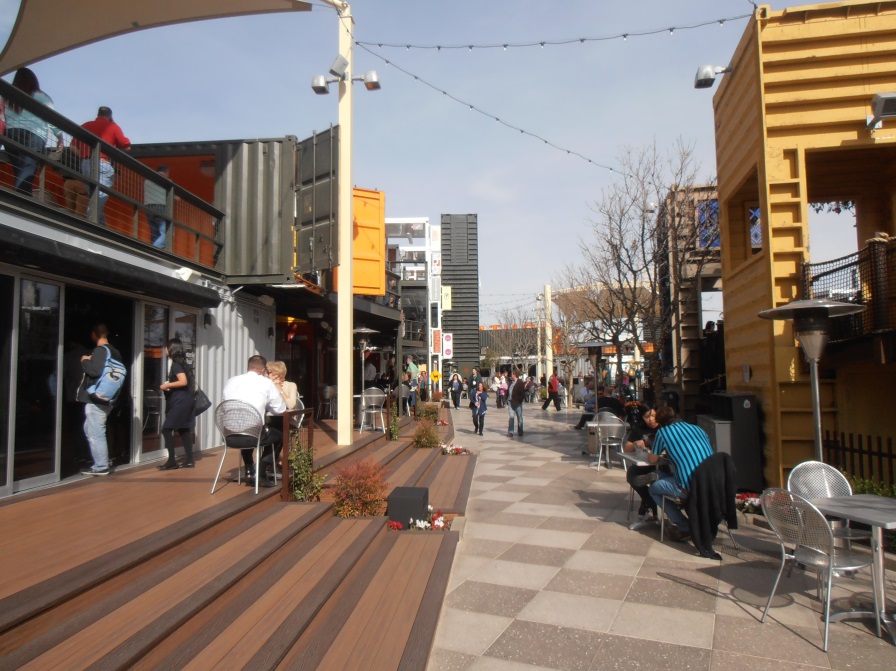 ...and some of the container shops and restaurants are single stacked.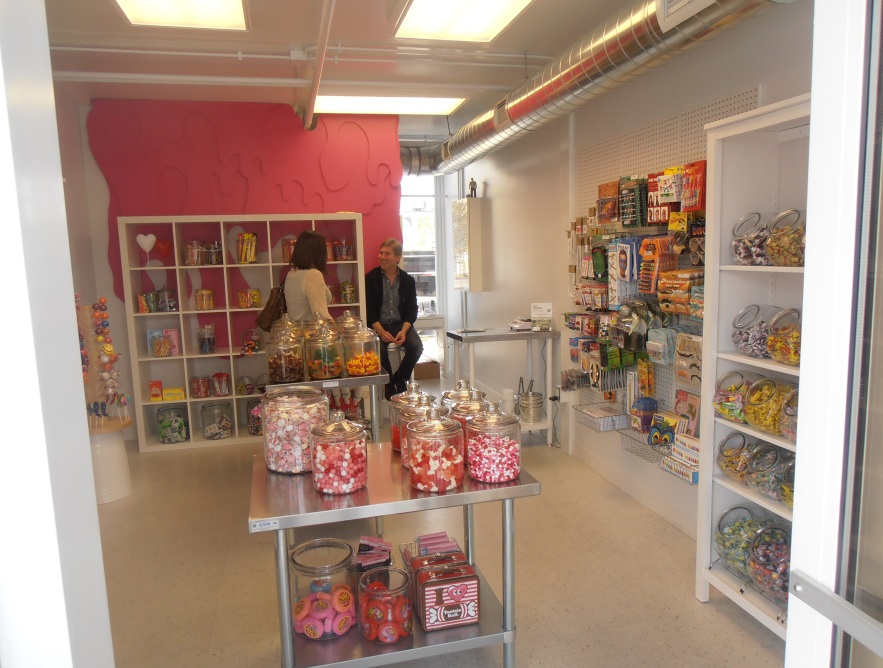 Each 250-sq.-ft. space (container) is home to a specialty store, eatery or gallery where products are vended as creatively and concisely as a tiny space and a huge imagination will allow.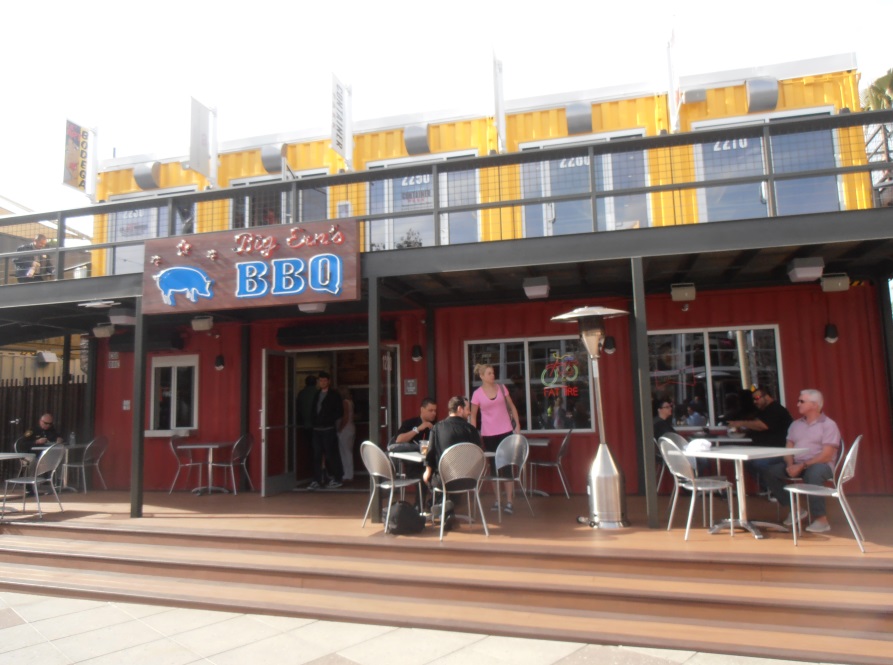 Big Ern's BBQ joint is housed in five horizontally-attached containers and fronted by a covered deck.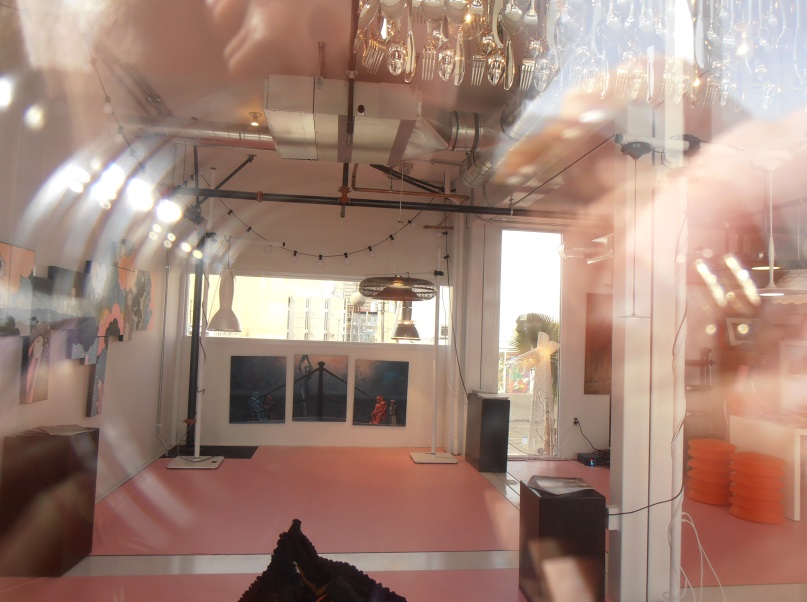 Taken through the front window, the interior of one of several galleries that currently have a home at the container park.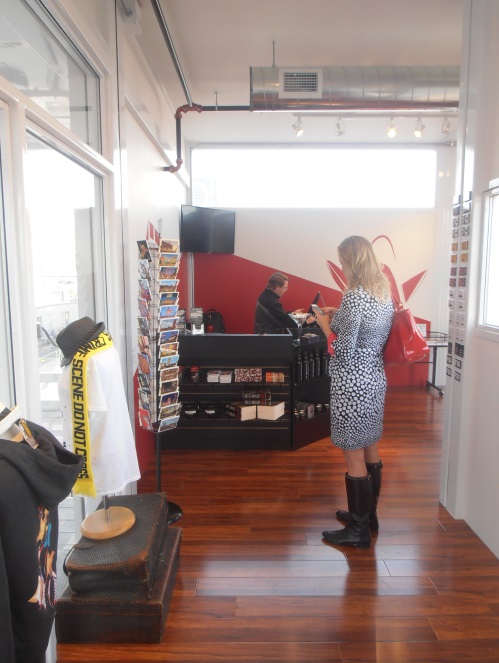 Here's Christi standing inside Bosses and Bulbs (a shop run by The Mob Museum and Las Vegas Neon Museum), which has the distinction of being the only L-shaped shop in the container park.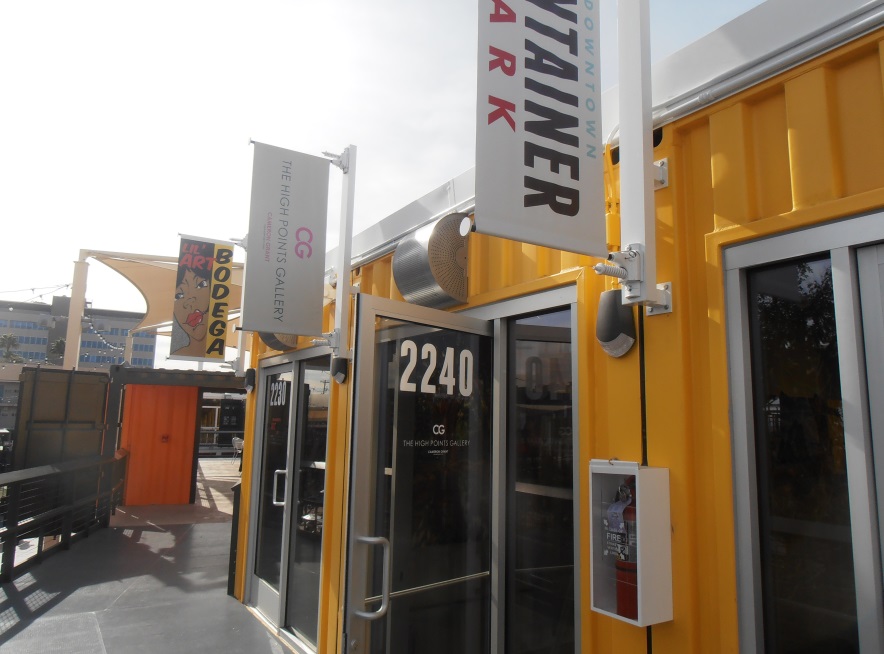 Leases run between two months and five years; the shorter leases intended to keep new types of businesses rotating through.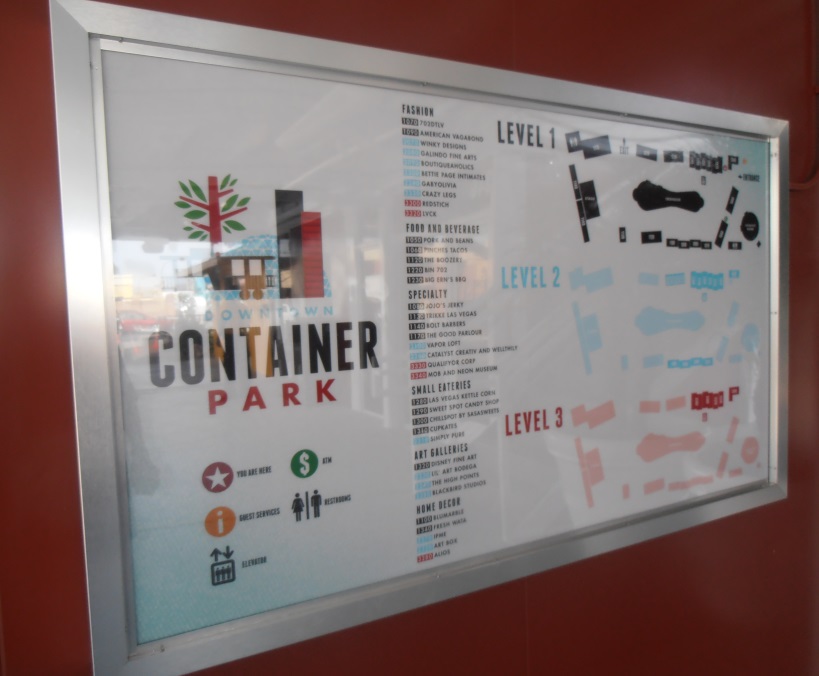 The Downtown Container Park opened in late November, 2013. By early February, the Las Vegas Sun reported that 225,000 visitors had already passed through the gates. According to its website, the park is 100% leased and there's a waiting list.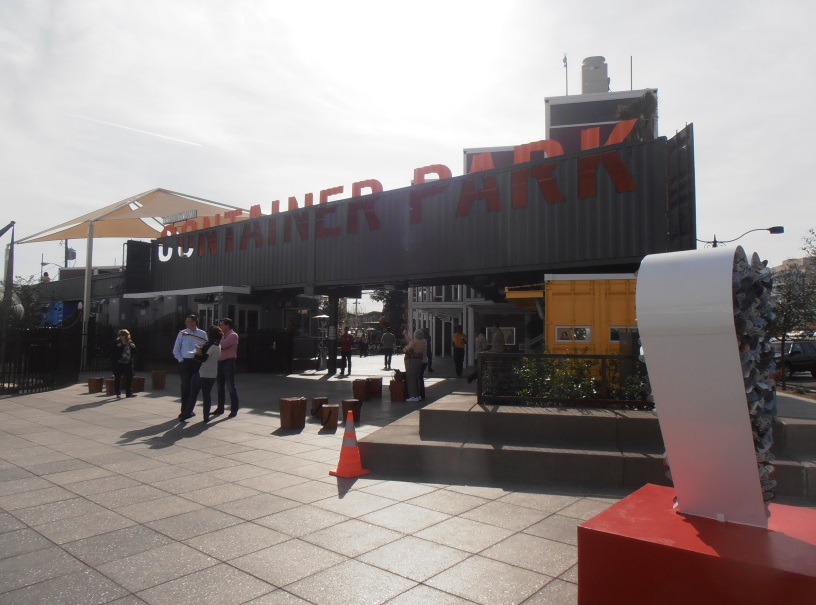 Here's a shot of the front entrance to the Downtown Container Park.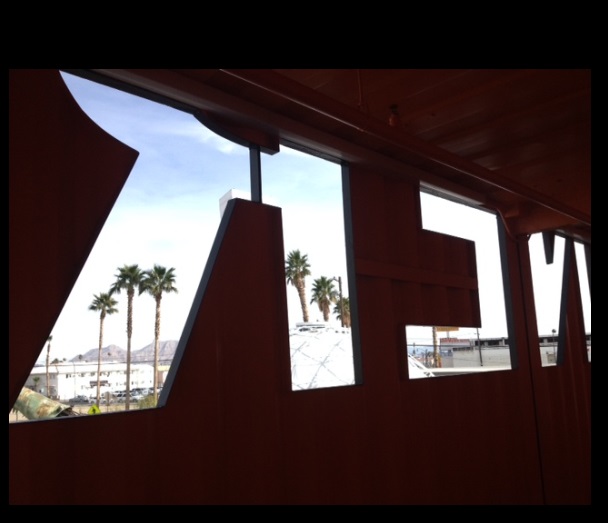 Here's a view from inside the Downtown Container Park signage, which is actually a covered walkway fabricated from... containers.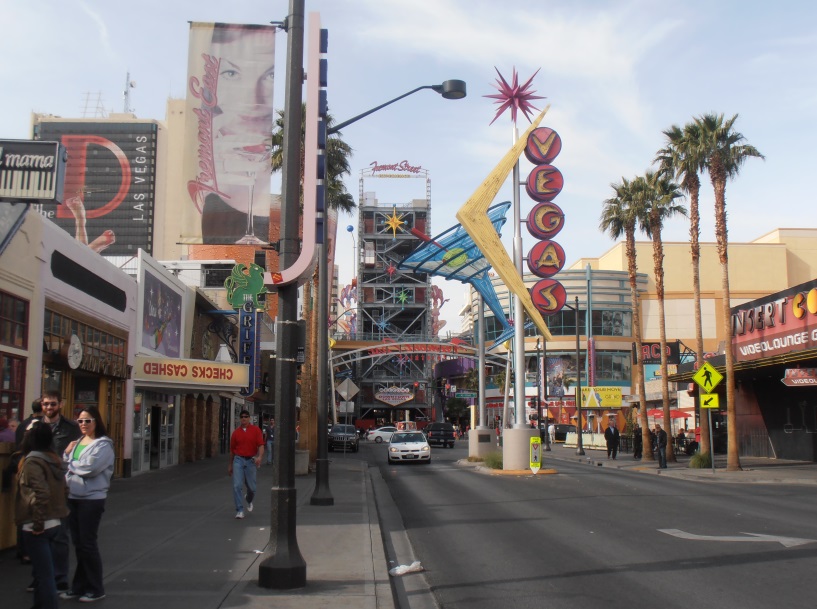 The Las Vegas Downtown Container Park is the work of Downtown Project, a redevelopment group that's revitalizing this "old" area around East Fremont Street. On its website, Downtown Project describes itself as "a group of passionate people committed to helping to transform Downtown Las Vegas into the most community-focused large city in the world." Their website is at www.downtownproject.com.