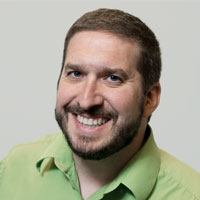 Nothing 'campy' about this rug
July 22, 2014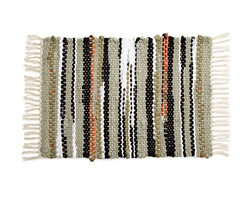 This rug was woven by Patricia Lukas out of a backpacking tent.
As a longtime and avid camper, one of the inevitable (albeit minor) aggravations of spending a few nights in the great outdoors is all the debris that always ends up getting tracked inside my tent, no matter how hard I try to keep it from happening.
At a recent camping excursion at a nearby beach and after sweeping up sand for what felt like the 10th time that day, my wife made mention that a small rug inside our tent would have been most welcome if only to keep the floor from feeling so gritty.
One interesting solution to this dilemma presents itself in the form of a rug made out of an old tent.
Patricia Lukas has been weaving rugs for years out of a number of high end home décor fabrics for home design stores and for interior designers. Lukas, who has shown for years at NY Now, said she was approached by a company called Terracycle and asked if she might be interested in incorporating some of the items they collect for recycling, including backpacking tents.
Lukas said using the tents provided a most interesting challenge, and that it takes a whole tent to make one 2x3 rug.
"Normally, I am working with bolts of fabric which I cut into uniform strips. It took a bit of geometry to figure out how to cut a three man backpacking tent with and oval top into usable pieces," she said. "It also had a long zipper which was woven into the rug, minus the pull."
The rugs are available at Uncommon Goods.
Lukas, who weaves her rugs in a converted horse barn in Tewksbury Township, N.J., said while making the tent rugs falls outside her normal project list, it's something she enjoys doing.
"While our business remains primarily working with high end designers and home design stores in creating custom rugs for their clients, it is fun to foray into using those materials which one would not conceive of the possibility of being woven into rugs," Lukas said. "There is a huge need by buyers to find rugs as well as other products that are made in the USA and we pride ourselves in helping to fulfill that need."