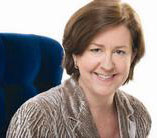 The ultimate photo bomb
August 13, 2014
I just got blown away -- by a silver, bombshell-shaped punch bowl. What makes it really special is that it replicates the British "bombs bursting in air" that exploded above Fort McHenry on a September night in 1814, thus inspiring Francis Scott Key to write "Defense of Fort McHenry," later renamed "Star-Spangled Banner."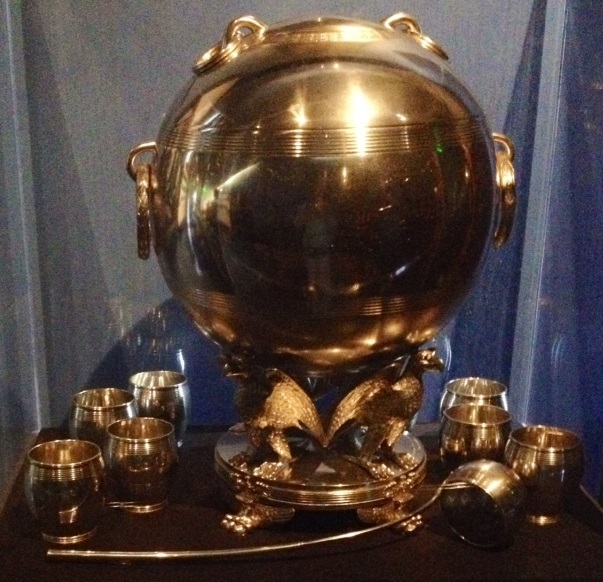 The British bombshell punch bowl photographed in the darkened hallway of the Star-Spangled Banner exhibit, in the Museum of American History, Washington, D.C.
The silver punch bowl was presented to U.S. Army Lieutenant Colonel George Armistead in 1816 by the citizens of Baltimore, in appreciation for his heroic efforts in defending the fort (and thus, Baltimore harbor) against British bombardment.
According to the Smithsonian, "after the battle, a committee of Baltimoreans commissioned Philadelphia silversmiths Thomas Fletcher and Sidney Gardiner to produce a gift worthy of the hero of Fort McHenry. They decided to present Armistead with a silver punchbowl the exact shape and size of the mortar bombs the British had shot at the fort during the battle. This unique punchbowl is engraved with a view of Fort McHenry and Baltimore Harbor, and rests on four eagles, which had become symbols of the young nation."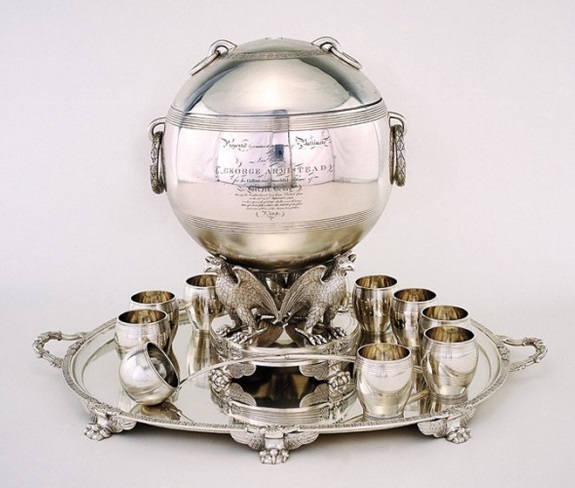 The Smithsonian's photograph shows the inscription of thanks from the citizens of Baltimore to Lieutenant Colonel Armistead.
The punch bowl is now in the Smithsonian's Museum of American History in Washington, D.C., which is where I saw it this past weekend.
As someone who has seen more than her fair share of "inspired" home decor and tablewares, I must say this was an impressive piece of work that generated a lot of thought.
Think about the designer who presented the idea to the committee: "Let's give him a punch bowl shaped like a British bomb!" Bet they were a little shell-shocked at first.
And, as the Smithsonian report shares, there's the fact that early 19th century Americans loved stimulating and convival punch -- "strong, sweet concoctions like Philadelphia Fish House Punch made with rum, cognac, brandy, lemon juice and sugar." This, of course, leads one to wonder if the punch partakers of this particular vessel may have been the first group of American citizens to ever get "bombed?"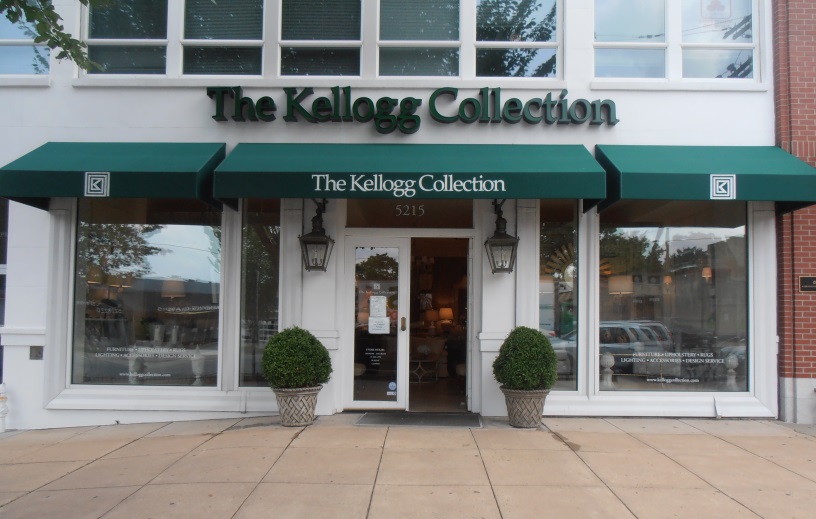 The Kellogg Collection's Washington, D.C. location
It's a great example of early American creativity and commemorative flair, and is now a part of the Museum's permanent Star-Spangled Banner exhibit.
While in Washington, I also visited the Wisconsin Avenue location of The Kellogg Collection, a beautiful home furnishings retailer with locations in Washington, Baltimore, Richmond and McLean, Va. Look for their story in the October 2014 edition of Home Accents Today... and for some of their furnishings on the D.C.-based Netflix drama, "House of Cards."