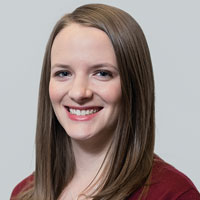 Make way for the Maker Movement
March 20, 2015
During a fall High Point Market discussion about the consumer habits of Millennials and Baby Boomers, the designers on the panel emphasized that both generations crave unique products that embody their individual tastes. This attitude reflects the growing popularity of the "Maker Movement," a culture defined by independent craftsmen and handmade creations.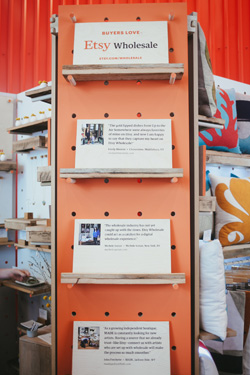 The Etsy Wholesale booth at NY Now last summer included testimonials from buyers about the Etsy Wholesale experience and the makers in the program.
"The way that we talk about the Maker Movement is summarized in a really neat little quote by a strategist and thought leader of the Maker Movement, Jeremiah Owyang," said Joanne Domeniconi, co-founder and chief discovery officer of online product launch platform
The Grommet
. "He said the Maker Movement puts the power in the hands of the people to fund, design, prototype, produce, manufacture, distribute and sell their own goods. What we see here is that the independent person with a great idea has more power than at any time in history to bring that idea to life."
The movement has exploded in the past several years, thanks to an increased availability of technological tools, from 3-D printing to online crowdfunding platforms to member-based workshops like Tech Shop, which provides makers with access to workspace, software and professional equipment.
Online marketplaces like Etsy and The Grommet have become prominent avenues through which makers can reach consumers. Last summer, both resources launched wholesale divisions to connect independent makers with retailers who want to stock those artisanal products on store shelves.
"Independent retailers were looking for that really special assortment, those hard-to-find products, and they were looking to Etsy to do that. However, that process was a little bit friction-laden, like using the tools to look for a really amazing seller for your shop that fits your unique aesthetic, but not being able to see upfront if that seller was ready for the wholesale opportunity," said Rand Niederhoffer, senior program manager for Etsy Wholesale. "What Etsy Wholesale does is provide a platform for those really pro sellers to connect with independent boutiques and large retailers as well, and fostering and facilitating those connections."
One such seller is London Tierney, who operates an Etsy shop with her husband, Christian. Such Sweet Tierney sells hand-printed paper goods and textiles including pillows, kitchen towels and totes. Tierney opened the shop in 2009, and in 2014 she left her job in retail management to focus on the business and break into the wholesale market.
"Coming from a retail background I knew that wholesale would be the most crucial piece of our business and that we would need help finding great retailers to work with and marketing ourselves," Tierney said. "We had already experienced success with Etsy and knew that their wholesale program would remove a lot of guesswork, as well as put us in touch with the types of shops that could help our business grow. It was sort of like having a mentor. Having their support meant we didn't have to have all the answers or spend countless hours searching for potential retailers to work with."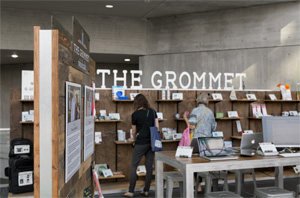 The Grommet uses a variety of methods to connect makers in its wholesale program with retailers, including trade shows.
Unlike Etsy.com, where any maker can join, Etsy Wholesale is a juried marketplace. Niederhoffer said Etsy Wholesale promises retailers wholesale-ready sellers with a certain level of professionalism. For makers who aren't quite ready for wholesale but show high potential, Etsy offers a suite of educational materials to help them reach that level.
The Grommet uses a variety of methods to find makers for its wholesale platform, including a robust submission gallery on its website and a team of "discoverers" that keeps a watchful eye on about 20 different product categories within the Maker Movement.
Independent retailers comprise the core of the wholesale business for both Etsy and The Grommet, though Etsy also has partnerships with a few larger retailers such as Nordstrom.
"We're getting a great response from retailers," The Grommet's Domeniconi said. "We hear over and over again, and it makes us feel like we're on to something, that a lot of the independent and small retailers feel underserved, and these small makers, they're communities that belong together. A lot of the big brands have huge minimums and restrictive policies for independent retailers, and makers love the independents. They're both independent. That's the heart of The Grommet."
Domeniconi and Niederhoffer agreed that many end consumers are drawn to the stories behind makers' products, and both The Grommet's and Etsy's wholesale programs provide retailers with the tools to tell those stories. The Grommet recently began offering retailers story cards with a photo of the maker and the story of the product to display in their stores, and Etsy Wholesale provides takeaway postcards with designer bios to some of its larger partners.
"We do things like events and DIY demos to help bring a person that shopping experience," Niederhoffer said. "On the independent retailer side, we give them assets to help them write their own seller stories. In August, as a thank you to some of our dedicated retailers, we shipped them merchandising blocks with blank cards so they could use the blocks to put the cards next to products and write things that are unique that drew them to the seller."
Domeniconi cited a shift in consumer shopping values as a driving force behind the Maker Movement, particularly among younger consumers, and she said it shows no sign of slowing down.
"The Millennial generation is very attracted to stories about products that align with their own values," she said. "They care about sustainable manufacturing. They care about preserving handcraft. They're very digitally attuned. They want their information quickly and they're open to new ideas. This is a very exciting and optimistic audience for the Maker Movement."