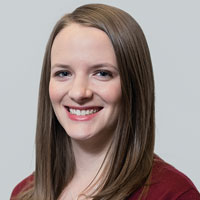 Predicting the Gen Y lifestyle
January 31, 2017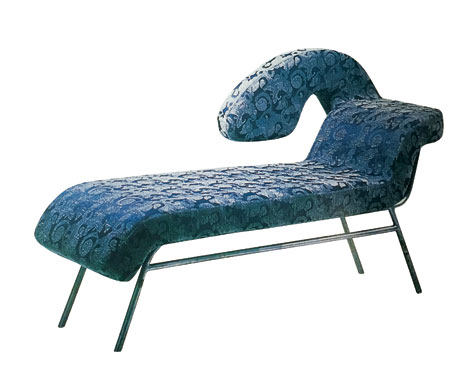 The Bower chair was one of the pieces Parsons School of Design students created in 2000, geared toward anticipated Millennial tastes in 2010. It combined elements of a sofa, chaise and armchair.
While poring through the archives of Home Accents Today for our 30th anniversary issue, I stumbled upon our first article about Millennials – "Gen Y daughters vs. Boomer moms," from the December 2000 issue.
The story focused on a study by Solutia Wear-Dated upholstery fabrics and the Parsons School of Design geared toward predicting the furniture needs of Millennials when the oldest members of the generation turned 30 in 2010. It projected how Millennial lifestyles and attitudes would evolve 10 years down the road, and design students used that information to create five pieces they thought would appeal to the furniture buyers of the future.
So what did the 2000 study get right about Millennial furniture buyers and what predictions missed the mark?
THEN: Gen Y is "a significant consumer force composed of more than 70 million youths" that "is expected to soon rival the 78 million baby boomers in buying power."
NOW: According to Pew Research Center, Millennials officially surpassed Baby Boomers as the largest living generation in 2016 with about 75.4 million people in the United States. They also became the largest generation in the U.S. labor force in 2015 with 53.5 million workers. And while Baby Boomers still control more of the country's disposable income, Millennial spending power is rising. According to the Intelligence Group, U.S. Millennials spend about $200 billion a year.
THEN: "While baby boomer females often married, had children in their 20's and didn't enter the workforce until their 30's, women from Generation Y will make more nontraditional lifestyle choices."
NOW: Overall, Millennials are in fact waiting longer to marry than the generations that preceded them. According to Gallup Daily tracking data, 27% of Millennials are married compared to 36% of Gen Xers and 48% of Baby Boomers when they were the age Millennials are today. But Gallup also found that about 40% of Millennials have children, and 9% are in domestic partnerships. So while they may not be following the traditional path of previous generations, they are starting families and establishing households.
THEN: "Because Generation Y hasn't lived through periods of economic risk or failure, it is bonding with materialism early on."
NOW: The study could not have predicted that Millennials would experience the worst financial climate since the Great Depression just as they entered adulthood. Consequently, more Millennials delayed entering the housing market and stayed put at mom and dad's after college. And according to a 2016 Fidelity study, Millennials have increased their savings rate more than other generations in the past few years.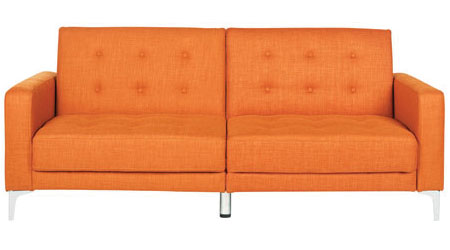 Senior Style Director Tracy Bulla selected this Safavieh sofa for her "Millennial Mod" trend a few months ago. Its slim profile is perfect for smaller contemporary spaces.

THEN: "…the technology-oriented lifestyle of Generation Y will produce more knowledgeable and discretionary consumers."
NOW: According to data from Nielsen, 98% of younger Millennials own smartphones as well as 97% of older Millennials and 96% of Gen Xers. A separate Nielsen study found Millennials ranked technology use No. 1 when asked what makes their generation unique. They're constantly connected, and thus almost always reachable. And with bountiful information at their fingertips, they research before they buy. According to Gallup, about 71% of Millennials compare prices online before purchasing versus 55% of other generations.
THEN: "Baby Boomers were influenced by John F. Kennedy and viewed politics as an honorable profession. The Vietnam War began to tear apart the government's credibility, and Baby Boomers questioned their parents' beliefs."
NOW: The article didn't cite any major political or global events affecting Millennial outlook, but a significant one occurred less than a year later. The Center for Generational Kinetics actually defines Gen Y as those born between 1977 and 1995 instead of 1980 to 2000 because "the most important, generation-defining moment for Millennials (particularly in the U.S.) was September 11, 2001," so being old enough to have a strong emotional connection to that day is imperative.
THEN: "In 2010, Generation Y will continue to create independent styles without one dominant view other than pluralism of expression; they will demand multifunctional, compact pieces, while relying on high-quality fabrics and smooth, rounded elements to soften the edge of a high-tech environment."
NOW: The pieces the Parsons students designed based on the study included creations like avant-garde seating that melded elements of a sofa, chaise and armchair, and a compact "nesting chair" with a busy tech-inspired pattern on the fabric. While the aesthetic of these designs doesn't mesh with the more streamlined look many Millennials gravitate toward, the logic behind them is sound. Whether they live in urban areas or the suburbs, today's Millennials do generally like simplified, functional designs that work in small spaces, and they prefer a curated collection of pieces that reflects their individual tastes.