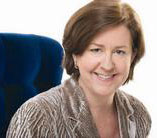 Michael Jordan, Alexander Julian, UNC uniforms, March Madness, and the death of Tournament Town
March 18, 2017
It's March Madness, and the silence is deafening. I live in the city formerly known as "Tournament Town," Greensboro, N.C.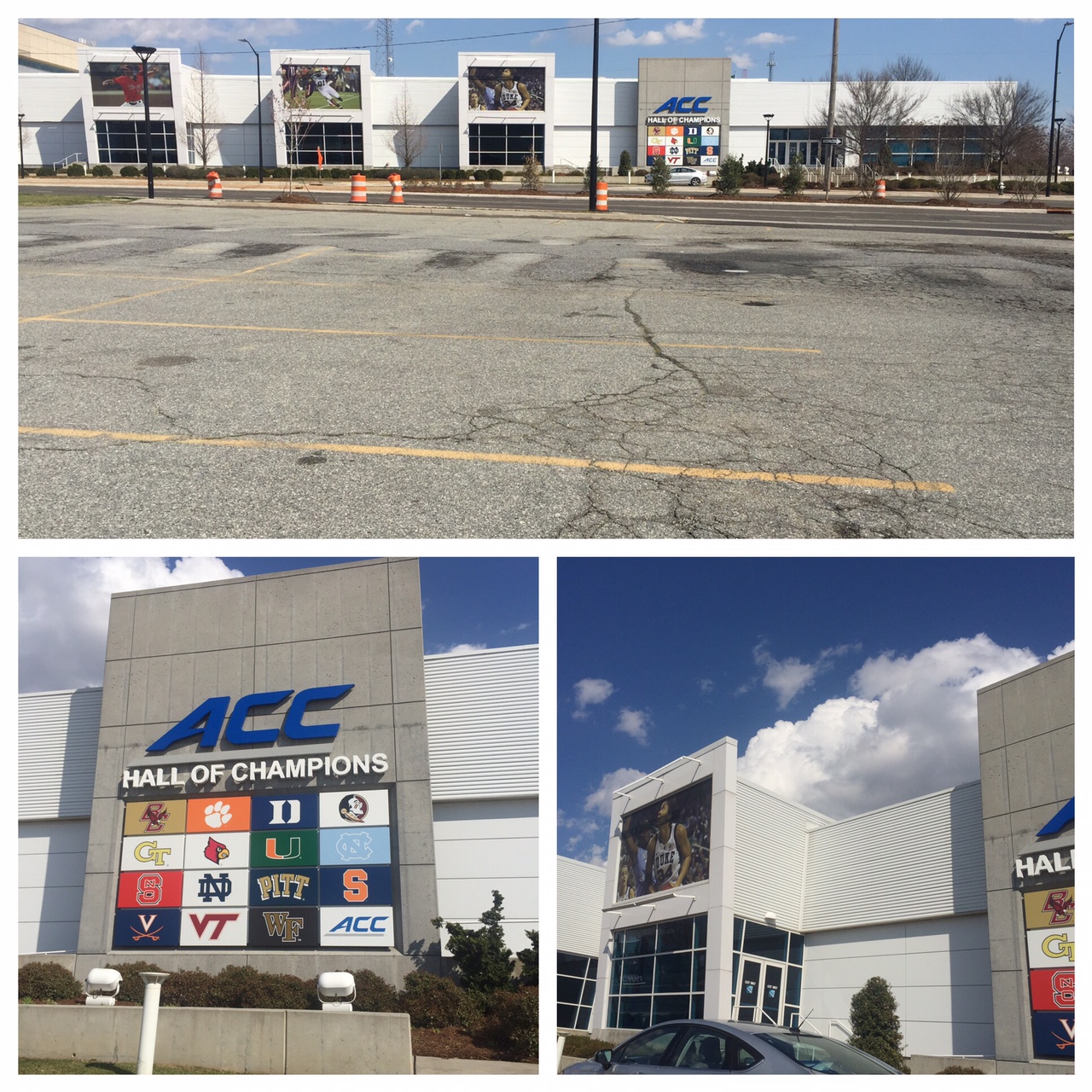 Empty parking lot today, March 18, 2017, ACC Hall of Champions at Greensboro Coliseum. Rounds 1 and 2, South region, were moved from here to Greenville due to NCAA's rejection of Pat McCrory and NC legislators' passage of HB2.
Our house is less than a mile from the Greensboro Coliseum complex, which means our blossoming and budding spring environs should be buzzing with the excitement of parking wars, jersey-clad fans and the Goodyear blimp.
But, thanks to former Gov. McCrory and the state legislators' passage of the stupid HB2 bill, this weekend's rounds were moved to Greenville, S.C.
Yes, it is a stupid bill.
That is an opinion I share with UNC Coach Roy Williams and Duke Coach Mike Krzyzewski, two men I respect. In February, Roy called it a "stupid rule" and according to a story in Sports Illustrated, said he thinks "it's ridiculous, and what it's doing to our state and the reputation of our state." Coach K, earlier this week echoed that sentiment: "It's a stupid thing. If I was president or governor I'd get rid of it. And I'd back up my promises, as unusual as that might be."
I've got more to say on HB2, but first let's talk about:
The good old days
When I graduated from Carolina in 1982, the dream team gave us a national championship - James Worthy, Sam Perkins and Michael Jordan, led by the best college basketball coach of all time, Dean Smith.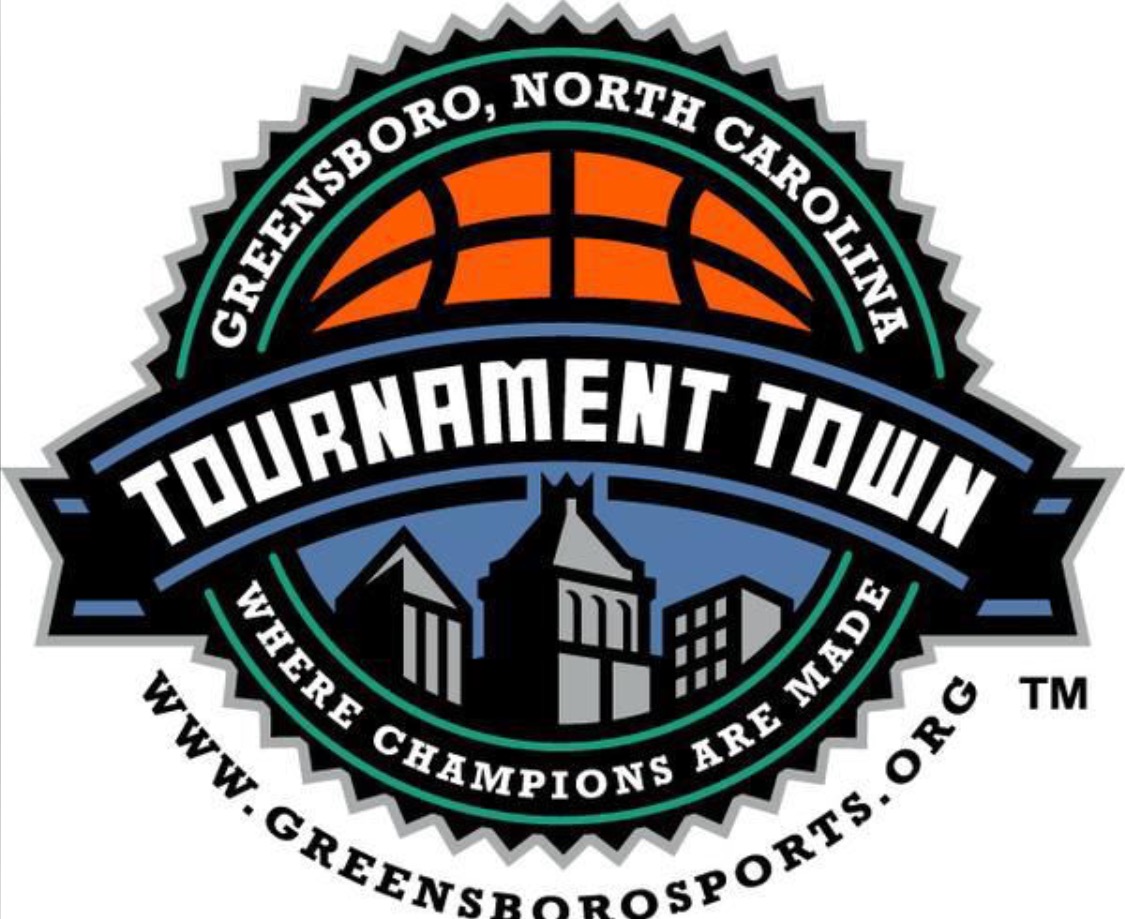 A couple weeks ago, Michael showed up at the UNC-Duke game to announce that his new Jordan brand uniforms will be worn by the UNC football team, beginning this season. But another uniform designer was also celebrated at that game - Alexander Julian, UNC alum, fashion and home designer, who made his permanent mark on the Tar Heels with the addition of their signature argyle motif.
Last night, I read a blog post I wrote in 2009 about Alex's design and the final seconds of that 1982 UNC-Georgetown championship game. Here are some excerpts: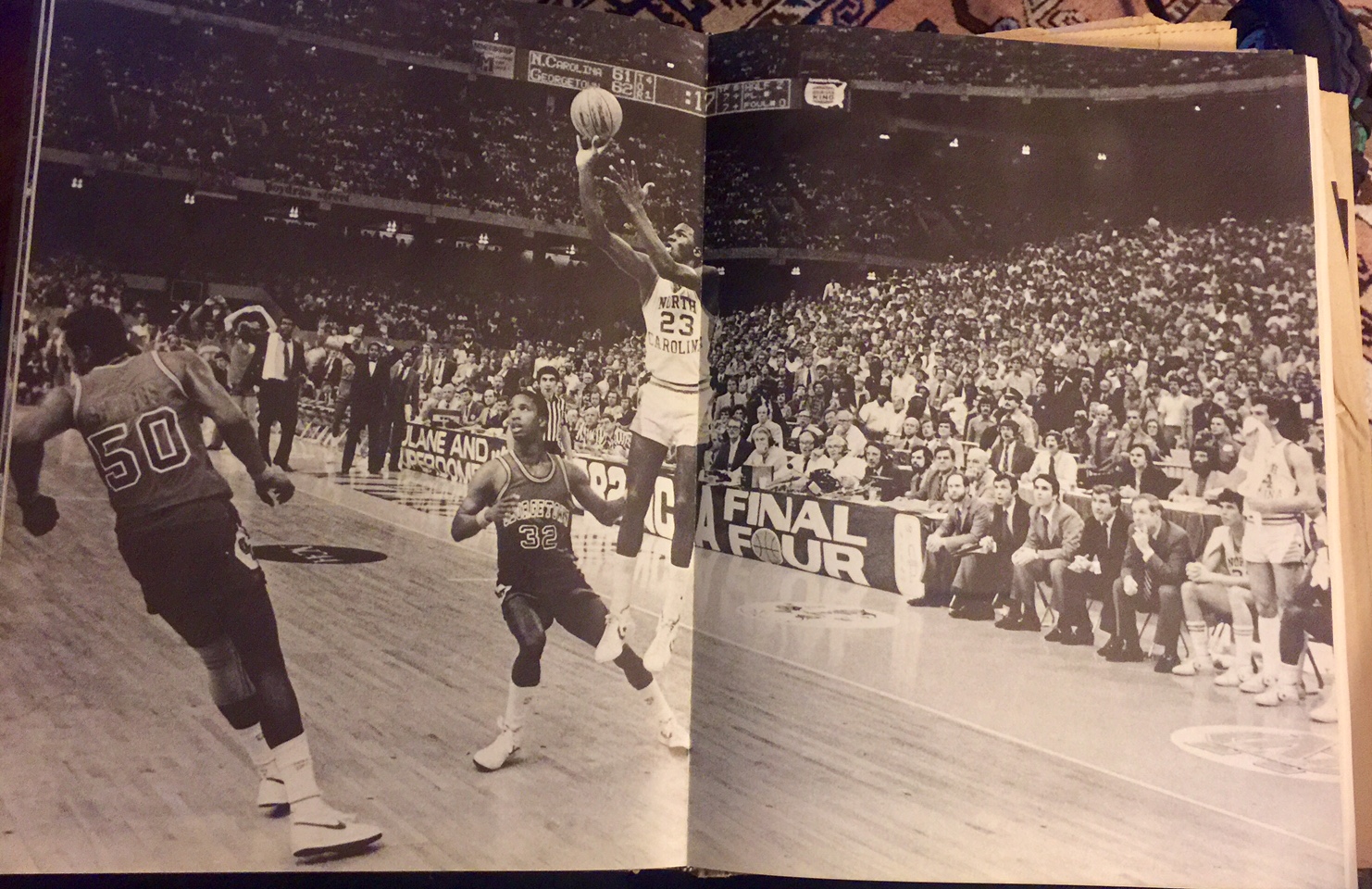 UNC Freshman Michael Jordan, NCAA championship game, UNC v. Georgetown, from my UNC yearbook Yackety Yack 1982
How Alexander Julian left his permanent mark on the UNC Tar Heels' uniforms, from Home Accents Today, March 2009:
DESIGNER ALEXANDER JULIAN, the only designer to have received both a Pinnacle Award for furniture and a Coty Award for fashion design, recently told an audience at High Point University that legendary Carolina Coach Dean Smith gave him the biggest design challenge of his life when he asked Julian to redesign the UNC Tar Heels' basketball uniforms:
"Having been born and raised in Chapel Hill (his parents opened Julian's on Franklin St. in 1942), my father went to school there, I went to school there, my oldest daughter was in school there, I was chairman of the Chancellors Club… but to have Dean Smith call you and ask for new uniforms for the Tar Heels was like having God ask for new halos for the archangels."
I had heard Alex tell this story before, a few years ago in Frederick Cooper's High Point showroom when he was there for a new product (lamps) launch. When I found out he would be delivering the keynote address at the start of this year's (2009) Design, Arts and Technology Symposium at HPU, I took my tape recorder.
AS A UNC GRAD and mother of a UNC senior, I share Alex's passion for the Tar Heels — and no Tar Heel is immune to March Madness.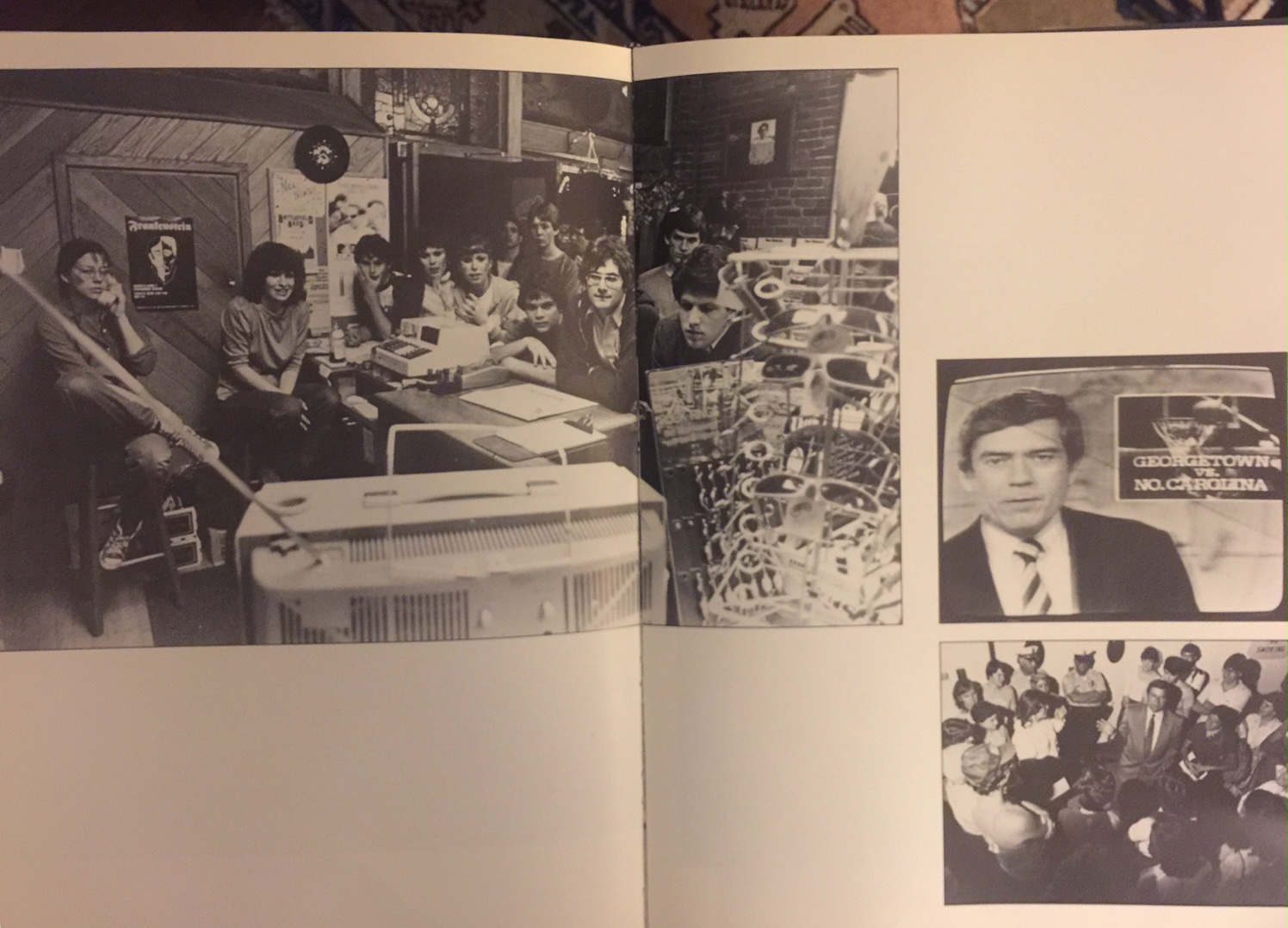 Another photo spread from the 1982 UNC yearbook Yackety Yack: Championship Game Night UNC vs. Georgetown
The year I graduated, 1982, we won it all. Coach Smith, after bringing us painfully close in the three years prior, finally coached our team to the NCAA championship title. The final four battleground that year was New Orleans. In the championship game, with 32 seconds left on the clock, Georgetown was ahead of us by one (62-61). Freshman Michael Jordan scored, bringing us ahead by one. With 15 seconds left on the clock, the Hoyas' Fred Brown brought the ball down the court and then, by mistake, passed it directly to the Tar Heels' James Worthy. Click here for the YouTube video.
SO, JUST LIKE ALEX made a quick diversion that morning into Tar Heel country (during his talk on design at HPU), I'm going to do the same thing here, with Alexander Julian's explanation of why the Tar Heels wear his "lucky" argyle down the sides of their jerseys:
"It was the weightiest design decision I ever made, because if I screwed it up I could never go home again! The colors were already chosen and yet I changed them. The team had gone to what is known as TV blue because of the color television transmittal. (True) Carolina Blue came across as light grey, so they had gone to a heavier version of Carolina Blue which had nothing to do with Carolina Blue — more teal than anything else. And the NCAA gives you four inches on the sides of the uniforms to decorate and I didn't know quite what to do.
"Dean (Smith) is a brilliant coach, but he's not as comfortable with design issues and he involved all of the assistant coaches and the entire team in the decision. Now, all of you who have tried to get one person to understand one design know exactly what I mean. When you complicate it with two people you're trying to convince, it's four times harder – it's exponential. And here I had 30 people to convince.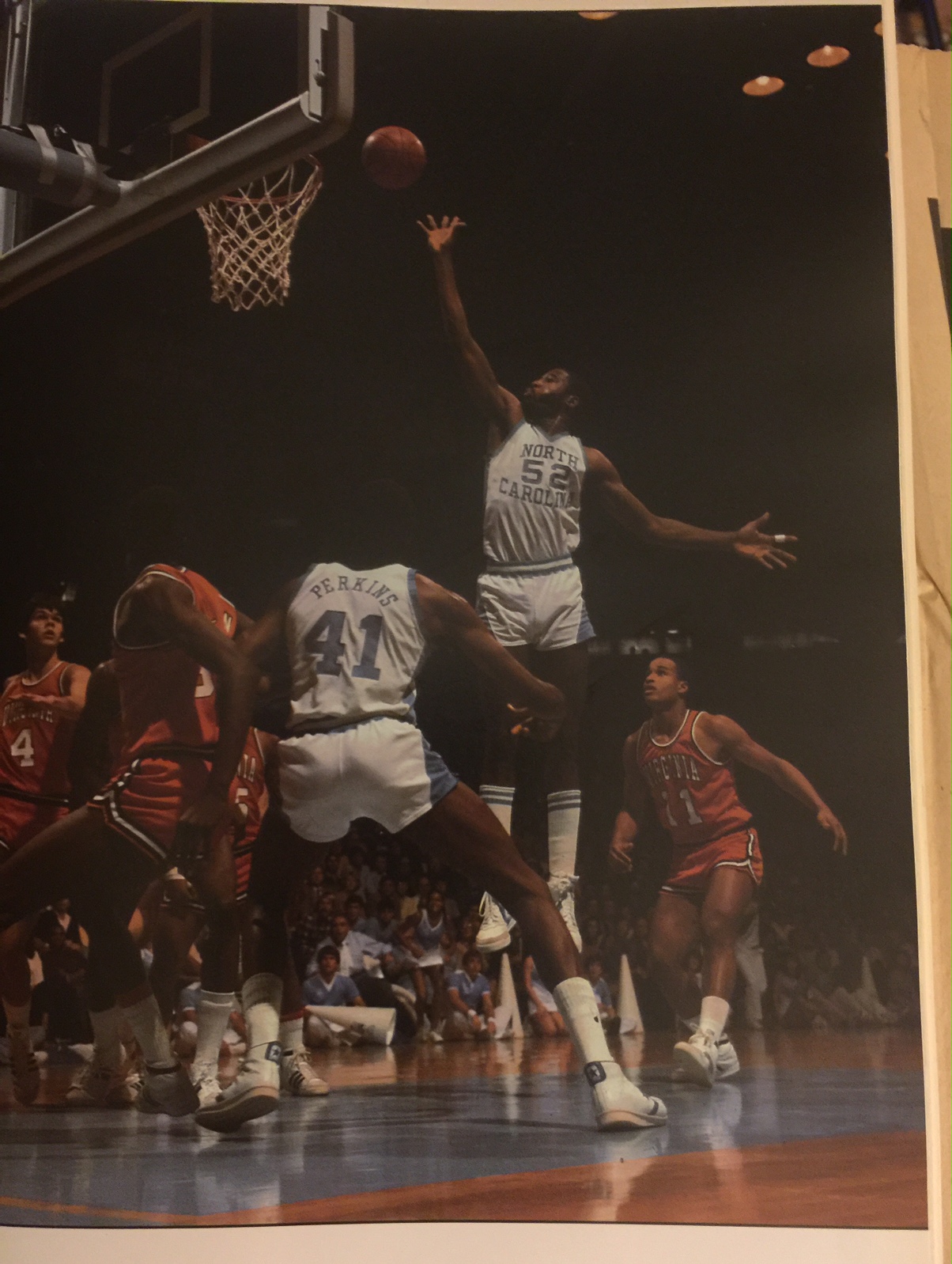 James Worthy, UNC v Georgetown, 1982, UNC yearbook Yackety Yack
"So I tried psychology. And my psychology was named Michael Jordan. Michael was relatively popular at the time. This was 1991, and he was in Chicago, on top of the world. I called Michael and asked him to be my sounding board for the designs. I gave Coach Smith three different versions of this uniform to choose from. We would have these three-way conversations… Fed Ex to Michael Jordan, Fed Ex to Coach Smith… then conference calls to talk about this stuff. Michael liked the argyle best.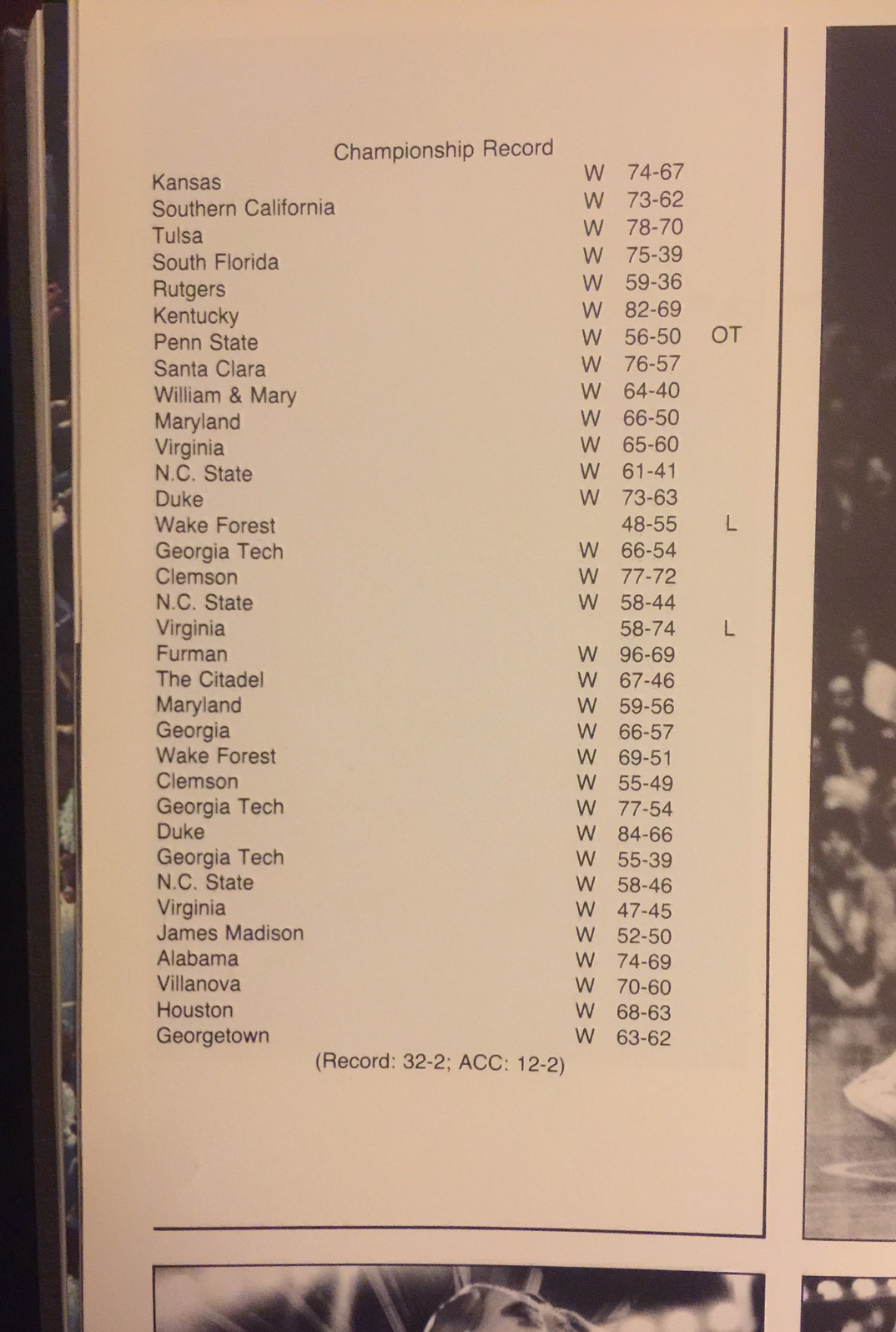 UNC Tarheels 1981-1982 basketball season

"And guess what? As soon as Michael said that, then the entire team also liked the argyle best. So we made the first uniform in Michael's size, sent it to Chicago, he worked out in it, then we sent it down to Chapel Hill. There was near frenzy, I'm told, in the locker room as to who was going to be the first Carolina player to put it on after Michael because they wanted Michael's mojo. Hubert Davis won, he was the same size and he was the model. Now he's a great sportscaster.
"I'm very proud that they won two national championships in my uniforms and the argyles have sort of become one of the symbols of the University of North Carolina. The wrestling team now has them and they're talking about putting them on several other uniforms."
Thank you, Alexander Julian, Michael Jordan and Dean Smith.
Today: Carolina Blue skies go dark
I'm writing this on Saturday, March 18, 2017, and I was inspired to do so because this morning my husband and I ate breakfast at Stamey's Barbecue, right across the street from the Greensboro Coliseum and the shiny and still new (to me) ACC Hall of Champions. We walked right in, and took a seat in the half-filled restaurant, something that would have been impossible were the tournament being played here this weekend.
"There would have been lines out the door and into the parking lot," the cashier told us.
Hubert Davis debuts Alexander Julian argyle
Yep. This would have been one of those perfect basketball weekends when both the Tar Heels, the South Region's No. 1 seed, and Duke, the No. 2 seed in the East, would have brought their fantastic, frenetic blue hoards of Tar Heels and Cameron Crazies to Tournament Town. It would have been the 31st time that NCAA tournament games were played in North Carolina.
Not any more. Unless HB2 gets repealed, those days are over.
North Carolina is a different place, and this is a different time. The tournament was moved to the "more progressive" Carolina, as the Washington Post referred to our sister state to the south. The replacement events at the Coliseum this weekend include a rabbit breeder's convention and a jewelry show.
For more than ten years, my husband and I felt so fortunate to live so close to the Greensboro Coliseum, and "all the action."
We could zip over for full or partial games, knew where to park, when to score tickets from fans whose teams didn't make it to the final rounds, where the good seats were, etc. And even when we watched at home, there was still so much excitement in just knowing all that action that commanded the time, attention and passion of so many Americans over several days, was taking place so close by.
Today I realized that at some point, I became mentally and emotionally conditioned to anticipate - and welcome - the annual arrival of team buses, traffic, and jersey clad fans to our square mile of the city. It had become a natural part of spring and today I am really missing it.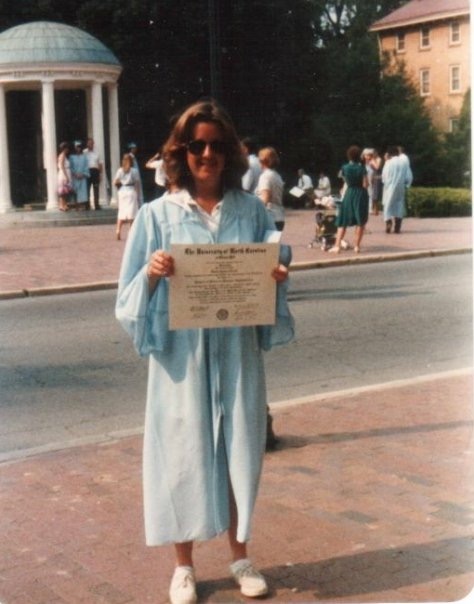 Me, UNC '82
There is a very famous saying among those with Carolina-Blue blood: "If God is not a Tar Heel, why is the sky Carolina Blue?"
Well, as I was typing this, a hail storm and 40 mph winds rolled into the city formerly known as Tournament Town. I hope He's not being recruited by another team.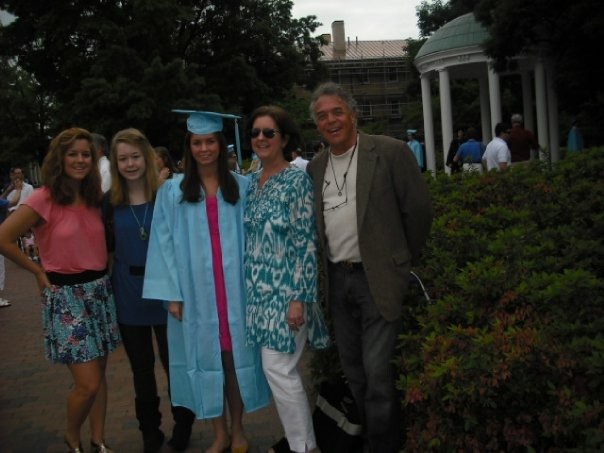 With my daughter Sophie, UNC 2010