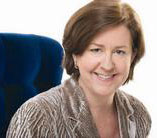 Keeping it Real
March 20, 2017
I AM SO GLAD that the home furnishings manufacturers and suppliers I interview don't speak like politicians. I can't imagine what it must be like to deal with the pivots, doublespeak and rambling that goes on when reporters interview our elected representatives.
If my industry manufacturing friends spoke like that, here's how I imagine our interviews would go:
Q: "What can you tell me about your new living room furniture introduction, with all matching pieces?"
A: "We know the American people want this and they're going to love it."
Q: "But our research and interviews with retailers tells us otherwise. Consumers want to mix and match their accent décor for a look that best suits their individual style and aesthetic."
A: "Look. Most Americans are paying too much for their individual style. And their aesthetic is wrong and costs us too much to make. We know our new furniture suite is going to make them happier and more stylish going forward."
Q: "But isn't your new furniture suite more expensive than mixing and matching individual pieces? How will consumers afford this?"
A: "Here's the thing. With our whole room approach, all Americans will have access to stores. So they will buy more furniture and the price will be lower because they will have better access."
Q: "Everyone already has access to stores. But not everyone can afford the whole furniture suite."
A: "Look. The American people have told us they want better access to furniture but that's not the point. The point is that the upholstery is PURPLE and that is what they want and why they chose us and now they can buy it from companies that care what their house looks like and want to feel comfortable when they go to their homes and sit on their sofas."
Q: "Excuse me sir but that color is not purple. That is LIME GREEN."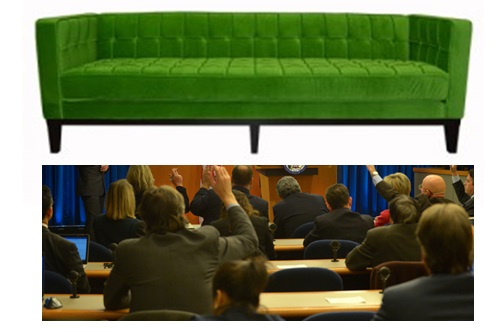 A: "This color is purple. But here's the real issue. American living rooms have never been so bad. They are falling apart, the seams are ripping, and we are going to fix that. We are coming together across the aisle to give them access to buying the best purple living room furniture in the world. All the other homeowners in the world will be so jealous."
Q: "Thank you for your time."
A: "My pleasure."
Thank goodness I work as a journalist in this great industry and not Washington, D.C. where I spent the first half of my adult life. There's rarely a day that goes by that I don't think about how lucky I am to meet and interview so many talented, intelligent, creative people.
This month's issue is a testament to that – with pages of gorgeous product, including our annual accent furniture portfolio, the second-highest selling category in home décor. We're also sharing a lot about the changing face of retail in this issue, with a look at some of the new "disruptive" technologies that are moving from the engineering lab to the sales floor, and a look at how brickand- mortar retailers are upping their game.
I'm so looking forward to spring, and the High Point Market. Our editors have already begun the process of culling through new product intros and market news to bring you as much coverage as we can, via our print, digital and video channels, as well as a few market seminars and gatherings.
Most of all, we look forward to seeing you. Thanks for keeping it real.