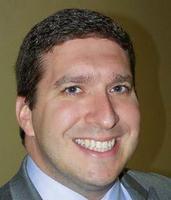 Hail to the Rug!
August 22, 2013
The Abraham Lincoln rug is part of Nola Heidbreder's series of hand-hooked President rugs.
In order to be sure I'm doing my best to stay on top of industry news, from time to time, I'll do a quick Google News scan for items containing the keyword "rug."
Often, the stories I find are things I already wrote about, tips for rug placement in the home or best cleaning practices. On occasion, I'll find something truly unique or interesting, such as this article from the Webster-Kirkwood Times in St. Louis.
While sisters Nola Heidbreder and Linda Pietz already teach rug making, the duo could probably do well giving American history tutorials - they certainly know their 44 presidents.
The sisters collaborated to make a series of 44 16x20-inch rugs depicting the 43 men who took the Oath of Office as President of the United States (Grover Cleveland served a pair of nonconsecutive terms, so two Cleveland rugs were made).
Heidbreder, a McGown-certified rug hooking instructor, hand-hooked the wool rugs based on drawings by Pietz. Each rug contains a portrait of a Commander-in-Chief, their number (1 for George Washington, 2 for John Adams, etc.), as well as pictures representing interesting tidbits about each. For instance, Gerald Ford was an Eagle Scout and played football for the University of Michigan; his rug features the Eagle Scout badge and a football.
While the rugs have been show a few times since they were completed, Heidbreder envisions them as part of a permanent display.
"We will continue to show the presidents wherever they are invited to come until we sell the collection," Heidbreder said. "Our ultimate goal is to sell the hooked presidents and/or the knitted presidents (Pietz and her knitting club initially knitted the presidents, which led to the rugs) to a private collector or museum."