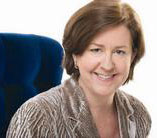 360 degrees of engagement
July 5, 2013
If you're a retailer or operating an interior design showroom and you're not familiar with Google Street View and Google Business Photos, you may want to check them out.
The Street View program launched in 2007 when Google started sending special cars, outfitted with nine directional
cameras, up and down streets to photograph our world - our streets, sidewalks, storefronts, homes, lawns, skies, etc. Areas that aren't accessible by car are covered by Google tricycles and snowmobiles. According to Wikipedia, Google has captured and stitched together images from 5 million miles of roads covering 39 countries and about 3,000 cities.
My discovery of Street View's imagery came recently while I was Googling a new local restaurant. When I clicked something that suddenly turned the Google Map into a moving full color photo, I ended up spending several hours exploring Greensboro and other parts of the world in 360 degrees of impressively sharp panoramic photography.
Give Street View a try. Go to Googlemaps.com and search your home or business address. Drag the little peg man standing atop the zoom-in/zoom-out bar over on to the map. If your road turns blue, drop that little guy on your street and see what happens. Pretty cool, huh?
Google Business Photos, launched last year, extends Street View to the inside of a store or business, inviting virtual "customers" to walk right in and explore a 360-degree panoramic view of the interior - shelves, merchandise and all. The virtual tour, once published, shows up in Google search results, Google Maps and Google+ Local. The faces of employees or customers who may have wandered into the shot are blurred using Google's "state of the art blurring technology," as are pedestrians that may have been picked up in Street View imagery by the Google car cameras.
Google Business Photos is best demonstrated with an example, so I'll suggest a Greensboro, N.C., retail business. Search, in Google, for "Schiffman's Jewelers, South Elm Street, Greensboro." Click the photo that says "See Inside," or click on Schiffman's Google Map clip and drag the little peg man to the pinpointed store location. To look around the store, drag your cursor or use the navigational arrows at the bottom of the photo.
The Google Business Photos program is free. The investment is in the photography, which is done by a Google Trusted Photographer, one of hundreds of local photographers and agencies that have been trained and certified by Google to produce, upload and publish high-quality panoramic images for this program. A list of these photographers, who work as independent contractors, can be found on the Google Business Photos "get started" page.
This is where I found Chris Groch, a GTP based in Greensboro. Groch, coincidentally, was the subject of a Furniture Today story in May, in which FT Retail Editor Clint Engel wrote about him photographing a 360-degree virtual showroom tour of the TemaHome and Design 9 furniture showroom on the eve of the High Point Market.
Groch confirmed that the only cost for the Google Business Program is the up-front fee for the photographer. He said pricing is determined by the size of the space and the time needed to photograph, and his shoots have all fallen somewhere between $350 and $1,000. "The pricing model for GTPs is based on industry standard photography pricing for each market," he said. "For example, shoots in New York City will cost more than in Greensboro."
"From what I can tell, Google is committed to keeping this a very high-quality product," Groch added. "Photographers wishing to provide this service must go through Google's training, purchase specified equipment, and submit several test projects before becoming certified to market and publish tours. Only certified Google Trusted Photographers can publish Google Business Photos."
Groch said he also takes several still shots to complement the virtual tour on the business's Google+ page. "The business owns these photos and are provided high-resolution versions for use on any of their marketing materials," he said. That includes the virtual photo tour, which can be dropped onto the store's website or Facebook page, for example. "I can't imagine a better way to greet new customers then with an instant, interactive tour that says something innovative and fun about your business," he added.
In April, John Metcalfe, a writer for The Atlantic Cities, posted a round-up of Google Business Photos that take that innovation and fun to a different level with staged vignettes, costumed employees and eye-catching or shocking props. The photo tour at Nmedia Solutions, a Canadian Internet ad agency, for example, shows employees in
various costumes, playing hockey, and fighting with toy guns. French ski shop Krakatoa's photo tour includes a guy mountain biking down the shop's interior staircase. In a separate online discussion, a blog commenter suggested trying social media promotions that would challenge retail customers to identify or "find" a particular item in the photo tour for a prize or special discount.
Google Business Photos officially launched in January 2012 and, a year and a half later, Groch says interest is "definitely" picking up. "When I began last October, I was knocking on doors with limited results. Now businesses are knocking on my door. It was only a matter of time before business owners began seeing these tours and saying, 'I want that!'" Groch can be reached through his website, www.chrisgroch.com.
To see more Business Google Photos, check out the work of GTP agency Sphereographic, an Atlanta-based husband and wife team that photographed the virtual tour of No Mas Cantina restaurant/bar/home furnishings gallery. They've uploaded several videos explaining the program and process on Youtube - just search "Sphereographic" on the Youtube site.
If you're ready to get started, go here: google.com/help/maps/businessphotos/get-started.html. And, if you're already there, send us a link to your 360 tour so we can visit: sdickenson@homeaccentstoday.com.