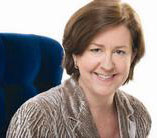 In-home pop-up store pacifies the retail 'pang'
December 27, 2012
WHILE GATHERING information for this month's "Retail Ideas that Work" page, I thought of a recent conversation I had with Lynni Megginson, former retailer, columnist and Home Accents Today Retail Star. Many of you may
Interior designer Lynni Megginson revisited her retail roots when she hosted a two-day in-home boutique.
remember her from her book,
The Absolutely Essential Guide to Planning Fabulous Retail Events
, or the colorful seminars she used to give at the High Point and Atlanta markets.
A couple of years ago, Lynni closed her suburban Washington, D.C., retail shop and moved L&M Designs, her interior design business, into her home. The design business has kept her busy, but she recently decided to stoke her inner retail fire - with a holiday pop-up boutique.
Hosted over the course of several days, in her home, the event was a success on several levels, Lynni said. "Working out of my home keeps me out of the public eye for the most part, so this event was a way of reinventing myself to stay relevant, even without my retail store," she said. "Reconnecting with past clients and friends who couldn't wait to fill their shopping bags was amazing. It was a giddy feeling greeting everyone and feeling the joy when they loved the
product, a feeling every retailer in the world knows."
I asked Lynni to share more about her newest retail experience, as well as a few tips for anyone thinking of doing the same.
What motivated you to take on this retail project?
I know all too well the excitement that comes with trimming out your store for the holidays and getting in the all-important fourth quarter spirit. In the two years since I closed my store, I've ignored the "pang" I've felt every time I went to market and saw all of the beautiful merchandise, knowing I no longer had a store to sell it in. Sure, it's great to special order things for big design jobs; knowing it's already sold is a confidence builder for sure. But the pang is something that only retailers understand - the thrill of the hunt for the "next greatest thing" is embedded in our DNA. So I decided to be a retailer again for Christmas 2012, even if
just for a couple of days. On a whim, I went to the New York gift show and felt that old magic return as I bought an array of exquisite items for "Lynni's Favorite Things ... An Invitation-Only Shopping Event."
What kind of a shopping list did you take to New York?
I've always preached, "If you don't want it in your home, to receive it as a gift, or to give it as a gift, then it doesn't belong in your store." I took my own advice and hunted for my favorite things, feeling the adrenaline rush as I perused the aisles at the Javits Center and wrote orders like a madwoman. My plan was simple - I would have all of the items shipped to my home, tag and inventory them, then the week prior to the event transfer everything to my associate Cheryl's home where we would set up the show. Easy, right? Well, if you believe that I have a bridge to sell you in Brooklyn!
What do you mean by that?
In my excitement, I neglected to remember that when I was buying for my store I had an entire staff that would take care of pesky things like paperwork and data entry. I also overestimated how much product my garage would hold, and how my once-a-week recycling pick-up would handle the boxes we were breaking down. Writing up orders for our design clients fell by the wayside while we prepared for the big event. I
will be the first to admit it was quite a juggling act to pull it all off, but we did, and with style!
Would you do it again?
Probably, but I've learned from my mistakes. First, I'd have all of the purchase orders entered immediately and all of the tags made in advance. Checking merchandise in would have been streamlined if we could have spent less time figuring out paperwork and pricing. Second, I would find a venue where I could invite more people. Having the show at Cheryl's home was lovely, however I didn't want to infuriate her neighbors with cars parking near their yards, so I limited the guest list, which limited my financial return. Third, I would have a back-up plan to sell any merchandise that didn't move. I've been wanting to open an online store for ages, and this is just the incentive I need because I have plenty of merchandise to get it going! The greatest thing about this event is that I was able to keep the buzz about L&M Designs going via the people that came and shopped. That positive press is something you can't buy.