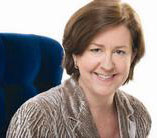 Sunnier skies in the forecast
December 12, 2012
IF THIS SEASON'S FLURRIES of retail predictions, surveys and holiday shopping results are accurate, it's a pretty
good time to be a home furnishings retailer.
Analysts tell us consumer confidence remains high, the economy and housing market continue to improve, and Congress might actually be capable of reaching a compromise that will keep us from plunging over the fiscal cliff. That's the view this week, anyway.
The 2012 holiday shopping season got off to a strong start, with a 9% rise over last year in the number of Black Friday weekend shoppers and a 13% increase in Black Friday spending, according to a National Retail Federation survey. And IBM's digital analytics benchmark, which tracks more than one million e-commerce transactions a day, showed this year's Cyber Monday sales grew 30% over last year's.
These two survey/studies also revealed some interesting numbers in the home furnishings category. The NRF survey found that of the 247 million who shopped on Black Friday weekend (Thurs.-Sun.), 20.6% bought home furnishings. The category was especially popular with the 18-34-year-old age group, where 23.2% of respondents said they bought home décor or home furnishings. For Cyber Monday, IBM found that sales in its home goods category were up 26.8% over Cyber Monday 2011.
Year of the Dragon
A separate, and earlier, IBM study suggested that home furnishings will be one of the most popular gift categories this holiday season, with sales increasing by about 6.5%.
In fact, IBM has been pretty bullish on home furnishings for a while now, thanks to several trends identified by some of the company's retail and analytics experts this past spring: accessorizing, which they said is moving from the apparel market into home furnishings; an increase in the popularity of smaller homes, which leads consumers to resize their furniture for smaller spaces; more consumer disposable income as the employment picture improves; and increased rental activity, which can lead to furniture and other home décor purchases.
They also released data that referenced a correlation between the Year of the Dragon and home fu
rnishing booms. Considered to be the luckiest of the Chinese lunar years, many couples choose to marry or have a child during the Year of the Dragon, both of which lead to purchases of new homes and furniture. 
The last Year of the Dragon occurred Jan. 31, 2000, to Feb. 7, 2001, when, according to IBM analysts, it led to the third-highest growth year - over a 21-year-period - for home furnishings sales.
Multigenerational homes on the rise
In November, Forbes writer Barbara Thau wrote about an IBM study that focuses on the growing number of adult children who are returning home to live with their parents - and helping to fuel sales in the category.
"As families work to better accommodate additional members into their living spaces, they'll be buying more things like furniture, home décor, bedding and dishware for themselves, and as gifts for others," Jill Puleri, IBM's vice president and global leader of retail, told Forbes of a group that includes new college graduates unable to find a first job and young adults who are rebounding from a financial setback or job loss.
In recent years, these multigenerational homes have increased by more than 1.2 million, to about 4.3 million of the 76 million households in the United States, according to the U.S. Census Bureau. The Pew Research Center estimates 41% of young adults between the ages of 25 and 29 are living with, or have recently lived with, their parents.
"As multigenerational households have settled into the new normal four years after the economy crashed, there's now a need to finally spruce up these changed households, hence the popularity of nesting-themed gifts this holiday," Thau wrote.
The laggards will be consumer electronics, toys and jewelry, because people will be buying what they and others need vs. what they want, Puleri told Thau. "They'll be spending on things that are lasting and that are very much appreciated and felt by the family ... vs. just frivolous gifts."
Superstorm Sandy
Sandy also stands to impact home furnishings sales, a view shared by a number of analysts who say spending on rebuilding - and replacing lost household furnishings - will affect discretionary spending in the New York City metropolitan region, including funds that would otherwise have gone to buy holiday gifts.
Prior to Sandy's arrival, a Retail Council of New York State survey found that 78% of its members expected their 2012 holiday sales to equal or better 2011.
"Retailers were poised for a healthy holiday season, but downstate consumers who lost homes, vehicles and other assets may now take holiday funds to buy necessities vs. the latest electronic, jewelry or other holiday wares," said Retail Council President and CEO James R. Sherin. "There is real potential for consumers to shift spending to some industry segments like home improvement stores and away from others that heavily rely on holiday sales to keep them in the black."
Lots of pie left
This year's calendar translates to a longer holiday shopping season and includes an extra weekend. While some analysts feel this could result in a significant shopping "lull" about halfway between Thanksgiving and Christmas, it's worth noting that a Rasmussen national telephone survey conducted after Black Friday weekend revealed that half of American adults had not started their holiday shopping. And, as of late November, the NRF stood by its prediction that holiday sales will grow 4.1% this year to $586.1 billion.
At the January markets, I'll be looking for retailers to talk to about holiday sales and some of the special events and promotions that helped increase store traffic in 2012. If you have an experience to share or would just like to chat, please drop me an email so we can plan to meet: sdickenson@homeaccentstoday.com.