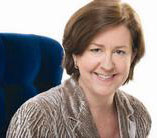 Retailers experience Bridgewater's 'Light a Candle, Feed a Child' impact in Honduras
November 7, 2012
In October, I accompanied a team of Bridgewater Candle Company employees and retailers on the company's
Bridgewater territory manager Mark Brewer (left) and President Bob Caldwell Jr. make new friends at the GSCH.
annual "Brand Experience" journey, which took them last year to Haiti, and this year to a children's home in Honduras.
Bridgewater is part of the Grace Management Group of home fragrance brands that includes Greenleaf, Votivo and Willowbrook. Based in Spartanburg, S.C., Grace's 300,000-sq.-ft. facility is home to about 250 employees, a library of 5,000 fragrances, a fragrance development lab, product application lab, and manufacturing and distribution operations.
The company was founded by Sylvia and Bob Caldwell Sr. in 1974 as Greenleaf, maker of envelope sachets. The company remains family-owned and operated with Bob Caldwell Sr. as chairman and Bob Caldwell Jr. as president.
On Oct. 18, the day before our departure for Honduras, we gathered in Spartanburg for a tour of the factory and an update on Bridgewater's "Light a Candle, Feed a Child" campaign, in which a portion of each jar candle sale is donated to a fund that feeds orphaned children around the world. Since the program launched in June 2010, Bridgewater has provided more than 735,886 days of food to
Bridgewater dealer Lisa Teske with a child who lives at the Tegucigalpa trash dump.
orphaned children, the equivalent of about 2,207,655 meals.
The candles' new hang tags feature photographs of some of those children, including a few from the Good Shepherd Children's Home, our destination in Honduras.
Several of Bridgewater's territory sales managers and retail dealers were invited to join the Caldwells and some of the marketing and design staff on a trip that would provide a first-hand look at the impact "Light a Candle, Feed a Child" is making in the lives of some of the children it feeds.
Our group would also be delivering eleven 50-pound duffle bags filled with donations of art supplies, games, books, soccer balls, toothbrushes, toothpaste, soap and vitamins, much of which was intended for a group of children that live not at the orphanage, but at the city of Tegucigalpa's trash dump. Facilitating that endeavor was Pastor Jeony Ordoñez who, with the help of mission teams from the U.S., has built a ministry (afehonduras.org) in a nearby field where "trash dump" kids attend school in three two-story school buildings, and where they are fed, bathed and provided with basic medical care and fresh water.
Before her arrival at the GSCH this summer, 2-year-old Jimena would sometimes walk the main street of town alone. She is one of 105 Honduran children Bridgewater helps feed at the Good Shepherd Children's Home.
When we arrived at Jeony's mission, at about 2 p.m., toddlers and preschoolers were sleeping soundly in cribs and hammocks, several classes were in session, and about a dozen boys and girls were playing soccer in a field that fronted the road. On the opposite side of the road, garbage trucks made their way up a dirt driveway lined with makeshift shelters.
At the top of the driveway was the dump - mounds upon mounds of garbage, with women, men and children picking through, sorting, sitting on, lying atop and eating whatever they could find among just-dumped kitchen garbage, household trash, and bulging black and white plastic trash bags. Scavenging alongside them were birds, cows and dogs. Just beyond the dump was a large black expanse - a sea of vultures, watching and waiting.
Our bus pulled in and was instantly surrounded. Most of our group joined Pastor Jeony in handing out bread and fresh water.
Group photo of Bridgewater participants and the GSCH children and staff.
Before going into the dump, we had met the children at Jeony's AFE ministry, children who were born in and are growing up in the dump and who every morning walk down the hill to bathe before going to class. Most of those we met had first come to the school aspiring to one day become trash truck drivers. Now they are studying to get their GEDs, to go to college, to become psychologists, lawyers, architects and teachers. They are intelligent, optimistic, articulate young people who are doing whatever it takes to improve their lot in life.
Later that night, we arrived at the Good Shepherd Children's Home, about an hour's drive south of Tegucigalpa. It sits on a beautiful 60-acre working farm with livestock, orchards and vegetable gardens. There's a school, medical and dental facility, a church, guest quarters small swimming pool, and a cafeteria-in-progress. Kentucky natives Kelly and Trisha Lawrence, the directors, are "parents" to 105 beautiful, personable, active children at GSCH. Most are from backgrounds of abuse, abandonment and/or extreme poverty. All of their photos and stories can be found on the GSCH's website at gsch.bmdmi.org, under the "Sponsorships" tab.
Enjoying some of the tutus Bridgewater brought along. (photo by Heidi Ruehl)
The Lawrences live in the main house, where we joined them each day for three farm-to-table home-cooked meals.
The kids are grouped by age and gender, and live with two housemothers in casitas, each with a kitchen, dining room, living room, several bedrooms and a big front porch overlooking a grassy green common area with swings, wash houses (for clothes) and a small soccer field.
Our service project involved priming the wall of the school, painting designs on a casita and moving an office. The rest of the time we played and visited with the kids, watched a movie with them, polished fingernails, pushed swings, applied (temporary) tattoos, played soccer, arts-and-crafted and gave lots of piggyback rides and hugs.
Needless to say, we all found a few favorites among the group, and they found a few among us, so saying goodbye wasn't easy.
Bridgewater learned about GSCH through a partnership with an organization called Rice Bowls, which is also based in Spartanburg. Through a series of events that began with Sylvia and Bob Caldwell Sr.'s funding, along with several local families, the initial production run of plastic Rice Bowl banks - a means by which the organization collects funds to help feed orphans - Bridgewater has helped Rice Bowls grow into an organization that serves 52 orphanages around the world.
Dodd Caldwell, a software developer and entrepreneur, is Rice Bowls' president, an unpaid, voluntary role. John Ramantanin, Rice Bowls' director of operations, was with us on the trip. "Partnering with Bridgewater (two years ago) enabled Rice Bowls to feed and care for an additional 21 orphanages," he told us, with food that comes primarily from suppliers in the orphans' local communities.
A sales contest determined which territory managers were invited to participate in this year's Bridgewater Brand Experience trip. They, in turn, were asked to invite one of their retail dealers.
Lisa Teske, from St. Mary's Hospital Gift Shop in Enid, Okla., said the experience "enlightened" her about how the product touches the lives of children. "When Bridgewater added that little 'Buy a Candle, Feed a Child' sticker, people reacted. The new hang tags will have an even bigger impact. And I can say to our customers, 'Buying this product truly impacts the lives of these children - I have seen their faces.' I can't wait to tell them that!"
Danielle Shaffer, owner of Aw Else Boutique in Greensburg, Pa., was my partner for a TV-watching and socializing session at the middle school girls' casita one night. After several attempts at communicating (we don't speak a word of Spanish, none of them spoke English), we finally reached common ground with "Justin Bieber," and shared some wonderful laughs. "The experience I had was indescribable," Danielle said of the trip. "It has left an everlasting imprint on my life."
Monica Martinez, with People Flowers, a six-shop floral and giftware chain in Albuquerque, N.M., said she looks forward to taking her experience back to her team and telling them about the kids the campaign is supporting. "It's easy to sell once you share that. It's a great cause, and one that everybody can get excited about helping."
Beth Boyink is with Schuler Books & Music, which has five stores in Grand Rapids and Lansing, Mich. "We have Bridgewater signage, displays and posters in every store, and Rice Bowls banks at all the registers. Bridgewater is so good about marketing, and helping to communicate the program." In advance of her trip, Boyink was interviewed by two local radio stations who heard about the trip through a Bridgewater press release. She has also blogged about her trip, at schulerbooks.com/honduras2.
So why is Bridgewater, a successful U.S. company, focusing its campaign on children outside our borders? It's a question Bob Caldwell Jr. has heard before. "Yes, there are horrible situations in our country, and we need to be involved, but in the U.S. there is a safety net," he said. "Here, as you saw at the dump ... and in other countries - Haiti, India, South Africa - they have nothing."
The Light a Candle, Feed a Child campaign - the idea that every candle represents the life of a child - is ingrained in the Bridgewater culture, fueling a sense of purpose in the employees and providing a meaningful back story for the managers and retailers/dealers. The program is permanent and, as long as the candles keep selling, will keep growing.

"We're thankful for what you do as dealers, as salespeople," Bob Caldwell Jr. told the group at one point. "We believe we create a great product, but candles are just the vehicle - a means to an end. We've been blessed so we can be a blessing."
Look for more photos and coverage of the trip in the December issue of Gifts & Decorative Accessories.