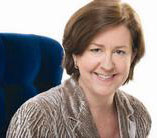 Melissa Haberstroh advises retailers to plan for the unplanned
September 11, 2012
On Jan. 27, 2012, Texas retailer Melissa Haberstroh was en route to Seattle, her third market that month, to buy for her three stores: Burlap Horse, opened in 2001; Melissa Jeffrey Home, opened in January of 2011; and her latest project, EnVie, opened two months earlier.
Melissa's cell phone rang as she handed her boarding pass to the Southwest
Airlines ticket agent at the gate in Phoenix. It was her doctor. "You have stage one breast cancer," he told her. It was a life-and career-changing moment, but one she has recovered from both personally and professionally.

At this summer's Atlanta market, Melissa spoke about her journey since January - surgery, chemotherapy, the decision she made to close one of the stores - and shared some of the steps she took, and other retailers can take, to preserve and protect a business from unplanned crises and disasters.

"They're no fun to think about, and we don't want to do it because we think it won't happen to us," she said about developing a disaster preparedness plan. "Unfortunately, there's more to it than that."

In Melissa's case, it began with the realization that she was the only person who knew how to run the business, and that she couldn't be that sole person any more. "I didn't have any staff until my store turned 10, so I was
Melissa Haberstroh presents her Life Preparedness Plan during a seminar at AmericasMart, July 2012.
used to being the brain child," she said. "My husband Jeffrey has been with me since the beginning, and I always thought he knew a lot about how it operated. When we went through all this, we were both surprised at how little he knew, and how little I knew about how little he knew."
Melissa shared some key points from her Life Preparedness Plan, a series of steps and to-dos that can help a retailer protect the store and its assets, and ensure the safety of employees and customers, when things unexpectedly go bad.
"Economic recovery is the whole of it," she said. "It's about getting yourself back up so you don't end up in that percentage of businesses that never reopen.
Things to keep offsite
Whether tossed in a "911 emergency folder" at home, locked away in a fireproof safe in the garage or stored in a special suitcase in the trunk of your car, there are certain things Melissa says should be kept offsite:
■ Contact lists - customers, employees, lawyer, accountant, suppliers, insurance agents, vendors.
■ Financial data and business records - IRS, corporate and historical records need to be stored offsite. Sales and financial data should be backed up daily and taken out of the store. Melissa uses flash drives that she keeps in a small zip case. In addition, on the first Tuesday of each month, she backs up her C drive.
■ A copy of the Master Protocols Binder, also kept in each store, which includes instructions and copies of: the employee handbook; POS protocols (how to run the credit card machine, make a sale, layaways and gift certificate procedures); building security codes and opening/closing procedures; telephone answering protocols and voicemail instructions and passcodes; diagram of where things are stored and what's in the file cabinets; payroll and sales tax process; copy of the sales tax certificate; bank account info, credit card info, user names and passwords; passwords and registration info for computer, and software.
Ongoing
Make sure the following procedures and safeguards are in place, and checked on a regular (at least annual) basis:
■ Cyber security - Change your computer passwords, and check your internet security subscriptions for all your computers.
■ Evacuation and survival - Have the fire marshals come in each year, walk through and evaluate your store. Ask your local sheriff's or police department to help with shoplifting and burglary issues. Make sure there's a complete first aid kit at each store location, and a flashlight in the event of a power outage.
■ Insurance coverage - Review it annually, and include coverage for key personnel and loss of business. "We have liability and building protection," Melissa said, "But never thought about, 'What if we have to close our doors because of fire for a certain period of time - how do you reclaim that loss of revenue, or pay staff?' And key person insurance was something I never considered. I don't think of myself as the key person in the business. So that's one of the first realities - realize you are the key person and the one everyone is going to come to. You are the knowledge base."
■ Insurance, inventory swings - "Our agency is set to adjust at a certain time in the fourth quarter for influxes of inventory that come in between September and November. Don't say you have $200,000 worth of inventory year-round when you're doubling up every Christmas."
■ Insurance records - Keep a record of all insurance policy information with you at all times, including when you travel away from the business. Ready.gov (FEMA's emergency preparedness site) offers a lot of tools, including an insurance coverage review worksheet that can be downloaded at ready.gov/document/business-insurance-coverage-review-worksheet.
■ Social media - Decide who is administrator of the Facebook, Twitter, Pinterest, etc. accounts when you're not around, and make sure that person knows where to find the passwords and log-in information.
■ Cash - Make deposits/do the banking on a regular basis.

At the end of April, Melissa made the decision to close EnVie, "because I wanted to consolidate things and realized it was too difficult with everything that was going on. My new full-time job of dealing with the diagnosis and things to come made it too hard to give the three stores all the attention they required."

Her status today? "I'm still on the road to recovery. Hopefully we're at the closing end of this, and in the fourth quarter we'll be back to doing events in the store every month."