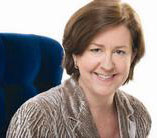 Try a little TENDENCE!
September 3, 2012
FRANKFURT, Germany -- I had the great pleasure of visiting and covering Tendence 2012, Messe Frankfurt's annual fall consumer-goods trade fair, August 24-28.
Click on photo to link to Tendence 2012 photo album.
The last time I visited Messe Frankfurt was in 2007, for Collectione, the home goods fair for high-volume buyers, where everything was exhibited in one hall and could be walked over the course of about a day and a half.
At that time, there was talk of an upcoming reorganization of Messe Frankfurt's trade fair calendar that would combine Collectione with Tendence, The Design Annual, and Taste It! (gourmet foods). This reorganization debuted in July of 2008 as "Frankfurt 4 All Seasons," and covered all market segments, all sales and distribution formats, and featured an array of designer and mainstream products for all four seasons. In 2009, Tendence was produced as three trade fairs in one: Living (home), Giving (gifts/gourmet) and Collectione/Passage.
This year, the event was branded as Tendence: Living and Giving, a presentation of home furnishings, garden décor, textiles, lamps/lighting, kitchen wares, wall décor, decorative accessories and seasonal decorations for small independents and high-volume retailers. The "Giving" half of the show presented exhibition halls of gifts, gourmet, stationery,
Summer Festival, opening night.
handcrafts, collectibles and figurines, candles, toys, personal accessories and jewelry.
Tendence's historical commitment to the presentation of new and emerging design was showcased in Loft, an exhibition hall where makers of "future-oriented" and
Click on above photo to link to KAHLA Kreativ photo album.
avant-garde home design showed their stuff alongside design students, international design houses and emerging "
Talents
," the latter the name of Tendence's 10-year-old venue for recognizing and promoting up-and-coming young designers.
With Detlef Braun, Geschaftsfuhrer (CEO), Messe Frankfurt, at Margarete.
All together, it's about 135,000 square meters, or about 1.45 million square feet of exhibition space, an area made somewhat smaller by close to a mile's equivalent of moving walkways - and the quality of the exhibits themselves.
Messe Frankfurt staff and organizers hosted the press corps in great style, including invites to the opening night "Summer Festival" extravaganza, a delicious feast at Margarete Restaurant in downtown Frankfurt, and interesting and informative design tours led by Hansjerg Maier-Aichen, Professor of Product Design at Karlsruhe University of Design.
In an effort to share
Design tour with Prof. Hansjerg Maier-Aichen
as much of the creativity and beauty of the 2012 Tendence fair as possible,
I've uploaded close to 150 photos to several albums on Home Accents Today's Facebook page, as follows:
Click on above photo to link to photos of Volker Kuhn's art in boxes.
Tendence 2012 - about 120 photos from the Loft and Living exhibition hall.
KAHLA Kreativ -  from a nonprofit foundation that promotes young ceramicists, designers, artists and students, and encourages the artists to explore and experiment with new methods of porcelain manufacture and design.
Art in Boxes by Volker Kuhn - Mr. Kuhn, a German artist, expresses his thoughts, ideas and opinions in three-dimensional miniatures, assembled in boxed works of art for the wall. This was one of my favorite exhibits at the show.
Despite the ongoing Euro debt crisis (and an anticipated drop by Messe Frankfurt organizers in the number of visitors), close to 46,000 people visited this year's event, down about 6,000 from last year. Exhibitors reported an increase in order writing, though, and said the overall mood was very positive. Visitors came from 91 countries, the top five being Switzerland, The Netherlands, Italy, Austria and France.
A Tendence ticket also includes free public transportation on the regional metro (train, subway a
A Rhine River cruise (for a couple hours, or all day) is is an easy train and bus ride from the Sheraton/Frankfurt Airport.
nd bus) system, and getting around is a cinch thanks to the Information kiosks, machines (with English translation) and personnel the Deutsche Bahn and RMV operators have positioned at every turn. 
If you have an afternoon for a little sightseeing while there, the S-Bahn number 8 train travels from the Sheraton Frankfurt (at the Frankfurt Airport) to Weisbaden, where you can buy a pass to cruise the Rhine River on one of the many boats of the Koln-Dusseldorf line.
A trip to Frankfurt for Tendence is one I highly recommend; next year's edition is August 23-27, 2013.
Look for more on Tendence 2012, TALENTS, and the design showcases in the September issue.