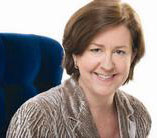 Main Street USA is well represented on this year's Retail Stars list
May 21, 2012
I've just finished emailing the 50 outstanding independent retailers that were na
med to this year's Retail Stars list. The store names and cities can be found
HERE
. The complete list, along with descriptions of the stores, is in this month's (May) issue, and it can be
purchased online in our Research Store
.
 In congratulating this year's retailers, AmericasMart President Jeff Portman credits their ability to embrace innovation, creative ingenuity and excitement.
Jeff is spot-on in his assessment of this year's honorees. They certainly rank among the most innovative, creative and exciting stars that have ever brightened our pages, and they are definitely the most engaging. All but two of the 50 retailers on the list are active on Facebook, and at least a dozen are pinning on Pinterest. They're promoting their virtual decorating services, add-on categories and in-store events on Twitter, in monthly e-letters, and videos broadcast via YouTube - the latter of which some are filming in their own production facilities.
This year's list includes a family-owned furniture chain and a national decorating franchisor, both of whom are fueling their growth with significant investments in home accents. It also includes a few industry crossovers - retailers who have (or once had) a foot on the manufacturing side.
The 2012 retailers seem to favor a higher-end product than in years past, seven of the retailers reported 2011 sales in excess of $5 million, and 16 supplemented their brick and mortar income with e-commerce.
Eight of this year's retailers have a Main Street address.
Twenty-six of this year's Stars have been in business for at least a decade, six have been around for 40 years or more, and one store - Marvel Home Decorating of New London, Conn. - has been ringing up sales since 1932.
Geographically, California and New York are home to the most Retail Stars this year, both with six, followed by
Arizona
, Wisconsin and Texas with four each, and Illinois and North Carolina with three.
After you've had a chance to view this year's list, I hope you'll start thinking about your recommendations for 2013.  We're certain that our next batch of Stars have already begun to twinkle.