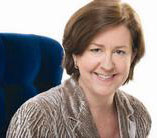 Uncovering a cover-up for cord conundrums
May 21, 2012
Our monthly Illuminations feature, now in its second year, has given me opportunities to examine how home
furnishings retailers and lighting showrooms sell lamps and lighting to consumers. One of my favorite talks on the subject was delivered by lighting showroom designer/merchandiser Denis Caldora, at last September's ALA Conference in Palm Beach.
One of Denis's tips was to differentiate, as in "Do anything to make your product look different from the competition. When you walk out of this room, look at the chandeliers that hang throughout this hotel. Everything has covers over it. A lot today come with the shade. If they don't, then enhance, embellish ... with a chain cover, medallion (the piece that separates the fixture from the ceiling), specialty bulbs. Make little adjustments, tweaks, that special thing that makes it different."
I came across a cool differentiator while covering the High Point Market last month. It's made by a company called Cord Coverup, and it does exactly what the
name says - it covers up lamp and chandelier cords with giant scrunchy-like strips of fabrics.
While visiting the Cord Coverup space in High Point I had an epiphany of sorts -- these covers might help cover up the unsightly cord mess that connects my satellite tv cable to the receiver to the Wii/Netflix box to the power cord strip to my television (photo right).
Cord Coverup comes in lots of colors, prints and fabrics, so I ordered two in a faux silk shade of lime to match my den's newly painted Homestead Resort Moss-painted walls. I scrunched the 9-foot long "lamp style" covers over the cord groupings, then slid them into place. (The "chandelier" version is attached with a sewn-in Velcro strip that comes apart from top to bottom.)
And... voila:
I really thought I had discovered something new here, but a closer look at the Cord Coverup label revealed that the company is well aware of the versatility of these things, as coverups for "Appliance Cords, Lamp Cords, Holiday Cords, Plasma TV Cords, Computer Cords, and more..."
In any event, it is a neat, useful little product. The company launched ten years ago as A&M Designs, and is owned by Angie Toma. The trademarked Cord Coverup line was brought to market when Carol Deady and Suzannah Deady of Napp Deady gave the company an opportunity to show in their Atlanta and High Point showrooms.
As for what's new in lamps and lighting, check out the Dallas Lighting Preview and our "State of the Industry: Lighting" report in the upcoming June issue.