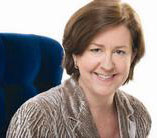 Frank talk on franchising
April 30, 2012
Real Deals on Home Décor and Decorating Den Interiors are two of our industry's biggest franchisors.
Real Deals has been franchising since 2006, adhering to a unique retail model in which home furnishings are sold in "nontraditional" brick and mortar locations that are only open two days a week. Real Deals' limited hours and off-the-beaten-path locations not only help keep operating costs down, they also appeal to a steady stream of bargain-hunting shoppers who enjoy the thrill of the hunt almost as much as the bargain itself.
Decorating Den has been franchising since 1969. Decorating Den's franchisees offer in-home decorating services, bringing samples of draperies, blinds, wall and floor coverings, furniture and accessories directly to the client's home or office. Late last year, Decorating Den launched a new direct-sales business called Livv!, offering part-time and full-time hosts and hostesses the opportunity to shop and sell a full line of home accessories in the home-party environment.
Most of the Real Deals business owners are people who love to shop, especially at Real Deals. "I'd say 99% of our stores have been started by people who have shopped at our stores and loved the experience," said founder and co-owner Jeff Humphrey. "We haven't been out prospecting. They go in there, see one of their peers, and say 'I could do this, I could see myself here.'"
Most of Decorating Den's franchisees bring a passion and talent for decorating, but not necessarily an interior design degree, to their new roles as business owners. Corporate co-owners Carol and Jim Bugg said they're finding that an increasing number of new applicants, however, possess some working experience or a background in home furnishings and/or interior design.
Although Real Deals' and Decorating Den's franchise models differ markedly, they do share some key similarities. Both provide training and ongoing support to their franchisees, and maintain contact with their franchise networks via annual conferences, newsletters, weekly conference calls, blogs and social media. They also handle all the buying - the market legwork, negotiating wholesale pricing with manufacturers and distributors and, in the case of Real Deals' buying team, traveling overseas a couple of times a year to source direct from the factories.
Most important, despite the recession and belt-tightening of the past couple of years, both companies have continued to grow. In 2011, Decorating Den opened 22 new franchises, for a total of 323 locations throughout North America. Real Deals started the current year with 71 stores and plans to open 21 more before 2012 is out, including its first location in Canada. 
Decorating Den Interiors is profiled in the April 2012 issue of Home Accents Today.
It's been three years, though, since I profiled Real Deals on Home Décor, so I asked Real Deals founders and co-owners Jeff and Marisa Humphrey if they'd update me on how things have changed and progressed since.
"More than anything, our systems have gotten better," Jeff Humphrey said right off the bat. "From a development standpoint, it's about the right person, the right location, city, and rent. We now know where we're going, the cities we want to go to. And what we try to do is make it where each franchisee can spend all their time out there getting customers instead of doing things that don't make money.
"We also reorganized our in-house people," he added. "Marisa is chairman of the board. (Brother-in-law) Nate Kelsey is CEO, his wife Carie is vice president of product, and I'm vice president of development. As Nate often says, 'We are not a business of suits, we are a business of aprons.'"
Part of Real Deals' ongoing monitoring and improvement process involves a weekly "what worked this week" conference call. "Several franchisees get on the phone and talk about everything from merchandising to advertising to product, and we plan the next week," Jeff said. Real Deals also hosts an annual convention, but plans to start offering more one-on-one mentoring and monitoring.
The company is also getting its message across - to customers as well as current and potential franchise owners - with videos of store events and testimonials posted on YouTube. In Real Deals' case, there's probably no better way to illustrate the stores' intimate no-frills environment. "We want people to walk into Real Deals feeling like they've made a discovery, and walk out of there feeling like it's their own little secret," he said. "We don't sell home décor. Our product is a shopping experience. It's unique, mom-and-pop, and community-oriented."
Knowing whether or not a potential franchise owner is right for the Real Deals' business model is easier to determine these days. "The most important thing is to find somebody who loves home décor, and who can talk to people and get them excited about home décor," Marisa said. "All the rest of it is systems. You can train that (systems), but you can't train fabulous personalities that love people and want to sell."
"We have a gift, I think, of finding kindred spirits," she added. "When you find those right people, you go into business with them. That's the secret of successful franchising."
In Real Deals' 2009 profile, no mention was made of social media - Facebook, Twitter or otherwise. Today, the company has more than 16,000 fans on its corporate Facebook page, and each store is encouraged to host its own. "I think Facebook is the ultimate mom-and-pop tool for talking back and forth with customers," Jeff said. "Leading up to Christmas, we ran 14 straight days of contests, with between 400 and 500 people participating every day."
Real Deals' most recent Facebook post, he added, was even more special. "We just posted that we debuted on Entrepreneur Magazine's 2012 Franchise 500 list at number 281."
More information on Decorating Den Interiors and Real Deals on Home Décor can be found at decoratingden.com and realdeals.net.