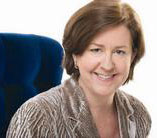 Retailers, how are you using PINTEREST?
April 26, 2012
More than 8,000 pinners follow online home and gift retailer Layla Grayce and its "mod alter ego," Zinc Door on Pinterest. For about a year, co-owners Wendy Estes and Tiffany Harris have been using Pinterest to showcase
products alongside design ideas in a catalog-style format, and engaging with pinner-followers by "liking," re-pinning and commenting on their pin activities. They've also held several contests on Pinterest, starting with January's "Pin Your Dream Foyer," in which pinners designed a foyer using Layla Grayce product photos of home accents, lamps, wallpaper, rugs and mirrors. In March, as season five of Mad Men kicked off, so did their "March MADness" contest. Pinners were challenged to create a mid-century inspired board using Zinc Door home decor products for a chance to win a $500 gift card. More than 30 design boards of 20-30 pins per board were submitted, and the top five were posted on the Zinc Door website for final voting.
Estes and Harris are two of several home decor retailers and interior designers that shared their thoughts with me on this popular new social media channel. Tell us how you're using Pinterest, and share the link to your Pinterest boards, in the comments section at the end of this post:
Wendy and Tiffany, how has your use of Pinterest impacted sales? Our Pinterest page, with about 8,000 followers, is driving as many sales as our Facebook page with nearly 85,000 followers. Pinterest's dominating demographic - higher income women with a passion for design -- is extremely targeted and in line with our customer.

How important is Pinterest in your marketing strategy now? Between two and four people pin for both Layla Grayce and Zinc Door for a set period of time daily. Pinterest is on our promotion schedule quarterly for both sites.

Do you have any advice for retailers just getting started on Pinterest? Yes. Pin your products, blog posts, newsletters and any promotions your store is running. These are all elements that can help drive traffic back to your site. And original content is important -- we photograph and upload architectures and hotel interiors from our travels. All that said, balance the type of content you pin. If you pin too much about your company, it can become rather off-putting. Create boards that reflect your customer's lifestyle. If you're generating a pin, be sure to include the source. If you're pinning a room an interior designer created, assign proper credit to the designer and/or photographer or blogger. Cross promote by sharing pins on Facebook and Twitter. We're also collaborating with celebrities, designers and other social media companies like Olioboard to reach a broader audience. Finally, Pinterest is visually engaging and it's easy to become distracted. Set a time limit for your employees, or even yourself, so you don't look up and wonder how you just lost two hours of your day to this visually engaging vortex! --Wendy Rossiter Estes and Tiffany Grayce Harris, Zinc Door and Layla Grayce, Pasadena, Calif.
Pinterest is natural fit with our brand as it's a rich visual environment that provides people with a sense of serendipity - two key elements at the heart of the One Kings Lane experience. We have deeply integrated Pinterest widgets on our product pages to provide our members with a quick and easy way to share their favorite items with their friends, and we've also created a brand presence on Pinterest with boards featuring popular products, decorating trends and design inspiration. We see Pinterest as a valuable platform for reaching interest-focused communities across a wide range of categories, including design and home decor, and will be aggressively integrating Pinterest into our consumer promotions in 2012. -- Greg Fant, CMO, One Kings Lane, San Francisco, Calif.
I am an avid Pinterest fan! I have been using it for about the last eight months. It's a great place to find inspiration and share favorite ideas and projects. I used to be a magazine junkie with baskets full of unread design magazines and stacks of tear sheets. Now, I use Pinterest to post both my personal favorite projects, and repin ideas from other pinners. I can have my clients go directly to my boards to see ideas for dining rooms, bathrooms, kitchens, etc., and I link directly to my Pinterest boards from my blog. I've introduced many of my design clients to Pinterest. It's a great tool. I can't go a day without it. -- Susan Taylor, Black-eyed Susan, Holicong, Pa.
We have been using Pinterest since last fall, pinning favorite products, room scenes containing our products, and inspiring photos for friends and fans. I
recognize that home decor enthusiasts and people who love good design and style are pinning things on Pinterest, so it makes sense for us to have a presence there. The social aspect of it and the fact that you can see what your friends and fans are pinning is a level of engagement we enjoy. My advice to retailers is to start out using it personally, as a place to store favorite ideas and inspiring photos, and then you will see the possibilities that can be extended professionally. I think the trick is to not make it seem like you are using it to sell, but rather to share and trade great imagery. Through that, you will inspire buying! -- Melissa Hawks, Owner, The Well Appointed House, Greenwich, Conn.
I started using Pinterest a few months ago as myself instead of Nyla Simone Home. I've been posting personal things, product photos and photos of design projects, and really like sharing ideas. I also love (home design and decorating site) Houzz.com. One of the designers we are working with used a room from Houzz as inspiration and we created a custom-sized bed for her professional athlete client. -- Maria Bailey Benson, Nyla Simone Home, Scottsdale, Ariz.
I just created "Simplicity Decor" and "Simplicity ABC" boards and plan to delegate one of my staff to tackle it both for the retail and interior design sides of the business. Right now, it's still a new tool to us. -- Suraphong "A" Liengboonlertchai, Simplicity Decor and Simplicity ABC, Kirkland, Wash.
I joined Pinterest about two weeks ago and am using it as an inspiration source for new displays. Once I get more comfortable with it I'd like to create a store profile and have my staff pin on a regular basis so our clients can also be inspired by what we find and photograph. -- David D'Ambrosio, Redefined Home Boutique, Atlanta, Ga.
Follow Home Accents Today on Pinterest at pinterest.com/homeaccents2day/