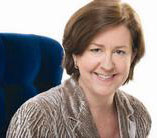 Irish retail roots: Kilkenny and Avoca
March 14, 2012
Ireland's Kilkenny stores, often referred to as the country's "Largest Emporium for Irish Design Products," display and sell
Kilkenny, Nassau St., Dublin
products like many of those found at
this year's edition of Showcase Ireland
.
Kilkenny is rooted in the Kilkenny Design Workshops and the creative crafts hub of County Kilkenny. There are eight Kilkenny stores in Ireland, two of which operate as Christy's (Co. Kerry and Co. Cork).
While in Dublin for Showcase, I visited the store on Nassau Street, situated across from the grounds of Trinity College. This bright, airy two-story location is the largest of the
Kilkenny's emporium of Irish-made goods. Note the Orla Kiely ceramics and housewares front right.
Kilkenny shops, and offers a terrific restaurant upstairs. The product selection included an extensive range of Irish-made textiles, glass, ceramics, housewares, jewelry, apparel, food, bath/body and gift items.
ALSO WHILE IN IRELAND, I managed a quick trip south to visit the Avoca store in Bray, County Wicklow, referred to as the wholesale/retail chain's Kilmacanogue store and headquarters.
Avoca is an Irish family-run business that, according to its
The Avoca exhibit space at Showcase Ireland.
website, is also one of the world's oldest surviving manufacturing companies. It started out in 1723 as a co-op where farmers would spin and weave their wool into tweeds and blankets. The handweavers eventually learned to incorporate natural vegetable dyes for brightly colored fabrics and for a long time the mill thrived. By the 1960's it had fallen into disrepair, but was rescued in the mid 1970's by Dublin lawyer Donald Pratt and his wife Hilary. The Pratt family remains the current owner, the stores now number 10, and Avoca exports its candy-colored throws, blankets and rugs around the world.
Avoca's merchandising and products brought to mind images of Anthropologie, with its mix of retro-nostalgic gifts, casual apparel, creative housewares and homespun textiles. Avoca is also famous for its pantry (food) collections, cookbooks, catering and cafes, including the one at Kilmacanogue which, even though it was mid-afternoo
The Avoca store at Kilmacanogue, Co. Wicklow
n, was bustling and close to capacity the entire time I was there.
MY DISCOVERY OF THE AVOCA STORE was actually by accident, sort of. I had originally set out that morning to visit the original mill at Avoca Village after being so inspired by the colorful woven textiles in the company's Showcase Ireland exhibition space. After an hour-long coast-hugging ride on the DART metrorail and the realization that, upon disembarking in Bray, I had no idea how to get to the Avoca Village, my traveling companion and I began walking toward the center of town.
Our instincts led us through the front door of a shop called BDI Jewellery, mainly because we decided that the owner of a bead shop would be the best person to give us directions and advice on how to reach our destination. Why we assumed a bead shop owner would be the perfect person for this, I have no idea. It just somehow made perfect sense at the time.  Fortunately, my instincts we
The view from the front seat of the BDI van, my credentials (business card) in the steering column.
re dead on.
Shopowner John Conaty educated us to the fact that Avoca Village was about a 40-minute drive away, whereas the Avoca store at Kilmacanogue was only about a 10-minute drive at most, hence the discrepancy in bus and cab fares we were quoted along the way. He also insisted it would be he who would drive us there. And, fortunately for us, John Conaty offered to take us there via the high road, so we could take advantage of one of those once-in-a-lifetime moments to tour the beautiful countryside of County Wicklow, drive through Wicklow Mountains National Park, and visit the medieval monastic ruins at Glendalough.
For at least an hour and a half, the three of us shared the front seat of John's colorful bead-wrapped van, talking, laughing and snapping pictures as if we'd
known each other for years. That day was nothing short of magical.
SO, JOHN CONATY, here's what I meant when I told you you'd be hearing from me again... Thanks for the wonderful Irish hospitality, and Beannachtaí na Féile Pádraig!!