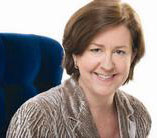 Mr. Adler Goes to Washington
February 7, 2012
Included in Jonathan Adler's new spring additions are several serving pieces and decorative items featuring the father of our
country - all of which should look right at home in the windows of what appears to be a new Jonathan Adler furniture store planned for the corner of Wisconsin and N Streets in Georgetown.
According to a report by Judith Beermann in The Georgetown Dish, architectural concept plans for the store, which include "an orange and grey color scheme, raising and canopy and a new awning with signage," were approved by the Old Georgetown Board and The Commission of Fine Arts last week.
Here are a few more of Adler's new spring additions that are sure to find favor in Georgetown, where classics and moderns have mixed and mingled for years.
Okura Kidney Table, laquer with solid walnut legs
Regent Demilune, 36x18x29.5, white painted wood with marble top
Lacquer Queen Anne mirror